by
posted on January 7, 2022
Support NRA American Rifleman
DONATE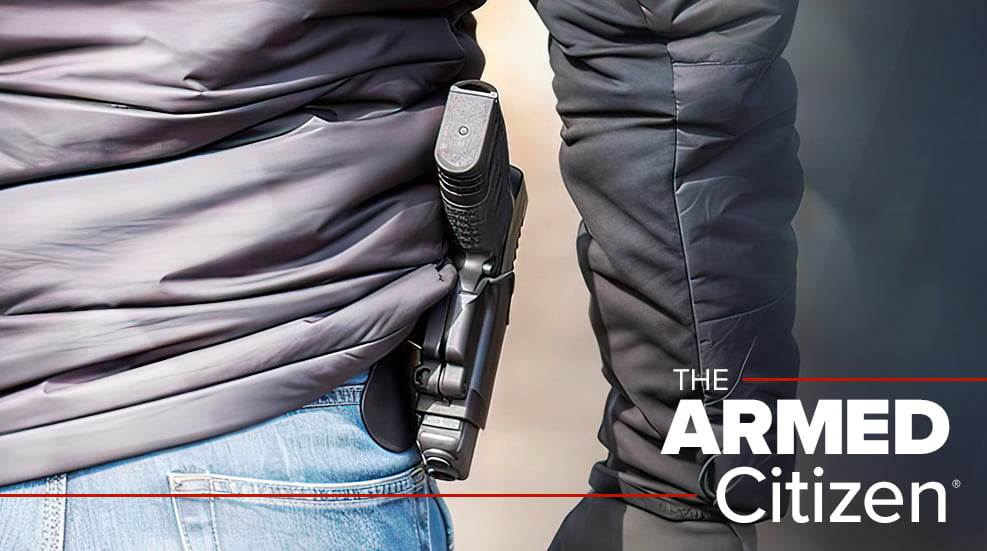 Armed Citizen® Today

A Chicago, Ill., resident defended himself when he was fired upon by two armed burglars on Nov. 10, 2021.
The 44-year-old resident was sitting on the steps of his home around 11:45 p.m. that Wednesday evening when he heard loud noises coming from the street nearby. As he went over to investigate, the resident came across two men under a vehicle stripping off parts. The two part thieves both drew firearms when they saw the resident and opened fire..
Luckily for the resident, he was not defenseless. A licensed concealed carrier, he drew his pistol and returned fire at the pair of armed thieves, striking one of them in the neck as the two sides exchanged fire. The stricken robber collapsed on a sidewalk nearby, while the other made a getaway in a stolen Dodge Durango.
The 25-year-old wounded part thief was found with a pistol under his arm when police arrived on the scene. He was taken to a local medical center, where he was declared as deceased at 12:07 a.m. According to police, the slain thief had a prior criminal history, having been released from prison in April after serving half of his sentence received for possessing a stolen vehicle. He was arrested again in September for the possession of a firearm, but was released again shortly after. Police also said that the incident was one of several related armed catalytic converter thefts to occur at the time. (cwbchicago.com, Chicago, Ill., 11/11/2021)

From the Armed Citizen® Archives - March 26, 1987
Charles Hughes awoke to the sound of someone trying to break into his Tallahassee, Fla., trailer. The 65-year-old resident tried to call police, but the line had been cut, so he got his shotgun and waited. He heard glass breaking and a voice threatening his life, so Hughes fired, wounding one of two intruders. Hughes was not charged, but a wounded suspect was charged with burglary and armed robbery. (The Democrat, Tallahassee, Fla.)