by
posted on October 30, 2019
Support NRA American Rifleman
DONATE
Hunting handguns come in a variety of styles, from conventional semi-automatic and revolver designs that can ride on the hip, to bipod- and sling-equipped bolt-action and single-shots that fire rifle cartridges. As such, a pistol scope needs to have the flexibility for taking shots that are as close in as 15 yds. or out beyond 100. Weaver offers this versatility with its variable-power Classic Handgun 2.5-8X 28 mm scope.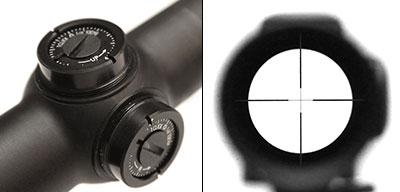 The scope's features follow the other models in Weaver's Classic line, with fully multi-coated lenses and a 1" nitrogen-purged tube that is constructed from a single piece of aluminum. Its Dual-X reticle is a non-illuminated classic duplex crosshair with the thicker outside sections drawing the eye toward the thinner center sections. The scope's turrets, protected under cover caps, provide click adjustments of 1/4" at 100 yds., and can be turned with a screwdriver or quarter. Parallax is fixed at 50 yds. Eye relief is generous (16.5" to 24.5") and has a wide enough range to accommodate most shooters. The scope, made in Japan and imported by Weaver, comes finished in matte black.
Despite its variable power, the Classic Handgun 2.5-8X 28 mm is compact in size and fits nicely on a medium-to-large-size handgun. It weighs only 2.5 ozs. more and is 3/4" longer than the fixed-power Weaver Classic 2X handgun scope. We tested the scope on an EAA Witness Hunter chambered in 10 mm Auto using that company's scope base, which attaches to the pistol's frame, and Weaver's updated Grand Slam rings. With the scope itself weighing just more than half a pound, the scope, mount and rings combined add 13 ozs. to the pistol's overall weight. 
Weaver claims its Classic Handgun scopes are "torture-tested to withstand the most powerful handgun cartridges," and the scope shrugged off the stoutest recoil that the 10 mm Auto could dish out. The Witness was tested with the heaviest 10 mm hunting loads, including Buffalo Bore's Heavy Outdoorsman—which launches a 220-gr. hard-cast bullet at just under 1200 f.p.s.—and the scope maintained its zero throughout our extensive bench testing.
To test the practical application of pistol, cartridge and scope, we used the combination for some eastern whitetail deer hunting. The scope's lowest magnification proved adequate for shots under 50 yds. without over-accentuating wobble when a shot had to be taken without a rest. It lived up to its waterproof and fogproof promise by staying clear throughout the changing weather conditions that a fall deer season can present.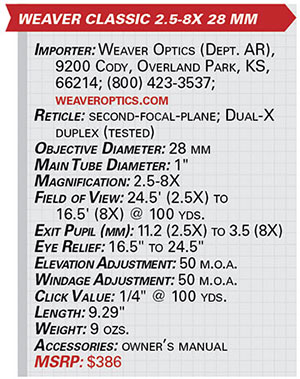 While in the field, the scope's magnification stayed on 2.5X, but its 8X capability proved useful on the range, where it helped get the most out of the Witness Hunter's match-grade accuracy potential. This highest power setting would work well for long shots taken with a rifle-chambered handgun with the aid of a rest.
The Classic Handgun 2.5-8X 28 mm scope is covered by Weaver's limited lifetime warranty to the original owner. Weaver's Classic Handgun scope line is also available in 1.5-4X and fixed 2X models, and in silver and gloss black finishes.
With an MSRP of $386 and a counter price of considerably less, the Weaver Classic 2.5-8X 28 mm scope is positioned in the middle of the pack of handgun scopes in regards to price. Given its affordable price point, our testing revealed the optic to be durable and versatile enough to meet the needs of most handgun hunters.