Support NRA American Rifleman
DONATE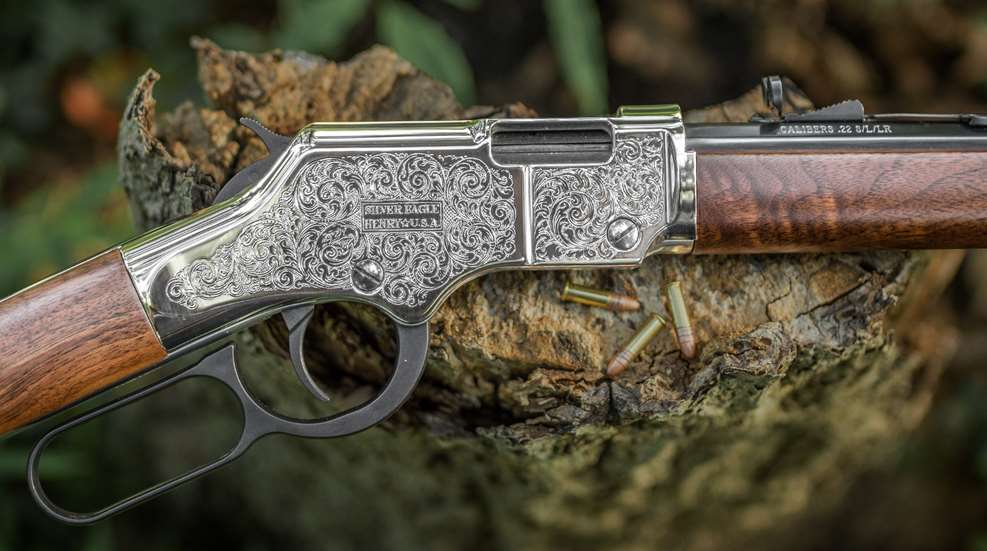 To echo Charles Dickens' A Tale of Two Cities, this is the story of two Henrys, and like the 1859 historical novel, it focuses on resurrection. In this case, however, it is the not only about the legendary 19th century rifle with the famous name, it is also about an entirely new and modern family of innovative rifles and shotguns. These latter guns have created their own legacy through the Henry Repeating Arms (henryusa.com) brand, which celebrates its 25th anniversary this year.
Reaching the quarter-century mark is especially significant when the company's namesake—and inspiration—first emerged on the American scene in 1860. Moreover, it is highly unusual for two different rifles bearing the same name but made by two different companies to each end up making their own indelible mark on the firearm world. But although both share the same made-in-America DNA, their legacies are separated by the shared experiences of shooters 137 years apart.
It all began in 1860, when Benjamin Tyler Henry, the plant superintendent of Oliver Winchester's New Haven Arms Co., perfected a malfunctioning lever-action that had come with Winchester's recent acquisition of the Volcanic Repeating Arms Co. The subsequent rifle became known as The Henry Rifle, the first commercially successful lever-action repeater. Emerging in an era of single-shot muzzleloaders and on the eve of the Civil War, the Henry offered 16 instantaneous shots as fast as the shooter could work the lever and pull the trigger. Its fame became legendary on both sides of the Mason-Dixon line. Later, it went on to help settle the West.
Although only slightly more than 14,000 Henry rifles were produced during its brief six-year existence, this lever-action's name and legacy has been reborn, thanks to the creation of Henry Repeating Arms, a new and entirely different American firearm manufacturer. It has now become a company that has surpassed the original Henry's existence by almost two decades and has dramatically exceeded the original 19th century company's production, as Henry Repeating Arms currently sells more than 300,000 rifles and shotguns annually.
In fact, employing more than 600 workers—and with manufacturing facilities in Rice Lake, Wis., (where Andy Wickstrom, now president of Henry Repeating Arms, was general manager), Bayonne, N.J., and a third recently opened facility in Ladysmith, Wis.—Henry Repeating Arms has become the gun industry's leading lever-action rifle manufacturer. It is also among the most innovative, being one of the few in the business to produce and broadcast a series of pro-product, pro-gun infomercials on television stations throughout the country. Moreover, with its gun barrel steel coming from Ohio, its American walnut stocks harvested from Missouri and its steel and brass castings sourced from Pennsylvania, every Henry firearm is true to the company mantra, "Made In America, Or Not Made At All."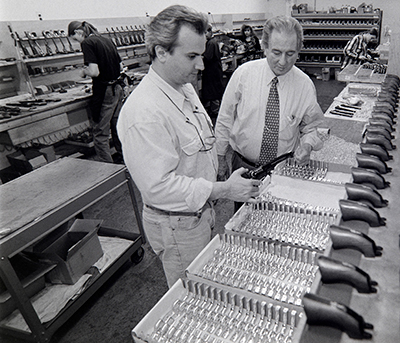 Heading up this privately held, family-owned American success story is the company's founder, owner and CEO, Anthony Imperato, an NRA Life member whose family has been in the firearm business since 1911, when his grandfather, Frank Albanese, bought the legendary John Jovino Gun Shop in Manhattan's Little Italy. At that time, it was the oldest gun store in New York and, possibly, the country. But times change, and having kept the store open as long as possible, Imperato was finally compelled to close it in May 2020 due, in part, to New York's draconian gun laws, compounded by the ongoing effects of the pandemic.
Back in the 1950s, however, Anthony's father, Lou Imperato, became involved with the family's store and re-positioned it as a wholesale distributor of firearms and police equipment. By the mid-1970s, the John Jovino Gun Shop was distributing more than 33 percent of all Colt and Smith & Wesson products. In 1977, Anthony joined the family business and, by 1981, had become a full-time employee, eventually working in every facet of the company, from shipping to sales to exports.
Which brings us, indirectly, to the creation of Henry Repeating Arms, which, like the original 1860 Henry, was born during a blackpowder era. Only this time, it was the "new" blackpowder era of the 1970s, thanks to the Civil War centennial that, in its wake, had created a swell of interest in shootable, affordable cap-and-ball revolvers, almost all of which were replicas made in Italy. However, as one of Colt's largest distributors, Lou Imperato realized the huge marketing advantage Colt would have if it brought back its popular cap-and-ball revolvers under its own name, thereby creating U.S.-made Colt re-issues rather than foreign replicas.


Finally, in 1979, after convincing Colt's executives of the merit of his idea (and under license from the Hartford company as The Authentic Colt Blackpowder Series) Imperato's New Jersey Iver Johnson factory, which he had previously acquired, began assembling, hand-fitting and finishing re-issues of many of Colt's cap-and-ball revolvers—including the 1851 Navy, 1860 Army and 1862 Pocket Police. The guns were assembled using a combination of Italian- and U.S.-made parts and employed Colt's proprietary bluing and casehardening techniques, with Colt performing the final inspections and proofing.
I was among the first to eagerly write about these "new" 19th century Colts and subsequently got to know Anthony Imperato, although, initially, our correspondence was by letter and telephone as there was no email or internet back in those days. Eventually, Anthony told me he wanted to make the guns even more distinctive by creating what he called the "Signature Series" (which collectors now refer to as Third Generation Colt cap-and-ball revolvers), in which their nickel-plated backstraps would carry a "Sam'l Colt" signature, harkening back to Colt's presentation guns of the previous century.
"I started the Colt Blackpowder Signature Series in August 1993," Anthony recalls, having established his new company with a home-equity loan, which enabled him to acquire a small warehouse and hire a handful of people. "The first shipments were in February 1994 … but the Colt Blackpowder Signature Series was the launching pad for what became Henry Repeating Arms."
In fact, the Henry Repeating Arms Co. was formed in 1996, although its first rifles weren't shipped until a year later, during a time when the Colt Blackpowder Signature Series was also in production. Thus, from 1997 until 2004, Anthony and his father (who passed away in 2007) were producing both cap-and-ball Colts and the born-again Henry lever-actions simultaneously. So, in a way, history was repeating itself, with Colt revolvers and Henry rifles both being made concurrently by different companies. While the Colts were mirror images of their 19th century counterparts, the new Henrys were totally different from their predecessors.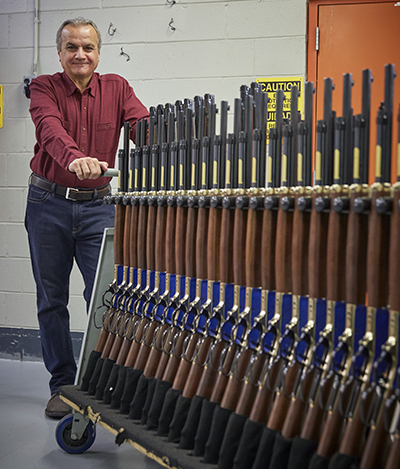 I finally met Anthony Imperato in person at the 1997 Shooting Hunting Outdoor Trade (SHOT) Show in Las Vegas, where he was manning a modest 10'x10' booth and enthusiastically standing behind a table upon which was displayed the prototype of a handsome lever-action .22 rifle sporting a polished walnut stock, exposed hammer and tubular magazine. Directly overhead was a banner that read, "Henry Repeating Arms." After all that I had written about his Blackpowder Signature Series, I obviously looked puzzled, because Anthony's first words to me were, "We're bringing back the Henry Rifle!" However, the rifle I picked up and examined was unlike any Henry lever-action I had seen before, with its black Zamak receiver, 18½" barrel and ability to digest .22 Short, Long and Long Rifle cartridges interchangeably.
Naturally, I had to ask Anthony why he named this new company after the historic Henry Rifle, when the .22-cal. repeater I held looked nothing like B. Tyler Henry's lever-action. It turned out Lou Imperato had suggested the name after a few other options had been rather unceremoniously discarded.
"I thought it was perfect," Anthony said. "It was a legendary name, and we were going to start the company by offering a price-point lever-action. It fit like a glove. I secured the rights to the name 'Henry' shortly thereafter."
Three months later, Henry Repeating Arms shipped the first of those rifles, now known as its H001 Classic Lever Action .22. Consequently, March 1997 officially marks the beginning of this iconic company's birth, and that initial .22 rifle—still in the line and currently priced at $405—has become its most popular lever-action, with more than one million of the smooth-shooting .22s produced to date.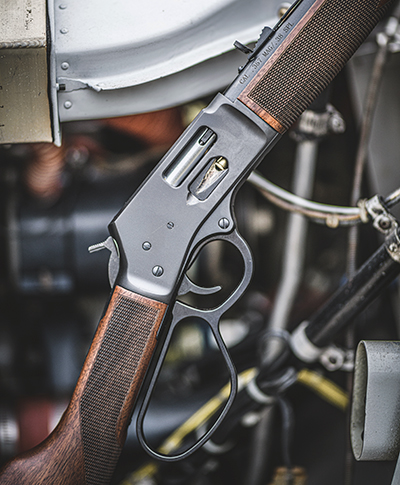 In fact, as part of a charitable tradition for which the company has become well known (see the sidebar on p. 71), at the 2018 SHOT Show, the one millionth H001 Classic Lever Action .22, featuring exhibition-grade stocks and exquisitely detailed hand-engraving by Baron Technology, was auctioned for $55,025, with all proceeds donated by Henry Repeating Arms to the Hunting Heritage Trust.
In 1999, Henry brought out what has become its flagship model, the Golden Boy—featuring a hardened "Brasslite" alloy-frame version of the H001—chambered in .22 S/L/LR, .22 WMR or .17 HMR. Next came the Big Boy in 2003, the company's first centerfire rifle, featuring a transfer-bar safety, hardened brass receiver and chambered in .44 Mag., .45 Colt, .357 Mag., .41 Mag. or .327 Fed. Mag. Side-loading, big-loop-levered and all-weather-finished models have since been introduced, along with new chamberings in .30-30 Win. and .45-70 Gov't, with blued-steel receivers and color-casehardening available on some models.


But not all Henry firearms are lever-actions. The company's single-shot rifles come in chamberings ranging from .223 Rem. to .450 Bushmaster to fill specific niches for hunters, as does the Long Ranger—available in .308 Win., .243 Rem., .223 Rem., and 6.5 mm Creedmoor—with a removable box magazine, geared action and six-lug rotary locking bolt that outperforms some conventional lever- and bolt-actions at a fraction of the price. Slug guns, .410 shotguns and a pump-action .22 rimfire rifle round out a vast assortment of long guns, not to mention special scaled-down youth models, including the Mini-Bolt Youth .22 that the USA Shooting Team selected as its official youth rifle.
To be sure, there are seemingly countless individual configurations in Henry's lineup, but I consider four of its firearms to be especially unique. One that predates Henry's rebirth is the U.S. Survival AR-7, a magazine-fed .22 rifle originally invented at ArmaLite in the late 1950s. Lightweight and compact, with a takedown barreled action that stows into the stock, it was created for U.S. Air Force pilots as a survival tool to be conveniently carried in the cockpit. Since Henry Repeating Arms acquired the manufacturing rights to the AR-7, it has improved the gun's reliability and accuracy and added two camouflage finishes.
Yet another updated design can be found on Henry's modernized X Models—Big Boys, .410 shotguns, and .30-3 Win, and .45-70 Gov't rifles—that bring the lever-action platform into the 21st century. Outfitted for home defense, hunting or as knock-around, reliable truck guns, these lever-actions feature black synthetic furniture with integrated sling-mounting points, a Picatinny rail and M-Lok accessory slots, fiber-optic sights and a threaded muzzle for a suppressor.
Another variation on an existing design is the Axe .410, a shot-firing version of the big-bore "Wanted Dead or Alive"-style Mare's Leg and sporting a 15"-plus barrel and a five-round capacity with 2½" shells. Available in blued steel or hardened brass, I can report from personal experience that it has proven to be the most effective vermin eradicator since the rat trap.
But perhaps the most eyebrow-raising "new" rifle in the Henry lineup is its historically correct re-introduction of B. Tyler Henry's original 1860 Henry Rifle, which came out in 2013. After having so much success with the company's updated lever-actions, one wonders why it returned to the past with a 19th century design that is expensive to produce (especially with Henry's well-known level of quality) and which is already being replicated in Italy. But the return of the American-made Henry was in response to consumer requests.
"Besides, the lever-action rifle is America's unique contribution to firearms design, so we wanted to take Benjamin Tyler Henry's 1860 Henry and bring it back to American soil," said Communications Director Daniel Clayton-Luce. "After all, it is our namesake, so we use the highest-quality materials, our fit and finish is superior, and we'll stand behind it for life, like everything we make."
The New Original Henry, as it's called, features either a casehardened iron frame or a brass frame and is chambered in either .44-40 Win. or .45 Colt. A carbine variant and Deluxe Engraved 1,000-gun Limited Editions are available. Serial No. 1 of the First Edition brought $83,000 at an NRA Foundation auction, and the rest of the First and Second Editions quickly sold out, but the Deluxe Engraved Third Edition remains available at $3,988. Reminiscent of silver-plated engraved Henry rifles presented to Civil War dignitaries, 1,000 patriotically themed American eagle nickel-plated-engraved Silver Deluxe rifles in .44-40 Win. have been introduced at $4,283.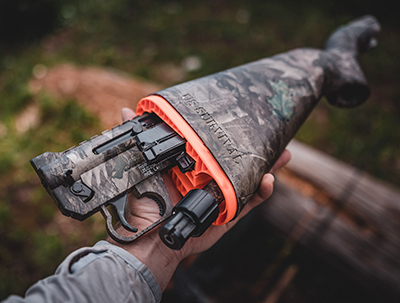 All of which makes one wonder what Henry Repeating Arms is planning for its 25th anniversary. Besides a possible nationwide series of shooting events, a number of limited-edition guns for both purchase and charitable donations will be produced, although as of press time, none was available for photography. I can tell you that a 25th Anniversary Edition of the New Original Henry Rifle will be produced, featuring Victorian-themed engraving with an encircled stylized "25" along with a Roman numeral "XXV" on the receiver and stocked in fancy-grained rosewood rather than walnut. There will also be a limited run of 25th Anniversary Classic Lever Action .22 rifles outfitted in exhibition-grade American walnut and featuring a nickel-plated engraved receiver with gold highlights—similar to the one-millionth Henry .22 that was auctioned for charity in 2018.
Another 25th anniversary project for Henry Repeating Arms falls under its Guns For Great Causes program. This will consist of 1,000 Golden Boy Silver Anniversary Edition .22 lever-actions sporting black furniture with a silver medallion inlaid in the buttstock. All 1,000 of these special rifles will be donated and sold for $1,000 each to raise a total of $1,000,000, which Henry will divide among the organizations and causes they support, including children's hospitals, various pro-Second Amendment causes, veterans' organizations, wildlife conservation groups, law-enforcement and first-responder organizations and the NRA.
Indeed, as Henry Repeating Arms celebrates its 25th anniversary this year, it is also looking ahead to the future—not only in its ongoing role of providing firearms worthy of the Henry name, but also as it continues to preserve every American's right to keep and bear the guns that have helped make this country great.
---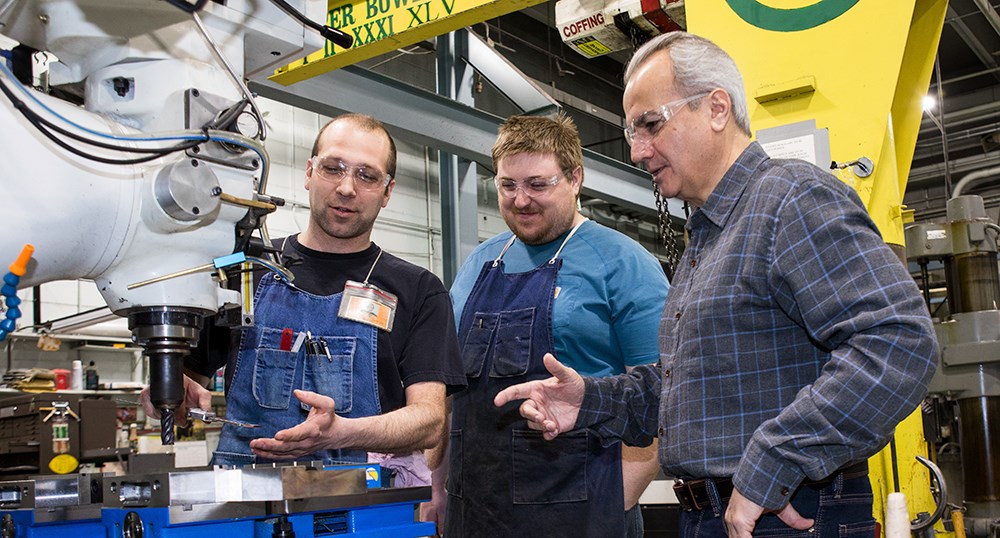 Henry Repeating Arms: A Philanthropic Straight-Shooter For The Second Amendment
In addition to its awe-inspiring proliferation of firearms, over the past 25 years, Henry Repeating Arms has produced numerous limited-edition commemorative rifles destined for great causes. These Tribute Editions, Patriot and Silver Series Henry lever-actions have been donated to countless charities and Second Amendment organizations. So many, in fact, that Anthony Imperato has been called "one of the most generous individuals in the firearms industry."
In addition, through Henry's Guns for Great Causes subsidiary, his company has donated more than $500,000 to children's hospitals, as well as to military and veterans' organizations, countless Second Amendment advocacy organizations, shooting sports educators and wildlife conservancies. Henry Repeating Arms has also given more than 1,000 rifles to the International Hunter Education Ass'n to promote firearm safety and hunter education, in addition to donating tens of thousands of rifles that have raised millions of dollars for Second Amendment causes on local, state and national levels, including 1,000 rifles in support of the Henry 1,000 Man Second Amendment Shoot in 2016.
To date, contributions by the company and its employees have totaled almost $3,000,000. As a result, Henry Repeating Arms received the NRA Recognition Award for Distinguished Philanthropic Leadership, and in recognition for his ongoing charitable activities, along with many other firearm industry accolades, Anthony Imperato was inducted into the NRA Golden Ring of Freedom for his company's contributions to the NRA totaling $1,000,000 or more.
Indeed, Henry Repeating Arms has not only been making great guns for a quarter of a century, it continues to help preserve America's ongoing right to keep and bear arms now and for the future.