by
posted on November 14, 2014
Support NRA American Rifleman
DONATE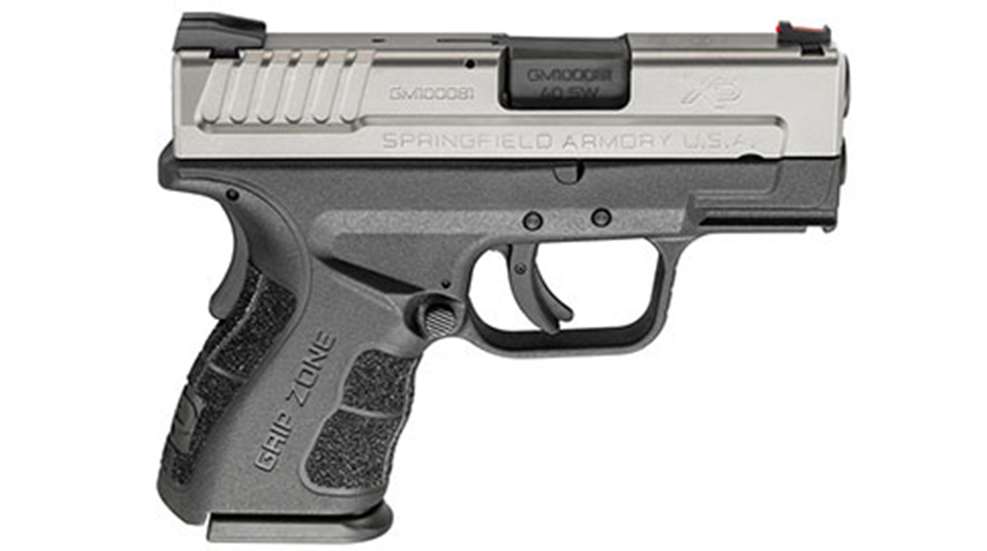 For as long as man has been using tools, he has also been inventing ways to keep them, quite literally, within his grasp. To ensure the most secure grip possible, athletes such as tennis pros and hockey players wrap racquets and sticks with friction tape, and baseball sluggers apply pine tar to their bat handles. And surfers, who especially know the need to remain "stuck" to their boards, apply generous coats of wax to lessen the chance of a catastrophic wipeout.
Maintaining a secure handgun grip, too, falls into this same category, as a prime factor in holding a safe and accurate shot. Size, shape and materials from which a grip is made are all key, thus manufacturers are endlessly on the hunt for solutions.
The newest response to this evolving challenge comes from Springfield Armory in the form of the XD Mod.2  Just when you thought it wasn't possible for the gunmaker to add anymore models to its popular XD line of pistols, its 3" Sub-compact XD semi-automatic pistol is now presented with some dramatic changes to it ergonomics and concealability factors.
Most of the pistol's specifications remain identical to the original sub-compact XD, including safety features such as a grip safety and trigger safety, a striker-status indicator and loaded-chamber indicator. It is also offered in either 9 mm or .40 cal. The major modifications occur externally on the grip panel and elsewhere where ergonomics play the biggest role. In short, Springfield has labeled the areas of the gun that makes contact with a shooter's hand, the "GripZone," which is defined as "every surface on the frame that makes contact with your hand."
With the Mod.2, the frame's circumference has been reduced and re-contoured to enhance the shooter's grip and better fit the hand. It also targets three distinct areas of contact for increased friction. The frame features three specifically molded textures, each placed exactly where a shooter's hand most requires it in order to keep the pistol from shifting.
The stickier grip characteristics provided in the GripZone means a shooter's hand will be less prone to torque, wrench and flip when shooting due increased traction provided by the textures.
For more on the XD Mod.2, please visit Springfield-Armory.com.
XD Mod.2 3" Sub-Compact with GripZone
Caliber: 9x19 mm; .40
Capacity: 9 mm: 13+1 Rounds; 16+1 Rounds w/x-Tension;
40 Cal: 9+1 Rounds; 12+1 Rounds w/x-Tension
Grip Width: 1.19" 
Weight: 26 ozs. w/empty mag; 27 ozs. w/X-Tension
Length: 6.25" 
Height: 4.75"; 5.5" w/X-Tension
Barrel: 3" hammer forged 
Slide: Forged steel
Frame: Polymer 
Finish: Melonite
Sights: Fiber-Optic Front & Low-Profile Combat Rear
Magazines: 1 Stainless Steel Flush Fitting & 1 Full-Size with XD Gear Mag. X-Tension
MSRP: $565 (black) $599 (bi-tone)