by
posted on March 8, 2018
Support NRA American Rifleman
DONATE
The pistol that earned Springfield Armory's Custom Shop the FBI's coveted Hostage Rescue Team pistol contract—the Professional Model in .45 ACP—is now available in 9 mm.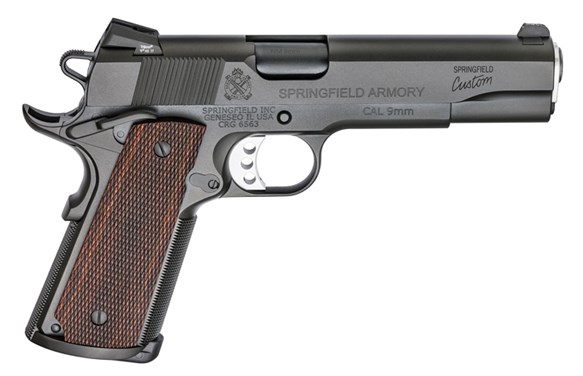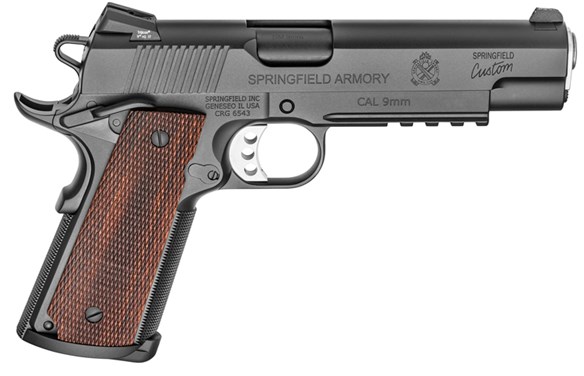 Available with or without a rail, each pistol is hand-built by master Springfield Armory pistolsmiths. So what makes a custom-shop pistol "custom"? For starters, take a look below at the long list of specifications on these new Professional 1911s, which are offered with or without a rail.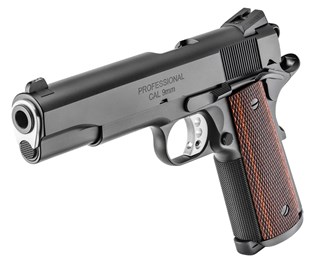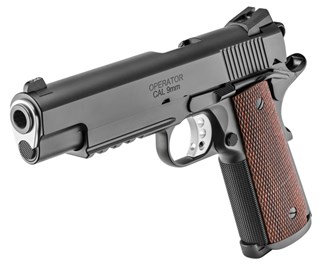 "The Springfield Armory Custom Shop is a collection of over 200 years of experience trying to reach the absolute pinnacle of what custom 1911 gunsmithing is," said Springfield Armory Custom Shop pistolsmith Troy Schulz. "What we're ultimately aiming for is absolute perfection." 
Oftentimes these craftsmen rely on "feel," something that can't be duplicated by a machining process, and earned through many years of dedication to the platform.
"I like it to look like a work of art, but I also want it to function like a work of art," explained Don Stogsdill, team leader of the Custom Shop, who boasts 25 years of experience at Springfield Armory.  
Springfield Armory has produced a video that offers a behind-the-scenes look at its Custom Shop and its dedication to precision and excellence of craftsmanship. Watch it here, and for more visit springfield-armory.com/custom/

Professional Light Rail 9 mm (PC9119LR) 
Custom fit slide to national match light rail frame
Shortened dust cover & bullet cut in slide
Custom fit match barrel & bushing
Polished feed ramp & fully throated barrel
Springfield Custom match hammer & sear
Fitted speed trigger w/custom tuned 4 ½ lb. trigger pull
Tuned for total reliability
Lowered & flared ejection port
Tuned & polished extractor
Standard 1911-A1 recoil spring guide
Custom fitted beavertail grip safety
Custom fitted ambidextrous thumb safety
Low mount Novak rear sight w/matching dovetail front sight
3 dot tritium inserts in sights
Custom fit 1-pc billet magazine well, matched to bevel on frame
Hand checkered 20LPI front strap checkering
Checkered Cocobolo grips
"Carry Bevel" complete pistol
"Black T" finish complete pistol
6-7 round magazines
Custom carrying case
Springfield Custom markings on slide
MSRP $3395
Professional 9 mm  (PC9119) 
Custom fit slide to national match frame
Custom fit national match barrel & bushing
Polished feed ramp & fully throated barrel
Springfield Custom match hammer & sear
Fitted speed trigger w/custom tuned 4 ½ lb. trigger pull
Tuned for total reliability
Lowered & flared ejection port
Tuned & polished extractor
Standard 1911-A1 recoil spring guide
Custom fitted beavertail grip safety
Custom fitted ambidextrous thumb safety
Low mount Novak rear sight w/matching dovetail front sight
3 dot tritium inserts in sights
Custom fit 1-pc. billet magazine well, matched to bevel on frame
Hand checkered 20LPI front strap checkering
Checkered Cocobolo grips
"Carry Bevel" complete pistol
"Black T" finish complete pistol
6-7 round magazines
Custom carrying case
Springfield Custom markings on slide
MSRP $3295