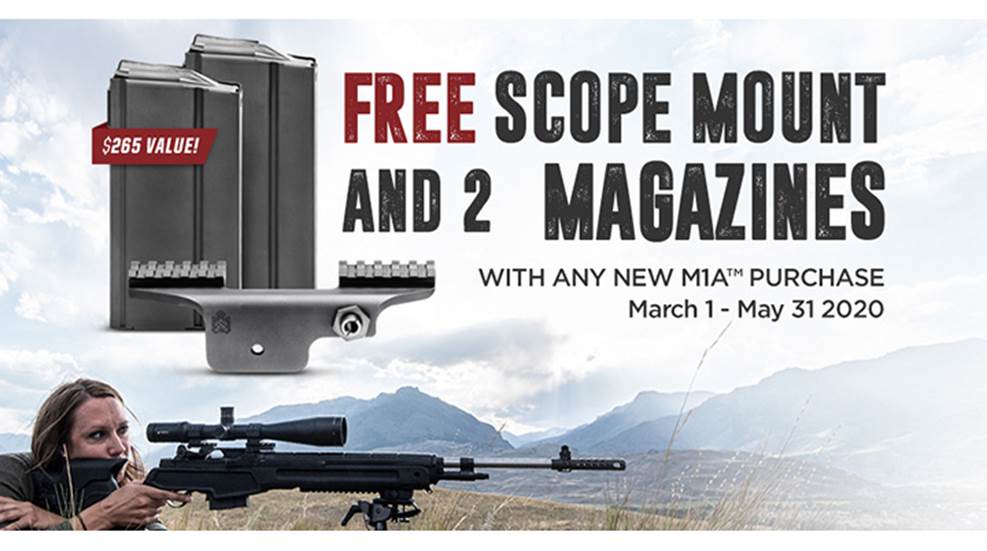 There's no shortage of special offers by firearm manufacturers right now, and if you're wondering how to spend that COVID-19 relief check, here are a few to stretch those bucks. Whether you're in the market for a new gun, weaponlight or ammo, there's something for everyone.
Purchase a new Springfield Armory M1A1 before June and you may qualify to receive a scope mount and two free magazines. The
Gear Up Promo
is valued at $265..
Hornady is offering free bullets to enthusiasts who purchase select reloading gear and Critical Defense ammunition for qualifying buyers of any of the company's RFID-enabled RAPiD safes. Here's a
link
to the company's Get Loaded and Safe and Secure 2020 promotions.
Take
home a new
FN Five-Seven or FN 509 Tactical before May 1 and you could receive a $75 rebate or free Streamlight TLR-7A Gun Light ($225 value), respectively.
The "
Buy More Save More
" promotion from Crimson Trace has been extended to April 30 and new owners of the company's lasers, lights, sights and scopes can qualify for up to $200 back on their purchase price. The more you spend, the more you save—as the name indicates—but even if you only have $58.95 left in that COVID-19 relief check, you still get $10 back.
Purchase at least four boxes of Federal predator or varmint, in centerfire and rimfire, and you get up to
$5 back per box
. Maximum rebate per shooter or household is $100. Offer ends April 30.
Claim a modern sporting rifle from Savage before May 1 during the company's
Exercise Your 2nd Amendment Rights
[PDF] promotion and you could qualify for a $75 rebate. Add one of the firm's A or B series rifle to your gun safe before the end of April and there could be $50 coming back. If precision's your game, claim a Stealth, Stealth Evolution, 110 GRS, or 110 HS Precision before May 29 and there may be a
$100 rebate
in your future..
TNW Firearms is offering
$50 back
for enthusiasts who buy one of its standard Aero Survival Rifles or Tac Aero Survival Pistols between March 1 and May 31. The TNW Aero Survival product line uses Glock magazines.
You might want to move fast, though. Firearm sales in March were at a
record-breaking pace
and retailers contacted by
American Rifleman
indicated they haven't slowed.