by
Brian C. Sheetz, Editor In Chief
posted on January 4, 2017
Support NRA American Rifleman
DONATE
My recent trip to Smith & Wesson's academy required only one night's stay, but whenever I visit the storied gunmaker's Springfield, Mass.-area facilities, I'm reminded at every turn that its reputation was not built overnight. This time, the purpose was to shoot the company's new M&P M2.0 pistol—the successor to its now decade-old M&P polymer platform that re-established the company's stake in the highly competitive field of 
striker-fired, semi-automatic polymer law enforcement and personal defense sidearms. To say that the M&P product line of pistols and rifles represents the company's "meat and potatoes" stake in a constantly evolving feast of new entries would be if anything, somewhat of an understatement. The S&W family consists of numerous companies, including Thompson/Center Arms, Crimson Trace, Caldwell accessories and Schrade knives, but the name Smith & Wesson is by far the most recognized.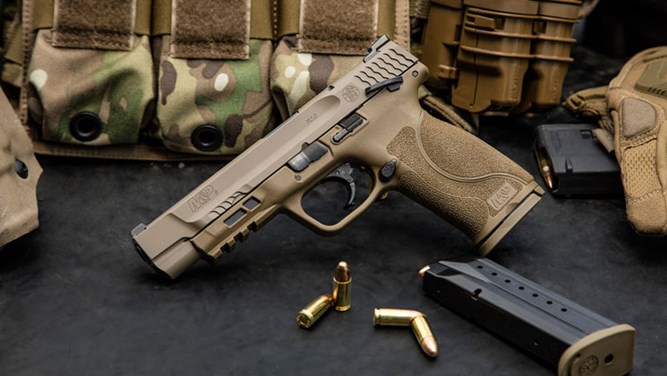 According to James Debney, president and CEO of American Outdoor Brands Corp., the parent company of Smith & Wesson Corp., "When we launched the first M&P polymer pistols over 10 years ago, they were a game changer for the company. Since that time, we have clearly established M&P as a leading firearm brand and built an incredibly strong family of products around it, including the market leading M&P Shield pistols. We expect this completely new product platform to clearly differentiate us from the competition and take significant share in the handgun market."
The launch included 9 mm Luger, .40 S&W and .45 ACP versions of the company's full-size design, but it suggested that line extensions would be forthcoming throughout 2017 to "establish a completely new family based on this platform." 
Matt Buckingham, president of the company's Firearms Division, said, "Our goal is to continually strengthen and grow our leadership position in firearms by meeting and then exceeding the needs, wants, and desires of the consumer. With this goal always in our minds, the new product development team at Smith & Wesson tapped into more than a decade of M&P experience, performance data, and candid feedback from professional users when designing the M&P M2.0 Pistol—and it shows."
Indeed, the gun has that now familiar feel of incredible comfort and pointability that made the first-gen M&P so successful. New is an aggressive texturing treatment, a crisper trigger and more audible trigger reset.
Technical and design details of the M&P M2.0 pistol include an extended stainless-steel chassis and high grip/low bore axis relationship designed to reduce muzzle rise and speed shot-to-shot recovery along with the following: 
Optimal 18-degree grip angle, providing a natural point of aim

Four interchangeable dimensional palmswell grips for best-in-class fit: S,M,ML,

Front cocking serrations
Accurate 1 in 10" twist 9 mm Luger and .40 S&W, and 1 in 15" twist .45 ACP barrels
Extended rigid embedded stainless steel chassis to reduce flex and torque when firing
Tactical white three-dot steel sights for quick target acquisition
Ambidextrous slide stop, reversible magazine release, and optional ambidextrous thumb safety
Simple take-down lever, for easy disassembly and maintenance
A sear-deactivation lever allowing safe take-down without having to pull the trigger
Nitride-hardened Armornite corrosion resistant finish on barrel and slide (Cerakote FDE finish over Armornite on Flat Dark Earth slides) 

For those looking for a filling meal of a gun and who know they can trust the dual ampersand brands of S&W and M&P, the new M&P M2.0 pistol should prove irresistible at an MSRP of $599. It is already available in the three most popular pistol calibers: 9mm, 40S&W and .45 Auto. is available in matte black or FDE – Flat Dark Earth – finishes and includes two magazines, a limited lifetime warranty, and a lifetime service policy. See the M&P M2.0 pistol in action here. For more information, visit smith-wesson.com.