by
posted on February 4, 2010
Support NRA American Rifleman
DONATE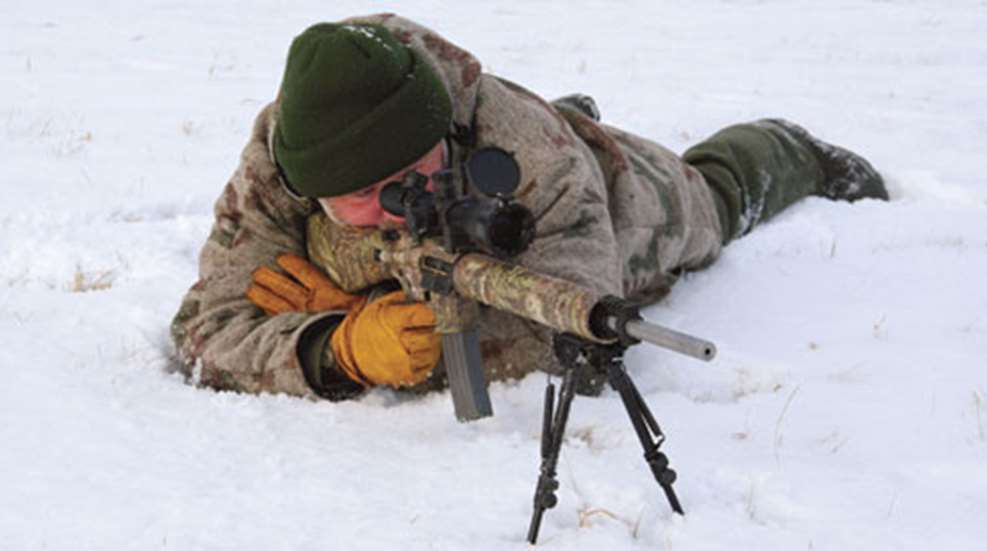 When Smith & Wesson entered the AR-15 market in late 2007, it was understandable that the firm would soon offer a high-grade version of the rifle: the M&P15PC, with "PC" standing for "Performance Center," chambered in 5.56x45 mm NATO/.223 Rem. What sets this Performance Center rifle apart from other S&W M&P15 rifles is its finish. Everything—except the barrel, grip and a few small parts—is covered with Advantage MAX-1 camouflage. The rifle has a stainless steel 20-inch semi-bull barrel with 1:8-inch rifling and a matte finish. Manufactured by sister company Thompson/Center, the barrel measures 0.734 inches in diameter at the muzzle, which is finished with an 11-degree "precision" crown. The 1:8-inch twist rate allows the use of heavier bullets for better long-range work, augmented further by the free-floating barrel fitted with a Yankee Hill Machine Co. (YHMC) Single Rail Gas Block. Unlike an A2-style gas block, which can obstruct the sight picture of certain optics, this low-profile block allows a clear sight picture for optical sights. A front sight can be attached to the top rail on the gas block, and the YHMC aluminum free-floating fore-end tube has a knurled surface. A single sling swivel stud is mounted 1 inch from the front of the handguard. The barrel nut is fitted with a Yankee Hill jam nut.
The forged aluminum upper receiver includes a forward assist and an ejection port dust cover. It is a flat-top design with an integral Picatinny rail along the top for mounting sights. A black-oxide finish covers the bolt and carrier, which are of the standard configuration with a plunger-style ejector. The charging handle has a single release catch on the left side.
The forged aluminum lower receiver has a standard left-side, two-position safety lever. A Hogue rubber grip is comfortable and well-designed, featuring a solid, dark green color bearing the S&W logo. Its pebbled texture provides excellent purchase.
Our sample rifle's JP Industries two-stage trigger had a listed pull-weight of 4 pounds, 8 ounces, although the first stage bottomed at 2 pounds, 11 ounces, and the well-defined second stage broke at 3 pounds, 14 ounces. It was extremely crisp and clean—one of the best assets of this rifle. In essence, once the shooter is holding the first stage, the trigger breaks with only an additional 1 pound, 3 ounces of trigger weight, which makes this an ideal trigger for precision work.
Although standard AR-15-type detachable magazines fit the rifle, it comes with a single 10-round unit made by C-Products that fits into the magazine well with less than 0.4 inch protruding out the back and 0.8 inch at the front. The short magazine makes the M&P15PC much easier to carry on a sling when hunting compared with a longer magazine. Also, the 10-rounder is a good all-around hunting magazine, but, be aware, it may be illegal for hunting in some states.
Other than the camouflage coating, the buttstock is a standard A2 style. It has a fixed rear sling loop and checkered plastic buttplate. A metal trapdoor in the buttplate allows access to a compartment for storage of a cleaning kit or other small items.
We tested the rifle with two different factory loads and one handload of proven accuracy. The overall average for five-shot, 100-yard groups was 1.61 inches, with the handload being the most accurate with a 1.35-inch average. The single best group was also with the handload and measured 0.75 inches, center to center.
Smith & Wesson's M&P15PC looks good and runs well. The design and execution are excellent, with good ergonomics and a nice trigger. It is an excellent rifle for a predator hunter looking for an AR-15-style rifle.
Manufacturer: Smith & Wesson Performance Center; (800) 331-0852; Smith-Wesson.com
Caliber: 5.56x45 mm NATO (.223 Rem.)
Action Type: Gas-operated, semi-automatic center-fire rifle
Receiver: Forged aluminum alloy
Barrel: 20"
Rifling: Six-groove: 1:8" RH twist
Magazine: Detachable box, 10-round-capacity
Sights: None (Picatinny rail)
Trigger Pull: JLP two-stage match; 3 lbs., 14 ozs.
Stock: Advantage MAX-1 Camouflage synthetic, Full Float Yankee Hill handguard, Hogue pistol grip: length of pull, 121⁄3"; drop at heel, 1/2"; drop at comb, 1/2"
Weight: 8 lbs., 2 ozs.
Accessories: One 10-round capacity magazine, manual
Suggested Retail Price: $2,046