Support NRA American Rifleman
DONATE
Although Sergei Simonov's SKS had a relatively short service history—being rapidly eclipsed by Mikhail Kalashnikov's more widespread and famous AK—the tough, stripper-clip-fed infantry arm, which was based on an anti-tank rifle action, is nonetheless deserving of consideration by anyone seeking a reliable semi-automatic rifle chambered in the 7.62x39 mm cartridge.
The gun is so devoid of extraneous features that it seemingly discourages modification; so, aside from synthetic stocks and pseudo-detachable magazines of dubious reliability, there are relatively few accessories available that actually enhance its capabilities. Of those, clever engineering is required to allow them to attach without permanent modification—particularly if the gun is to retain its ability to be fieldstripped. (See exploded view here)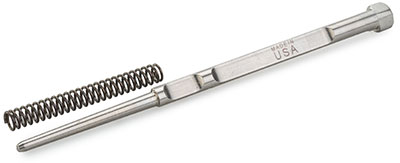 In this case, we chose to investigate one safety-related upgrade and two styles of forward optics mounts, along with a stock accessory—all of which conveyed distinct advantages to our commercially imported Chinese Norinco and Yugoslavian military Model 59 examples. Like most SKS rifles, our Yugo lacked a return spring on its firing pin, allowing the pin to free float or, possibly, jam in the bolt body, which could result in a slamfire. While such a condition can be minimized by removing excess carbon, debris and cosmoline, the SKS's corresponding firing pin and bolt hole tapers are still prone to binding. A spring-retracted firing pin kit ($43) from Texas gunsmith Ben Murray not only helps ensure proper service but can mitigate the unintentional detonation of soft primers. The kit includes the CNC-machined and heat-treated 17-4 stainless steel firing pin, two springs, written instructions and a photographic cutaway, and it proved easy to install on the Yugo. It is also available for all late-1951 and later Russian SKSs along with all Chinese, Albanian and Romanian models.

When it comes to shootability, the SKS's sights, while robust and serviceable, are not particularly easy on aging eyes. Although receiver-cover scope mounts abound, most hinder fieldstripping and cleaning, so we decided to try out two different "scout" styles designed for mounting long-eye-relief optics ahead of the chamber area. Another advantage of that style is that they preserve the gun's stripper-clip method of loading.
The SKS2 Scout scope mount ($79) from Scout Industries, Inc. proved to be a rock-solid solution on the Norinco. The U.S.-made accessory is precision-machined to firmly attach to all varieties of the SKS without any drilling or tapping. In fact, the layman can typically install the mount, making his rifle "range ready," within 30 minutes. The only original part of the rifle that must be set aside is the rear sight elevator.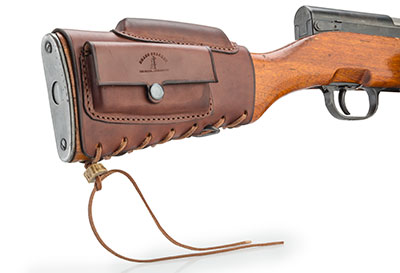 The second unit, installed on the Yugo, was the SKS See Thru Scope Mount ($110) from Brass Stacker. Die-formed from 0.115"-thick sheet steel into an inverted U-shape, it attaches by way of a replacement cross bolt. An included pin spanner makes removal of the original cross bolt nut easy. Of course, as its name suggests, the U.S.-made mount allows use of the original irons even with an optic in place. It attaches securely without permanent modifications to the firearm, and allows for complete fieldstripping while attached. Its steel Picatinny rail measures 35⁄16" and has eight cross slots.
Either mount is perfect for a compact red-dot sight such as the Aimpoint Micro H-2, which, admittedly is far pricier ($796) than many SKS users might consider the gun deserves. Still, the model's reinforced housing, see-through, flip-up lens covers, waterproof construction and 50,000-hour battery life from a single CR2032 make it appropriately rugged for the SKS. Whether it or a less expensive optic is chosen, and regardless of which mount is selected, a quality leather cheek rest, such as the one shown from Brass Stacker ($105), will allow the SKS shooter to maintain proper alignment of his eye to the scope's optical axis. In this case, it adds the utility of an on-board ammunition carrier sized for the gun's 10-round stripper clip. Each one is individually hand-crafted, stitched and stamped with a maker's mark by master knifemaker Rick Lowe in Candler, N.C.
The SKS may not be as "hip" as today's other semi-automatic military longarms, but it is a sound and proven design that exhibits reasonable accuracy, commendable reliability and—with the aforementioned accessories—suitable utility for hunting or home defense.