by
Kelly Young, Senior Executive Editor
posted on December 22, 2014
Support NRA American Rifleman
DONATE
The collaboration between a career Marine officer and a mechanical engineer, Salute Targets was built from the ground up to offer its customers some of the most technically advanced steel targets on the market. Established in 2003, founders Mike Howard (the Marine who closed out his military career training Iraqi security teams) and Mike Eggiman (the engineer and inventor) understood the potential that steel targets have as both serious training tools and as sources of light-hearted entertainment, and over the past decade they have constantly improved their designs as the company has grown and expanded its product line.
Proficiency with a firearm can be greatly influenced by the quality of the equipment used during training, and reactive steel targets are a great example of this. Offering instant feedback of a hit, both visual and auditory, steel targets assist in the development of muscle memory, which translates directly into faster speed and better accuracy with a given firearm. Steel targets also don't need to be replaced frequently, as paper targets do, allowing for longer training seasons with more shooting and fewer interruptions.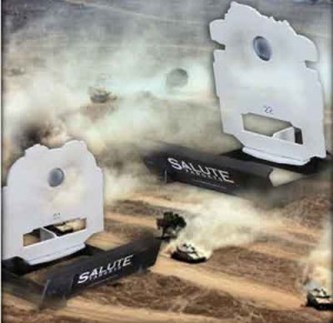 Reactive steel targets are also a lot of fun-regardless of the shooter's experience level- but particularly for new shooters. Providing an experience more engaging to the senses than just poking holes into paper, steel targets present a great way to introduce newcomers to the sport and to keep their interest.
AR500 armor plate steel, of which Salute's entire catalog (with the exception of their .22 Rimfire series) is comprised, can withstand an incredible amount of force without damage or deformation. This means these targets can shrug off a lot of hard use without need for replacement or repair. The engineers have designed their rigs to deflect fired bullet fragments away from the shooter, greatly diminishing the potential for an accident.
Today, the company offers more than 100 different steel targets in myriad shapes and sizes-everything from simple geometric shapes and IPSC silhouettes to Sherman tanks and Osama bin Laden. They also offer numerous different platforms in which to shoot these targets, like dueling trees and hanging gongs, as well as multiple designs of plate racks and auto-resetting spring bases.
Steel targets are a great addition to the range, regardless of whether they are being used for business or for pleasure, and this target maker has an option at every price point. For more information, visit salutetargets.com.