Support NRA American Rifleman
DONATE
For the second year in a row, Sturm, Ruger & Co., Inc. has been recognized by the National Association of Sporting Goods Wholesalers (NASGW) as Firearms Innovator of the Year and, for the 10th year in a row, Firearms Manufacturer of the Year. Ruger CEO Mike Fifer was also presented with the NASGW Chairman's Award for his dedication to and impact in the firearms industry. 
More than 500 NASGW members convened in Kansas City at the Annual Awards Dinner and Reception for the presentation of these prestigious awards. Accepting on behalf of Ruger were Ruger CEO Mike Fifer; President and COO Chris Killoy; and Vice President of Sales Shawn Leska.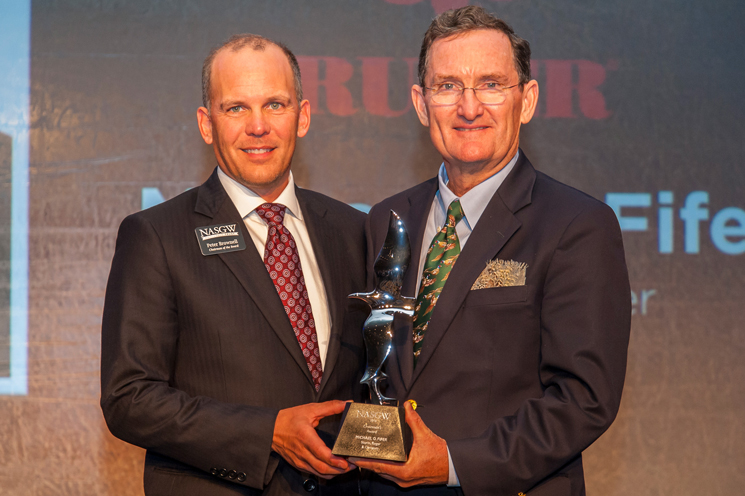 "We are truly honored to be recognized once again by the NASGW as both the Innovator and Manufacturer of the Year," said Killoy. "Ruger and its over 2,000 employees remain dedicated to bringing compelling new products to market and as always, are loyal to the two-step distribution channel," he concluded.
The NASGW is the organizer and sponsor of the NASGW Expo and Annual Meeting event. This annual event provides educational, marketing and communications opportunities to hunting and shooting sports wholesalers, manufacturers and sales professionals. The NASGW also uses this event to recognize manufacturers for their accomplishments from the previous year.
The Firearms Innovator of the Year award is given to the company that is committed to developing unique products, services or strategies that set that company apart from its competitors; has made an outstanding contribution in furthering the image and development of shooting sports; enhances and increases significantly the growth and expansion of shooting sports; and actively supports NASGW and its wholesaler member firms.
The Firearms Manufacturer of the Year recipient is determined by NASGW Wholesaler members who evaluate the performance of manufacturers on four key criteria: distribution policy; marketing, promotions and sales; logistics and operations; and NASGW and industry support. This assessment of manufacturer performance is designed to provide a balanced appraisal that recognizes the best manufacturer in its category according to NASGW members.