by
posted on August 21, 2018
Support NRA American Rifleman
DONATE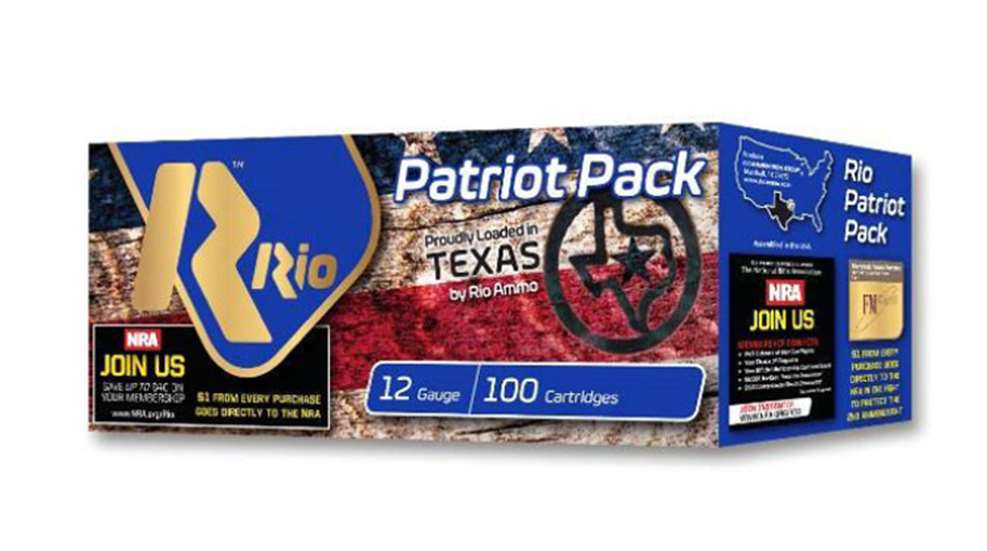 Rio Ammuniton is stepping forward to renew its support for the Second Amendment.
Manufactured in Marshall, Texas, the new Rio Patriot Pack features a distinctive outer sleeve design holding 100 12-gauge cartridges that are designed for wing and target shooting. The Patriot Packs also feature Rio's commitment to NRA's mission.
For every Patriot Pack sold through June 15, 2019, Rio will contribute one dollar toward NRA's various educational and legislative initiatives aimed at preserving firearms rights for future generations. Second, Rio is also offering an NRA membership discount of up to $40 if customers sign up through a special URL found only on the Patriot Packaging.
"By helping to fund vital NRA programs," says Darrell Morrow, national sales director for Rio, "and by compelling our customers to sign up for an NRA membership, Rio is helping to ensure that the qualities of discipline, respect, good sportsmanship and loyalty, all key aspects of the shooting sports, are carried forward to the next generation of collectors, hunters and competitors."
Todd Grable, NRA Executive Director of Membership for NRA, said NRA is grateful for Rio's commitment to the Second Amendment  "It is critical to have partners who stand with all of us in protecting our Second Amendment rights and preserving America's shooting sports heritage," he said.
Patriot Packs are produced in Rio Ammunition's 105,000 square foot, state-of-the-art Marshall, Texas, production facility. This facility, one of three operated globally by Rio's parent company, MAXAM Outdoors, is capable of producing more than 300 million shot shells annually at full capacity, creating solid American jobs in east Texas. For more, visit rioammo.com