by
Bruce N. Canfield, Field Editor
posted on July 22, 2022
Support NRA American Rifleman
DONATE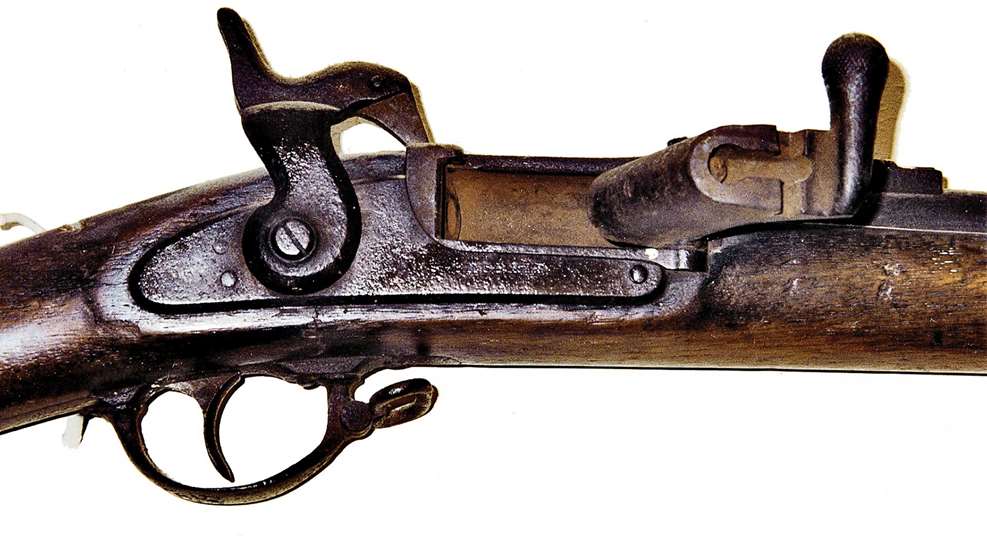 Q. About 20 years ago I bought a Springfield rifle, and at that time I was told that it had an Allin conversion. Recently I watched a television segment on guns that showed a Springfield rifle with an Allin conversion, but that gun opened to the top, whereas mine opens to the side as the picture shows. Is my gun an Allin conversion or does it have a different name?
---
A. You do not have an "Allin Conversion." Your rifle appears to be one of the Needham Conversions of an M1861/M1863 Civil War Springfield rifle-musket. These guns were converted by the firm of J&G Needham of Trenton, N.J., circa 1869, and are chambered for a .58-cal. center-fire cartridge. The number of rifles converted to the Needham pattern is not known but estimates range as high as 4,000 to 5,000. The Needham guns were not standardized or utilized by the U.S. military, but a few state militia units reportedly purchased some in the early 1870s.
The Needham Conversion is characterized by the side-hinging breechblock as opposed to the Allin Conversion's top-mounted "trapdoor" breechblock. The Needham offered no real advantages over the standardized Allin action and was presumably developed as an attempt to circumvent the Allin patent.
—Bruce N. Canfield
---
This "Questions & Answers" was featured in the February 2005 issue of American Rifleman. At time of publication, "Questions & Answers" was compiled by Staff, Ballistics Editor William C. Davis, Jr., and Contributing Editors: David Andrews, Hugh C. Birnbaum, Bruce N. Canfield, O. Reid Coffield, Charles Q. Cutshaw, Charles M. Fagg, Charles Karwan, Angus Laidlaw, Evan P. Marshall, Charles E. Petty, Robert B. Pomeranz, O.D., Jon R. Sundra, Jim Supica, A.W.F. Taylerson, John M. Taylor and John Treakle.

To subscribe to the magazine, please visit the NRA membership page and select American Rifleman as your member magazine.