With the success of the MP40 from its Legends line, Umarex released the next logical product—the Legends M1A1. This faithful reproduction, clearly based on the famous Thompson submachine gun, is built with absolute attention to detail and retains nearly every feature of the original, including select-fire capability. However, being that it fires .177 caliber steel BBs, you won't need $30,000 and a tax stamp to own one.

My first impression of the air rifle was "Gosh, this thing's heavy." Umarex did everything they could to get the Legends M1A1 to match the weight of the original. This included nearly 100 percent metal construction and matched dimensions to the classic submachine gun.

At 7.75 lbs., it feels close enough to the original's weight of 10 lbs. to recreate realistic handling. The furniture is right on the money for fit and feel, and it wasn't until after shooting it for three hours that I realized they are plastic. The only seam was on the underside of the forearm, and the stock set not only feels correct, but it even scratches like real wood!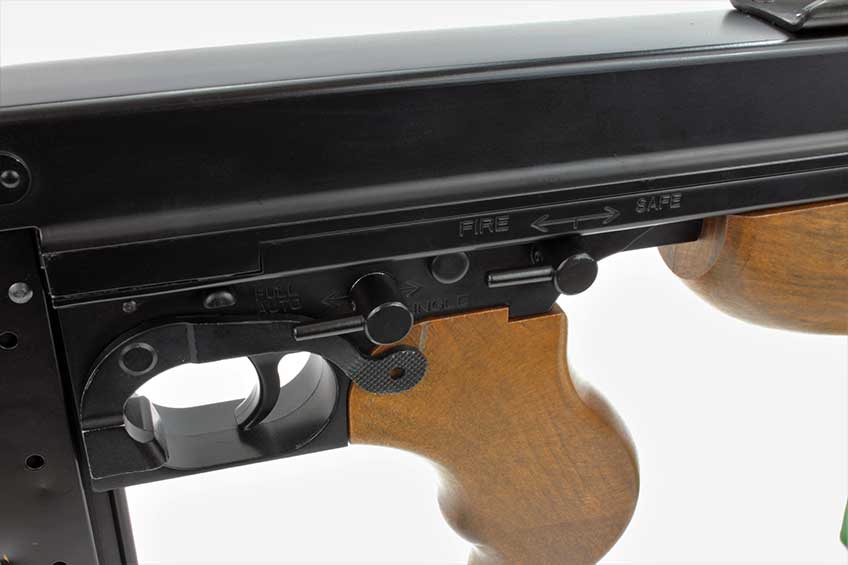 Moving on to the controls, they are identical to a genuine M1A1 as well. Just like the real steel, there are two selector switches, with one for fire or safe and the other for semi or full automatic. The locations of both switches are correct, as are the markings. The magazine catch is also properly positioned and functions as it should.

When depressed, the magazine catch releases the 30 round stick-magazine that also houses two 12 gm. CO2 cartridges. The CO2 cartridges are inserted in a back to back formation and then punctured simultaneously as the cap is tightened with the supplied Allen wrench.

Excited to give it a go, I immediately commuted to the "range," which involved putting on my tactical Crocs and proceeding to my backyard. I do my typical airgun and bow testing out there. For safety, there is an archery bag at one end of the property about 19 yds. away. This bag measures approximately 3' x 3' and has reliably stopped everything shot at it. I decided to start my testing by determining the average velocity while the CO2 was fresh.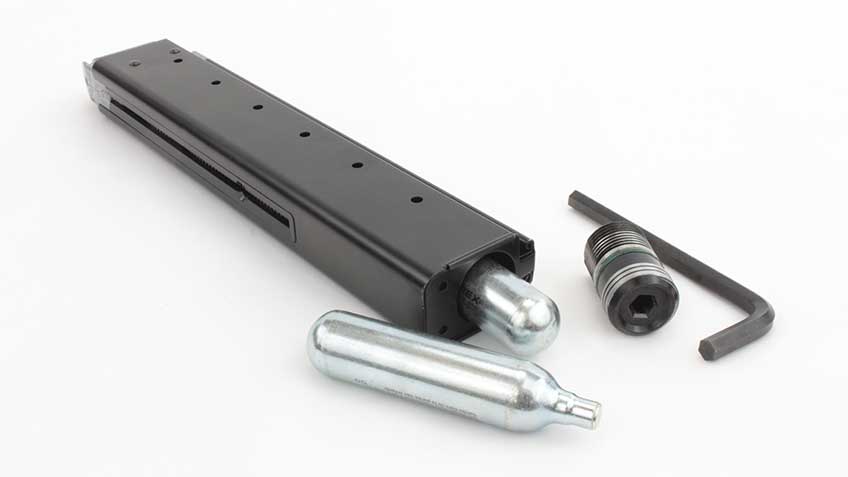 After inserting a filled magazine, I realized that the charging handle needed to be pulled back and released forward to charge the air rifle. Normally, this would be impressive realism, but if you know how the real M1A1 Thompson functions, this is incorrect. The M1A1, like many submachine guns, fires from an open bolt. If the bolt stayed back when cocked and slammed forward when fired, that would have made the collector in me smile. Even still, the functionality is a nice touch.

After firing 10 consecutive shots over a chronograph, the Legends M1A1 shot at an average velocity of 442 feet per second, which is right around where you want a recreational BB gun to be. After all, if it's not harvesting game then all that extra velocity is just a liability.

While still on the top half of the CO2 charge, I went ahead and performed a formal bench-rested accuracy test. From five five-round groups, the Legends M1A1 produced an average group size of 4.29" from 11 yds. with the best group measuring 2.81".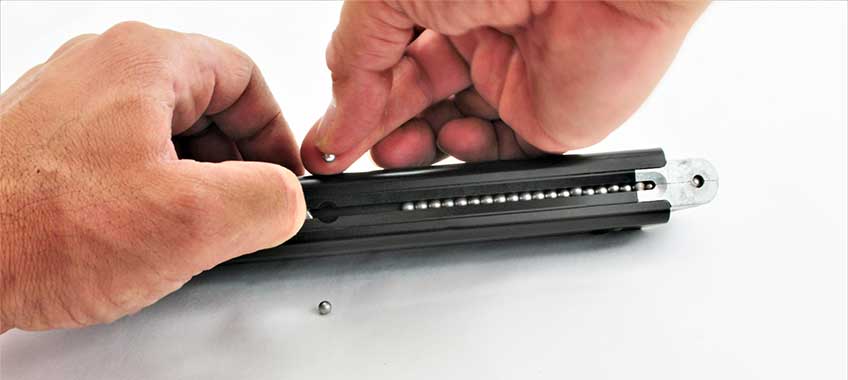 These accuracy results were not amazing, but not bad for a smoothbore airgun and designed for full automatic fire. The rear sight consists of an aperture and slot combo while the front sight is just a solid post. Not only is this historically accurate but just like a real M1A1, the sights don't adjust. My sample shot just a touch low and right but it wasn't so bad that it couldn't be compensated for.

With the formal testing finished I topped off the magazine, flipped the selector to automatic and sent a full magazine onto a NRA B-3 target in short controlled bursts. At 12 yds. the Legends M1A1 put 26 out of 30 BBs on the 11" x 8.5" paper, with 15 hits in the 3" black. All that was left to do was dump magazine after magazine into the target area and spend the rest of the sunny 85 degree day.

The warm day extended the CO2 life and six or seven magazines worth of use could be squeezed out of two CO2 cartridges, especially if waiting five minutes in between reloads. The effective range on the airgun is about 25 yds., as any further opens up shot groups outside of the 3' x 3' target backer.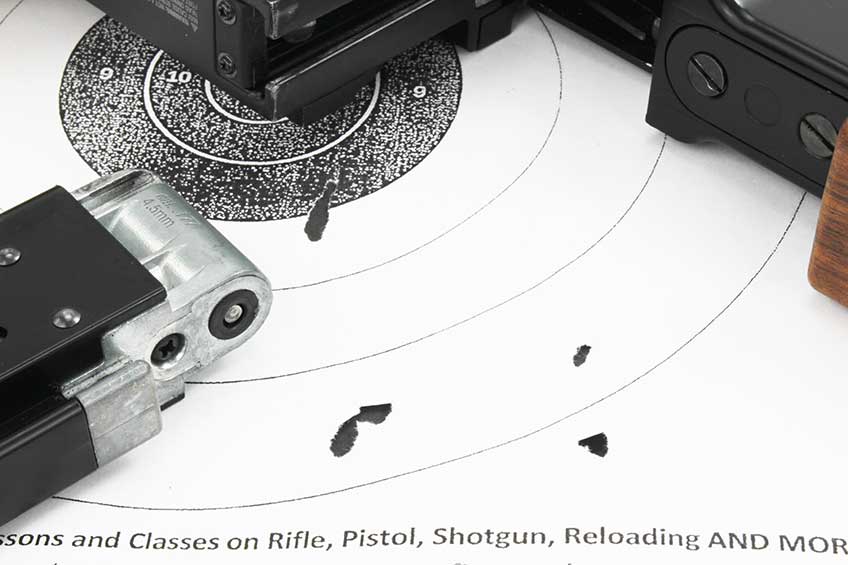 The Umarex Legends M1A1 is so realistic and fun that I asked the company to let me hold onto it for a while, as I wanted to bring it along to the local range for our Historic Military Firearms Shoot. It's just too cool to sit in the safe and the price of CO2 and BBs is negligible, especially when you compare it to buying .45 ACP.

Seeing as this gun doesn't have an orange tip, I have no concerns about putting it on a firing line next to actual firearms. It is very clear in its design and instructions that this gun should be treated like a real firearm. With that in mind, be sure that you do not display it in public. Though it isn't an actual firearm, it should be handled like one and all proper safety precautions should be followed. Like all things in the shooting sports, have fun but be responsible.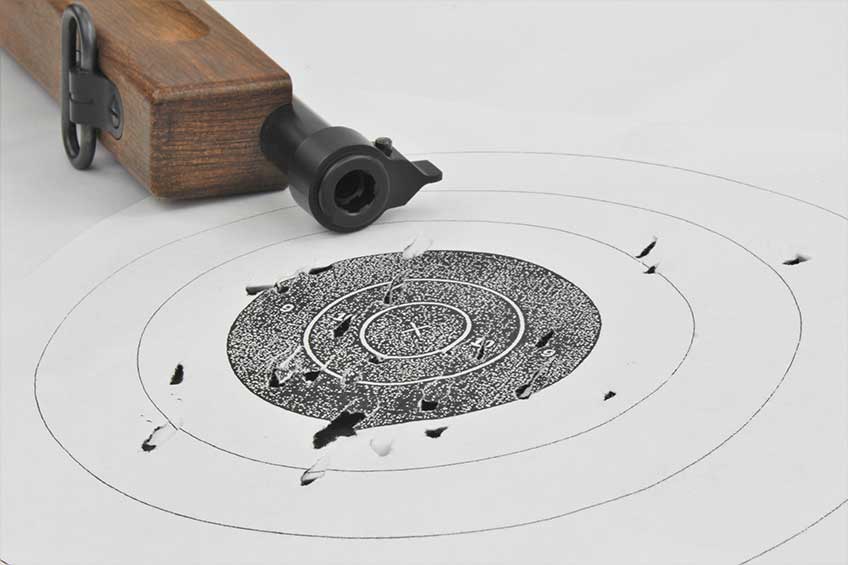 While the Umarex Legend M1A1 isn't built for any serious shooting practice, it can make for a good training aid to introduce a new shooter to the basic tenets of shooting and the techniques involved to successfully manage ammunition. Plus, the benefits for historical-arms enthusiasts are obvious.

Learning on BBs is a lot cheaper than learning with .45 ACP, and it puts a Band-Aid on the ammunition supply chain issues that the country is dealing with. If nothing else, it's important just to shoot and have some fun once in a while!

The Umarex USA Legends M1A1 retails for $229.99. For more information on this air gun, visit umarexusa.com.