Support NRA American Rifleman
DONATE
Whenever an initial design is thought to be near-perfect, modern renditions eventually follow, often garnering a "classic" label. These products closely resemble their original counterparts but are built with better features, tighter tolerances or, in the case of the American Classic line of M1911 handguns, both. Imported by TriStar Arms, these pistols are manufactured in the Philippines by Metro Arms and offer the versatility and functionality of the time-tested platform at prices that are relatively easy to accept.
These firearms hit American shores chambered in 9 mm Luger, .38 Super, 10 mm Auto or .45 ACP. Buyers have the choice of a blued or chrome finish on a full-size or commander-style footprint. Our blued, .45 ACP test sample simply goes by the name "American Classic Commander 1911." It earns the Commander designation because of its full-size frame mated to an abbreviated slide assembly. Both components are constructed from carbon steel, giving the overall design a heft that conveys quality.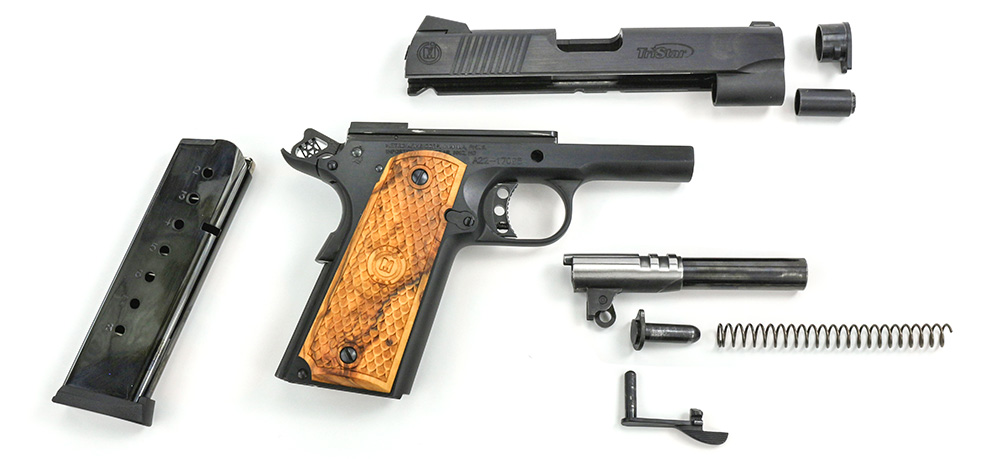 Like M1911s past, the American Classic Commander (ACC) is a traditional Browning-style, hammer-fired, recoil-operated semi-automatic that feeds from a detachable box magazine.
The ACC balances old-world styling with the modern features today's shooters demand for success and enjoyment on the range. An example of this is the flat mainspring housing that keeps the grip thin for better purchase. However, in a nod to tradition, the frontstrap is left devoid of texturing. The hardwood stocks are cut with a distinct scale-like texture. The pistol's right-hand-only safety and slide stop are extended for easy activation; a push-button magazine release is left in its original location and configuration.
The ACC includes the quintessential grip safety that the M1911 is associated with, albeit paired with a modern extended beavertail, which helps ward off hammer bite without having to resort to a lower grip, sacrificing control. Speaking of hammers, Metro Arms built the gun with its "combat hammer," which is essentially a skeletonized design with a bit of internal support. This helps to reduce lock time without compromising reliable ignition when the trigger is pressed. Admittedly, it may not add much more than aesthetic value, but this characteristic is one of the many reasons shooters choose to purchase an M1911.


The trigger has also been skeletonized, in the form of three holes—while this treatment may mainly be for appearance, the textured trigger bow and overtravel-limiting set screw are performance-based features. Some say the proximity of two shots in a controlled pair largely depends on how well you can maintain your trigger-finger position while keeping the overall stroke to a minimum. Such features suggest that the American Classic Commander is well-suited for defensive engagements.
Testing involved three types of .45 ammunition. Among these were Hornady's American Gunner 185-grain XTP offering, representing the lighter end of the .45 ACP spectrum, Browning's 230-grain FMJ load to provide some target-grade feedback and Federal's 205-grain Syntech Defense to see how well newer, mid-weight fodder would fare. We started with a formal accuracy test, which yielded results adequate for plinking or close-range self-defense.
During this time, all shooters noticed the ease of acquiring the enlarged Novak sights, and although they are drift-adjustable, no steps were required to impact the center of our 25-yard targets. Rapid-fire strings at closer distances were fluid, and the ACC digested each style of ammunition without hesitation. Some members of our party felt that the gun could use texturing on the frontstrap, while others preferred it as is.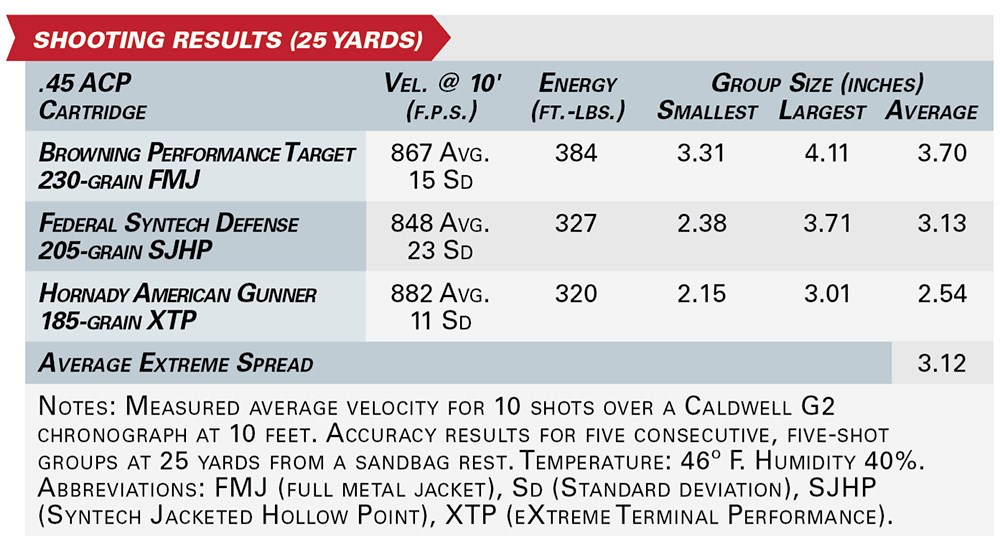 Disassembly of the pistol was like any other M1911, which, of course, begins with ensuring the firearm is unloaded. After which, the barrel plug can be depressed, the bushing rotated and then both removed along with the recoil spring. After pushing out the slide stop, the slide assembly can be separated from the frame. During this phase, we noticed that the guide rod on this model was slightly reduced to facilitate function, as was the recoil spring plug and spring. Aside from that, everything else was business as usual, including the Series 70-type internals, which explained the crisp, sub-5-lb. trigger break. Re-assembly was as simple as reversing the steps and ensuring the slide stop went through the barrel link.
The American Classic Commander 1911 arrived thoroughly lubricated, perhaps even a tad overdone for some tastes. However, this greatly expedited cleanup, as nothing more than a good wipe with a terry cloth was needed to remove any fouling. Each tester enjoyed his or her time with this handgun, as it delivered the feel that one can only get from firing an M1911, at a palatable price point. With the right holster, the Commander is a capable concealed-carry option, but most will agree it is far too much fun to reserve solely for this use.