by
posted on June 15, 2023
Support NRA American Rifleman
DONATE
Once known as the dominant maker of M1A rifles used in high power rifle competition at Camp Perry, Springfield Armory is now known for a much broader line, including M1911s, striker-fired polymer-frame pistols, a bullpup 5.56 NATO rifle and even a High Power pistol made at its Geneseo, Ill. factory. Though the company's foray into making AR-15s came late into a saturated market, the semi-automatic Saint series rifles have been successful nonetheless, underscoring how a good product at the right price is important to American gun buyers.
The Saint series encompasses four product lines. The rifle reviewed here is one of the newest and sits within the Saint Victor line, which has upgraded features. It's also Springfield's first pistol-caliber carbine (PCC).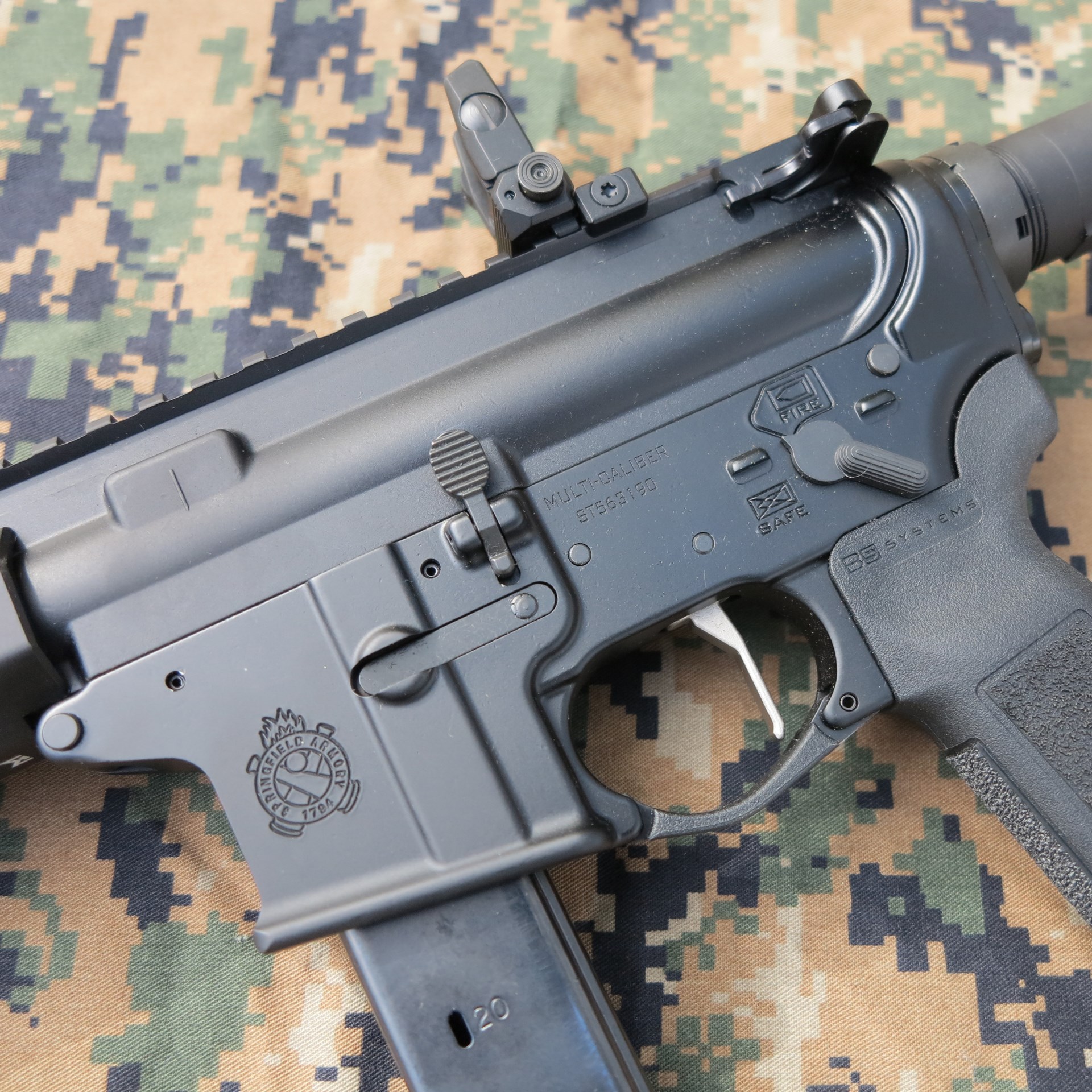 The Saint 9 mm is direct-blowback-operated and feeds from essentially the same magazine used on Colt's 9 mm AR rifle and submachine gun introduced in the 1980s. Known colloquially as "Colt-pattern," these magazines are actually Uzi magazines with a few notable modifications: a different magazine-catch slot, a larger cut at the top of the magazine's spine and a tab added to the rear of the follower that activates the bolt catch after the last round is fired. (See comparison photos.) The Saint comes with one steel 32-round mag made by Metalform.
Why Colt-Pattern Mags?
Even though PCCs using Glock pistol magazines are far more prevalent, Springfield went with the Colt pattern because the company's testing indicated it was more reliable. In my experience, the weak link in Glock-mag ARs is reliable bolt-hold-open function after the last round is fired. This problem is caused by two elements: the mechanical complications of linking the top of the magazine follower—which sits at the front of the magazine—to the bolt catch that sits behind it, and the construction of the magazines. There's very little room for the system to work, and the follower's upward movement, which needs to activate the bolt catch, is slight.
Also, Glock-pattern mags use plastic followers that fit loosely into the magazine body and can cause them to inconsistently position themselves after the last round is fired. They also have a relatively weak magazine spring. Both issues make the follower less apt to fully engage the bolt catch linkage. Upgrading with Wolff Gunsprings extra-power springs helps, but the system is still less reliable than the Colt/Uzi system.

Springfield also discovered these issues and felt the feed angle of the Colt/Uzi system was better suited to a fixed-barrel firearm rather than the tilting-barrel system used on the Glock. Finally, the patents protecting the better Glock-mag bolt-catch systems (as used on Wilson Combat rifles, for example) may have also factored into Springfield's choice.
Colt mags, however, do come with a notable downside if you are a competition shooter where reloading speed is essential: their double-feed design makes for a blunt-faced presentation, which is more difficult to insert quickly into the magazine well compared to the single-feed Glock magazines that are tapered at the top. The Colt mags also insert at a 90-degree angle, while Glock mags insert at a forward angle and are faster to load as a result.
How It's Made
The Saint 9 mm uses upper and lower receivers made from 7075-T6 aluminum forgings finished with a black hardcoat anodizing. Both receivers are unique to this rifle, and the lower has a dedicated magazine well, not an adaptation of the original magazine well designed for the longer 5.56 NATO cartridge. The magazine well has a slightly beveled opening to ease insertion of a magazine, as well as a pinned-in feed ramp.

The medium-profile (.725" diameter) barrel is made from CMV steel, known for its longevity and used in military barrels, and is Melonite-treated, which hardens the surface and improves corrosion resistance.
The Saint uses a B5 Systems, six-position telescoping stock and Type 23 P-Grip. The grip positions the thumb close to the safety, and it also has an angle close to the M1911 pistol, which makes the rifle point more naturally and swing faster to the target. The stock has minimal wobble, a rubber butt pad and bilateral QD sockets with detents that allow you to set your preferred QD sling swivel angle. The castle nut that secures the stock to the receiver is also staked so that it does not loosen.
Up front, the near-full-length handguard is slim enough to get a good C-clamp grip with your support hand and is smooth on top, except for a 1" section of Picatinny rail at each end. The handguard's smooth, easy-to-grasp top section is comfortable and far better than if it had been spiked with Picatinny slots. If you need something on top, use the M-Lok slots on either side and a 90-degree offset mount like one from Midwest Industries. Parts fit and finish on this rifle are good with obvious attention to quality control.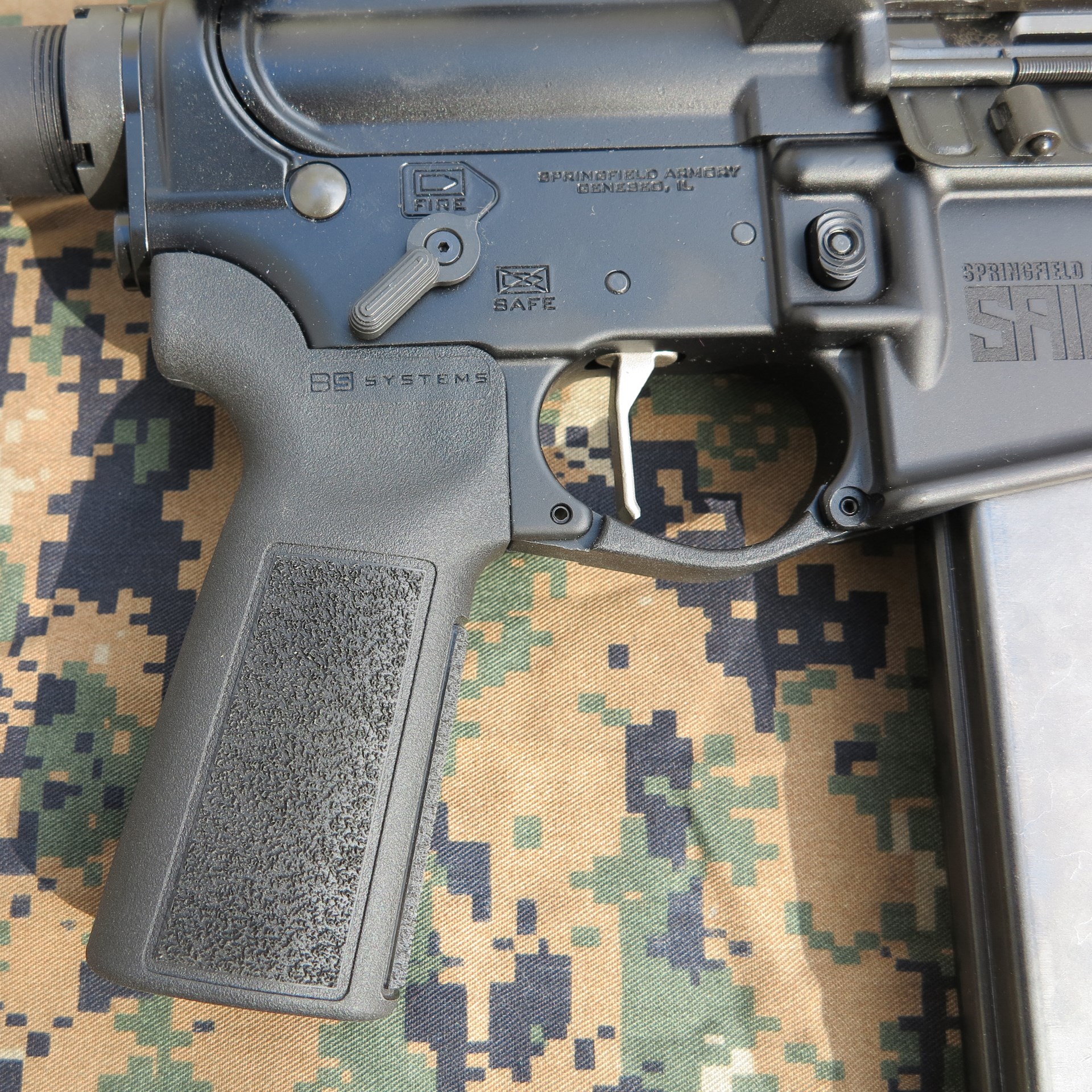 Added Features
Several features distinguish the Saint 9 mm from many of its price-comparable peers. The safety levers are ambidextrous and have a 45-degree throw for quicker manipulation, and the lower receiver has an adjustable tensioning device that holds it tightly to the upper to enhance accuracy, similar to rigidly mounting the barreled action of a bolt-action rifle into its stock.
The trigger, hammer and disconnector are nickel-boron-coated, and the trigger face is flat. The coating affords a slightly smoother trigger motion and better rust resistance, while the trigger's flat face allows the shooter to position the finger lower on the trigger and achieve a lighter weight trigger pull due to the added leverage. The distended trigger guard—designed to accommodate a shooter wearing winter gloves—allows you to position your finger at the trigger's lower edge. The trigger pull weight was 5 lbs., 14 ozs. measured at its center and 4 lbs., 8 ozs. at the bottom of the trigger face, with a travel distance typical of standard AR-15 triggers. There is no overtravel.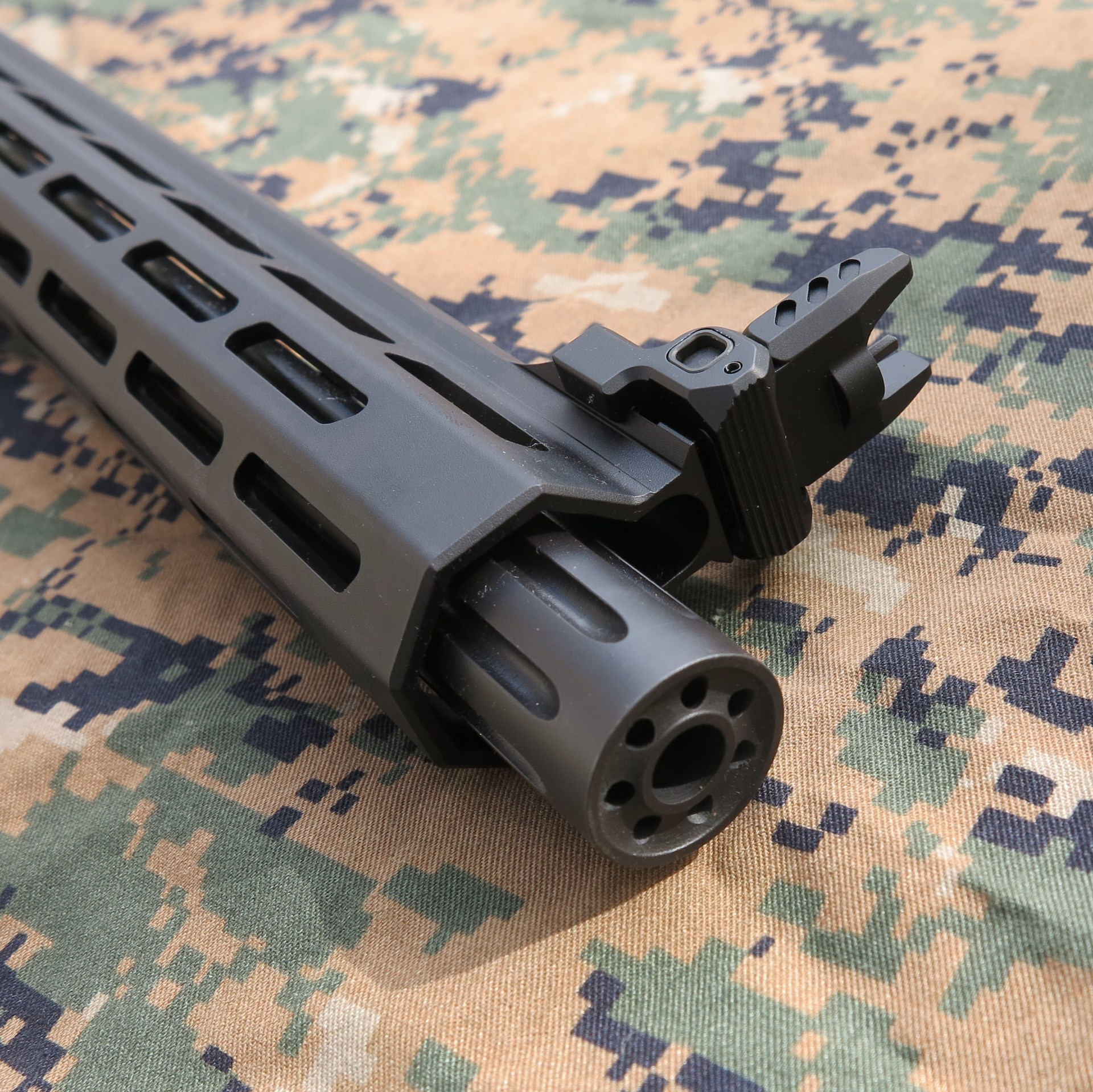 The adjustable post and aperture sights are also a value-added feature. Made of aluminum, not plastic, these spring-loaded sights flip up instantly with the push of a button. The rear sight has a ghost ring and a standard-size aperture, and each click on the adjustment knob moves windage .50 m.o.a. Elevation is adjusted via the front post. Though the rear sight blade has a slight bit of lateral play, these sights are entirely adequate for a 9 mm carbine and certainly better than some plastic alternatives.
Two additional features found on the Springfield Saint Victor Carbine that aren't common on 9 mm carbines are a seven-port forward blast diverter and a lower receiver back plate with a QD socket for mounting a sling. These don't entice me like this rifle's other accoutrements, but they may for some. The blast diverter directs noise, gas and flash forward, which benefits the shooter and bystanders, though the limited muzzle blast from a 9 mm Luger-chambered rifle-length barrel makes this feature a benefit really only on indoor ranges. As to the QD socket just above the pistol grip, mounting a sling here doesn't work for me because it often impedes access to the charging handle, but it seems to be most useful for single-point slings, which I don't use.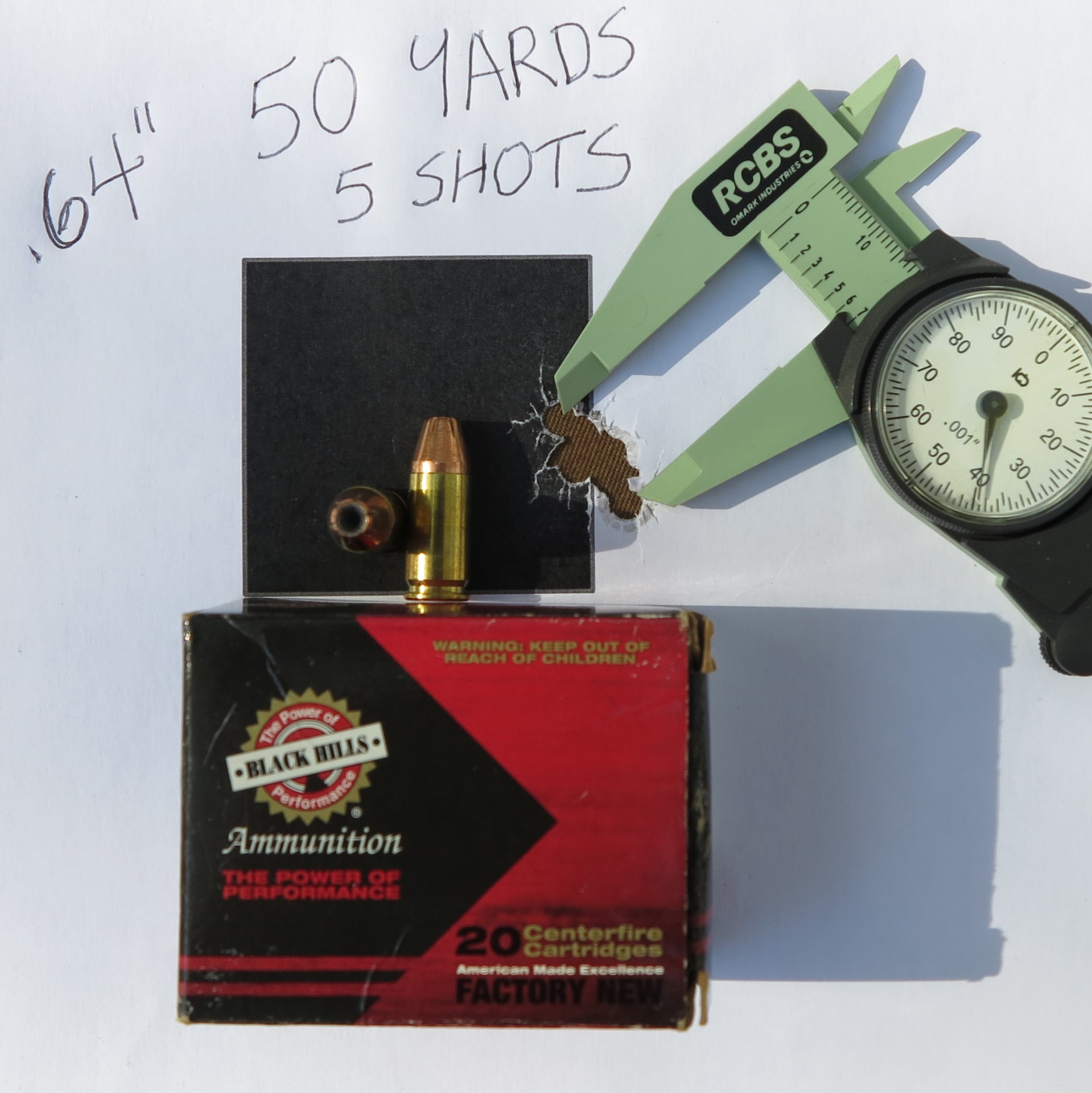 Those who wish to mount a sound suppressor to the ½-28 TPI muzzle threads will need to remove the blast diverter using a strap wrench or by accessing the wrench flats after removing the handguard. The diverter is held on by 20 ft.-lbs. of torque, which should be duplicated if re-attached because the torque applied to muzzle devices can easily impact a rifle's grouping.
How It Shoots
I tested the Saint's precision and ammo preference by mounting a Simmons 44 Mag 16-24X scope and firing off a Caldwell Precision Turret rest at 50 yards. Of the three loads tested, the Black Hills 124-grain JHP +P load consistently produced the best five-shot groups, which averaged .83" over five groups and yielded one remarkably tight .64" group. This load shoots accurately in nearly every 9 mm handgun or rifle I have tested, and I use it as my carry load. Winchester's 147-grain TMJ and SIG Sauer's 115-grain FMJ came in with respective average/best groups of 1.69"/1.11" and 1.80"/1.51". There were no stoppages across more than 250 rounds.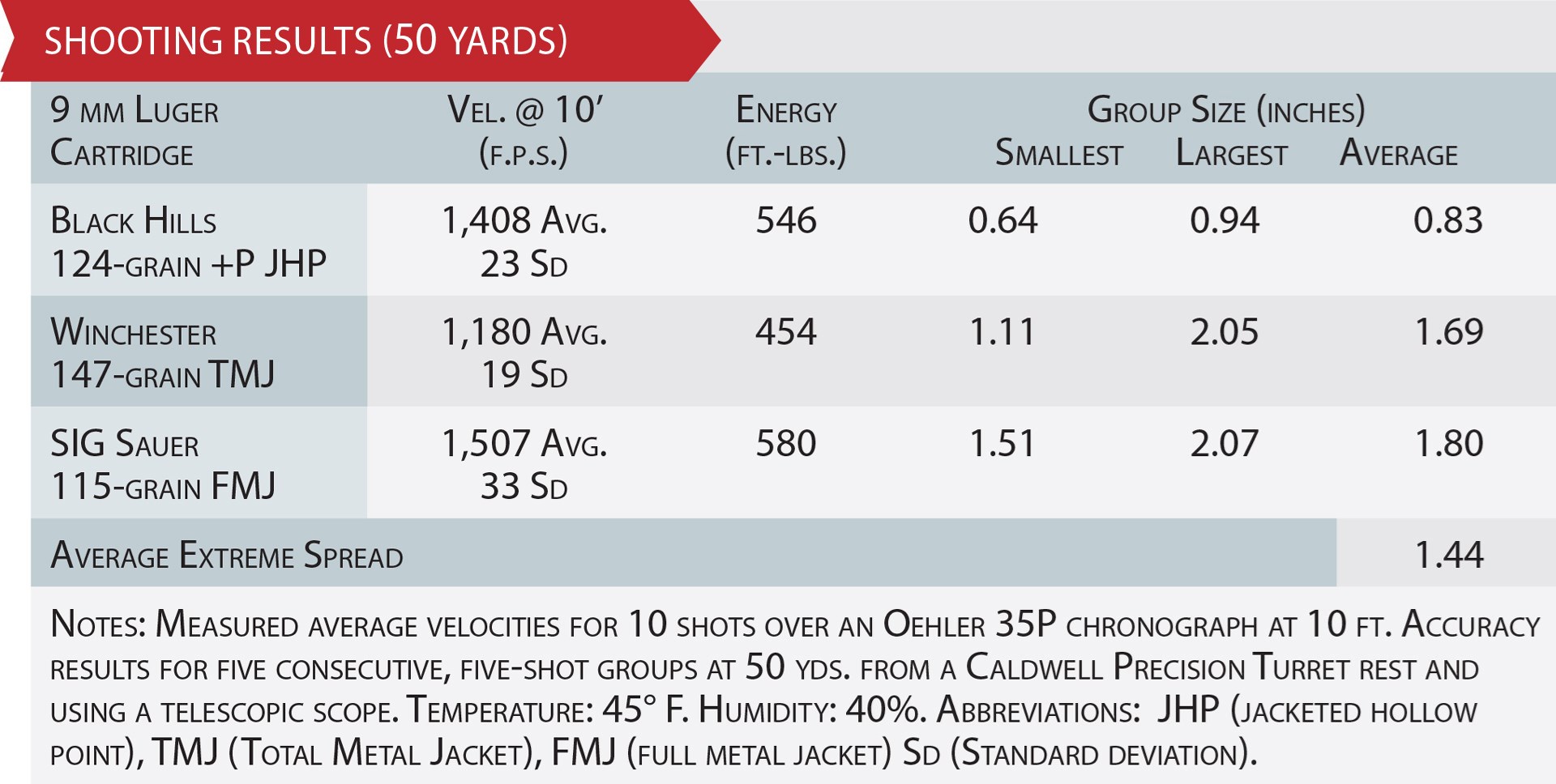 These results underscore the mechanical precision of the action and the quality of the barrel. Mounting a medium-magnification optic, using a good sling and installing a lighter trigger are the best ways to approach this kind of platform when firing from realistic shooting positions in the field instead of off a bench rest and using an unrealistically high magnification scope intended to minimize sighting and trigger-control errors.
A Velocity Surprise
I also compared velocities from the 16"-barreled Saint to a 4.45"-barreled HK P30L pistol. The data show that SIG's 115-grain FMJ load really benefits from the Saint's 16" rifle barrel with a mean velocity of 1,507 f.p.s. or 322 f.p.s. higher velocity (27 percent higher) than from the P30L. If my results are replicated across other carbines, it will a persuasive selling point for this load in a pistol-caliber carbine, much like the P365 9 mm load that was found to give higher velocity compared to its peers in 3.1"-barreled firearms. The Winchester and Black Hills loads, in contrast, are more tailored to short barrels, as they generated modest increases of 160 f.p.s. (16 percent higher) and 139 f.p.s. (11 percent higher), respectively, from the Saint's 16" barrel.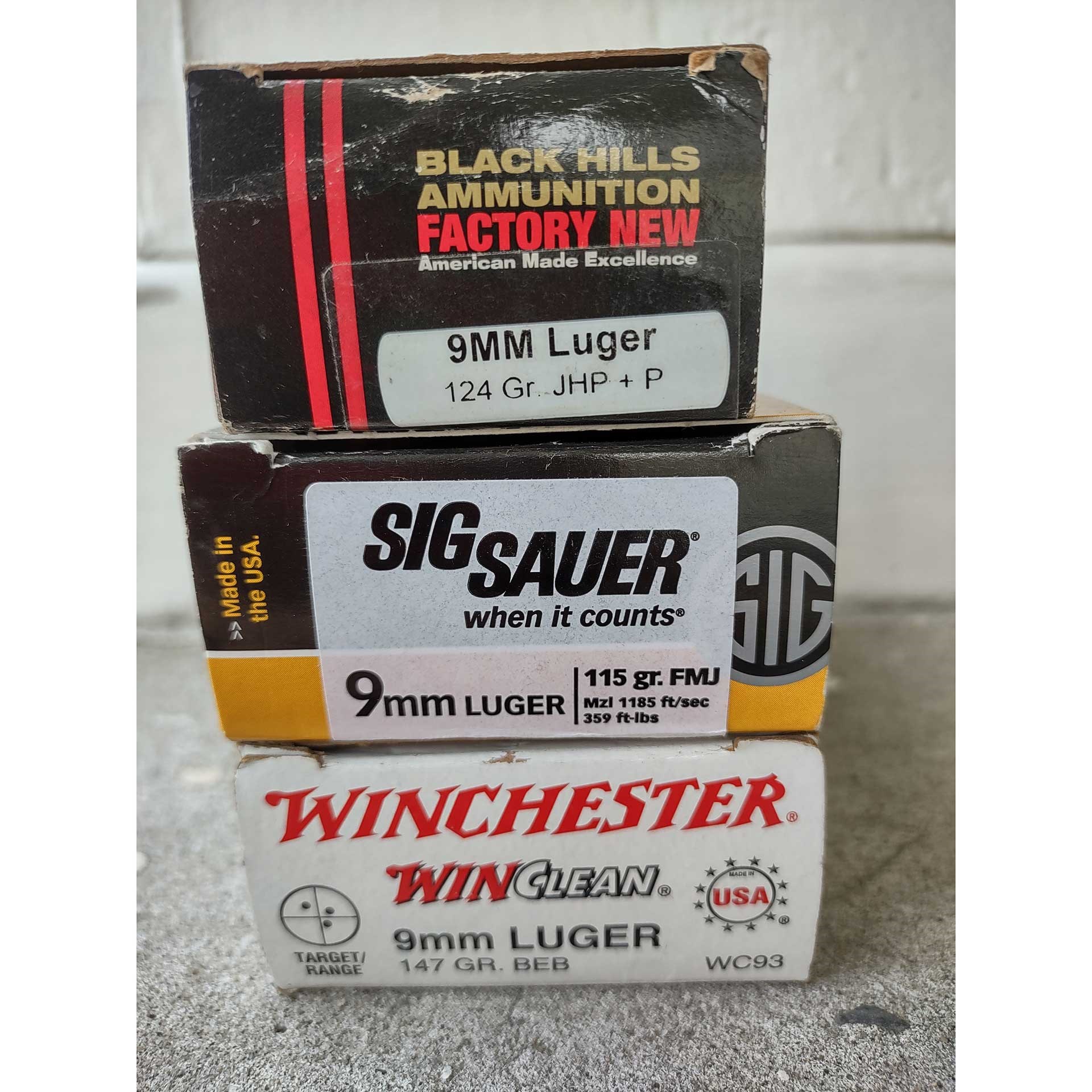 Summary
Judging by its build quality, accuracy, added features and lifetime of original owner warranty, the Saint 9 mm is a decent value for the money, though that benefit would be a whole lot better if it came with more than one magazine. I plan to add an ambidextrous charging handle and perhaps a lighter trigger, but I am glad Springfield left these decisions to the buyer, as these upgrades can be expensive and a matter of personal preference. Though I don't see it as a pure competition rifle due to the slower reloading inherent with Colt-pattern mags, the reliability benefits of this design probably outweigh the fractional increases in reloading speed for most users.
Springfield Saint Victor 9mm Specifications
Action Type: blowback-operated, semi-automatic, centerfire rifle
Chambering: 9 mm Luger
Receivers: forged, aluminum
Barrel: chrome-moly steel; six-groove, 1:10" RH-twist rifling
Magazine: 32-round detachable box
Stock: B5 Systems Bravo six-position collapsible rear
Grip: B5 Systems Type 23
Sights: adjustable; protected aperture rear, protected front post
Trigger: single-action; 5-lb., 14-oz. pull
Overall Length: 31.75-35"
Barrel Length: 16"
Weight:6 lbs. 15 ozs.
Accessories: owner's manual, soft case, lock
MSRP: $1,299