by
Brian C. Sheetz, Editor In Chief
posted on November 16, 2020
Support NRA American Rifleman
DONATE
The Model 2020 Waypoint is available initially in 32 possible variations depending on fixed or adjustable cheekpiece options, two camouflage finishes (Ridgeline shown here) and either carbon-fiber or all-stainless steel barrels chambered in 6 mm Creedmoor, 6.5 mm Creedmoor, 6.5 mm PRC or .308 Win.

Founded in 1974 on the idea of a semi-automatic M14-style rifle for highpower competition, Springfield Armory quickly proved that its newly minted M1A was up to the task. In fact, it was the only such rifle of its kind for shooters on the firing lines at Camp Perry, and it earned their respect through faithful service for years to come.

In the decades that followed, the company doubled down on military classics, importing some of the world's best legacy-pattern rifles and pistols: the Greek HK G3-style SAR3, the Brazilian FN-FAL-style SAR48 and the Swiss or Italian CZ 75-based P9 pistol. It also offered the AR-style XM-15 and the Remington Model 700-based Bolt-Action Sniper Rifle (BASR). Through it all, consumers came to equate Springfield with high quality and dependable customer service.


As surplus parts dwindled, Springfield sought ways to expand its reach, and, in 2002, picked up the Croatian, polymer-frame HS2000 pistol, renaming it the XD. That resulted in an entire family of successes: the match-grade XD-M, the single-stack XD-S, the updated Mod.2, the hammer-fired XD-E and the super-enhanced XD-M Elites.

Then, using expanded facilities and equipped with the latest computer-driven technology, Springfield branched out even further with head-turning products for a variety of emerging market niches, including: the subcompact, M1911-based EMP series and the micro-compact, single-stack 911; the Hellcat, a diminutive double-stack, polymer-frame pistol with optics-ready options also produced by HS Produkt.

In 2016, with an aggressive new product-development approach headed by long-time CEO Dennis Reese, the Saint line of both .223 Rem. and .308 Win. rifles and large-format handguns put the company out front among manufacturers of the AR, America's most popular firearm.

Springfield had undeniably arrived as a major American gunmaker, but for all the boxes it had checked through the years, the company still had nothing to offer in one important, re-emergent segment: the bolt-action rifle. That changed late this year with the introduction of the bolt-action Model 2020, a designation that denotes its year of introduction but also hints at the hindsight Springfield has gained during 46 years in the firearm business.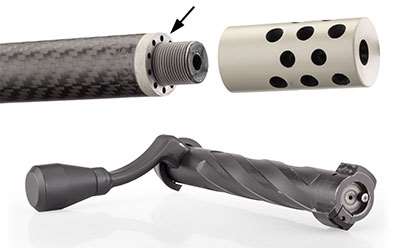 On The Fast Track

The Model 2020 Waypoint reviewed here is a sleek, high-tech bolt gun with a feature set that reflects the trends in Precision Rifle Series and tactical competition, but that is aimed at long-range hunting. Marketing materials describe 32 possible variations depending on fixed or adjustable-cheekpiece stock options, finishes (altitude-oriented Ridgeline or timber-centric Evergreen camouflage) and either carbon-fiber or stainless steel barrels chambered in 6 mm Creedmoor, 6.5 mm Creedmoor, 6.5 mm PRC or .308 Win.

Prices range from $1,699 to $2,399, and while that's a far cry from those of the inexpensive bolt guns that dominate the mass market, it's nowhere near the cost of exotic offerings, whose actions alone can fetch as much. Rather, Waypoint offers an optimization of features, materials and styling that make it instantly competitive among more established contenders.

Specifically, it is likely to appeal to the long-range precision shooter who hunts, who is not tied to tradition and who appreciates the nuances offered by high-end production rifles. As Reese framed it, "Waypoint sets the standard for precision manufacturing, performance and accuracy from an American-made, custom-grade rifle."

Bold marketing claims are one thing, but after an early review sample in 6 mm Creedmoor arrived at NRA Headquarters for test and evaluation in late August they became easier to accept as facts. When I pulled the rifle from its shipping case, the overall first impression was that of a field-ready, purposeful tool devoid of gimmicks or frills. And that sense was only strengthened by the Leupold VX-6 HD 3-18X 44 mm scope mounted to it using that company's Backcountry rings.

The all-U.S.-made outfit made for a presence in the hand that belied the 9 lbs. displayed a few minutes later as I placed it on an electronic scale. It simply seemed lighter, especially considering that only a sling and five rounds were needed to make it hunt-ready. In fact, the lightest version of the Waypoint comes in at 6 lbs., 9 ozs. without rings and a scope.

Also, as I would later come to understand, the rifle's excellent weight distribution—with a balance point just behind the front action screw—is ideal for carry at the side. That can be important for a rifle intended to be toted up and down irregular terrain for hours or days on end in search of game.

Without a doubt, Waypoint's carbon-fiber stock and barrel contribute most significantly to its appearance and weight. The point of using such material, of course, is to achieve a high strength-to-weight ratio. Supplied by manufacturing partners AG Composites and BSF, respectively, the pair form the majority of the Waypoint's clean lines, which suggest a greater preference for practicality than tradition. They also help to make the rifle easy to mount and manipulate from a variety of shooting positions.

Visually breaking up those lines on the test rifle were its proprietary, hand-painted Ridgeline finish, which results from a unique umber, sepia and tan scheme that is rendered in a pattern of fairly broad swatches wherein the lightest shades are speckled with the darker. It is a distinctive calling card, and likely to blend in well in appropriate terrain. According to Springfield, "The large-pattern camouflage is effective concealment, whether you're after whitetail in the timber or sheep above the treeline. Both patterns offer superb profile fragmentation and complement today's most popular technical camo clothing."


Design Time Well-Spent

In developing the 2020 Waypoint's proprietary action, Springfield wisely chose not to re-invent the wheel. Rather, it married tried-and-true features with straightforward construction. The cylindrical receiver has an integrally machined, 0.255"-thick recoil lug and is in the Remington 700 pattern—by far the dominant format among custom action and stock makers.

The test sample's 6.5" action screw spacing and 4" of bolt travel make efficient use of cartridges in the .308 Win. family and preclude having to drop the rifle away from a solid cheekweld to briskly and fully run the bolt. The barrel threads are also in the Remington pattern, at 11⁄16"x20 TPI, but, according to the company, the tenon length and breech cone are different. The receiver is made of 416 stainless steel with the test sample's being Cerakoted tan inside and out. It contrasts noticeably with the black-nitrided, 4140 chrome-moly steel bolt assembly. Both the bolt and receiver are hardened prior to machining.

Gas-escape holes are located on each side of the receiver ring just above the stock line. The ejection port begins at a 2¾"-long flat on the receiver's left side and extends to a relieved area on its right at the stock line, making for an open-top configuration. On the right, the port's front and rear ends are flared, providing generous access to cartridges or cases being handled by the magazine or bolt.

That access is enhanced by a relief cut in the underside of the 15-slot Picatinny rail, which is secured to the receiver by way of four No. 6x48 TPI screws aided by two 3/16"-diameter dowel pins to handle recoil. The entire right side of the receiver bridge is machined as a flat, angled facet, further aiding access to the ejection port.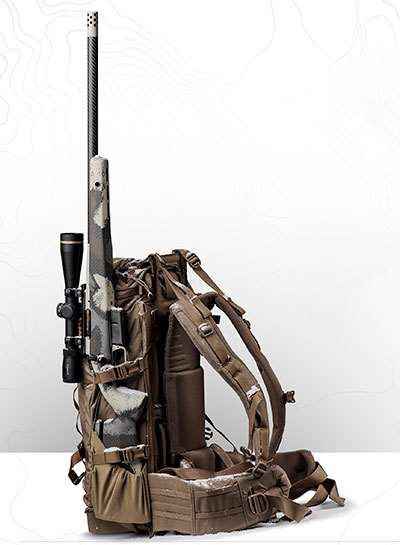 The 6 1/2"-long bolt assembly cocks on opening by way of dual cams and features opposed front locking lugs that result in a 90° bolt lift. The lugs ride in raceways cut into the receiver by electrical discharge machining (EDM)—a process that ensures precision and a smooth surface, eliminating the need for an anti-bind feature. A recess cut for the bolt handle at the receiver's lower right side allows it to serve as a safety lug.

The receiver's tang is relieved on its right side for the two-position safety lever, which is incorporated into the trigger assembly. The safe position does not lock the bolt handle. The trim, 7/8"-long, 3/16"-wide bolt release on the receiver's left side is serrated at its rear and is pressed inward to allow the bolt to be withdrawn. The bolt, which can be disassembled without tools, has a face that fully encloses the cartridge case head and features a sliding-plate extractor within its left lug and a plunger-style ejector at 4 o'clock when viewed from the front in the open position.

Five spirally cut flutes in the bolt's 11/16"-diameter body result in five 1/8" wide ribs that effectively minimize contact between it and the receiver, allowing the bolt to be run fast and hard without binding. A trim and distinctively shaped cocking piece caps the bolt assembly. The striker's tail protrudes through it when cocked. The bolt's handle is a separate casting keyed through the bolt body perpendicular to its locking lugs. It curves downward and outward to a shoulder onto which a smooth, tapered aluminum knob is attached by way of 5/16x24 TPI threads.

The hand-laid stock is available in adjustable-cheekpiece and fixed versions, weighing 2 lbs., 11 ozs. and 1 lb., 15 ozs., respectively. It measures 32¼" in length including the nearly 1"-thick Pachmayr XL Decelerator recoil pad. Push-button sling swivel cups are located 1½" on-center below the comb near the heel on each side. Another cup is located on the buttstock's underside. The adjustable model's nearly 6"-long comb rises from flush at 1¼" of drop to dead even with the top of the optic rail on its twin support pillars. It is locked using a 3/16" Allen wrench in the socket head screw on the stock's right.

The pistol grip is nearly vertical and measures a hand-filling 17⁄8" wide. The fore-end is mostly flat with an embedded, 4"-long metal M-Lok rail starting 1/2" back from its end. Attaching a separate sling cup there would allow for traditional carry and still leave plenty of space for a section of Picatinny rail or a QD stud for mounting a bipod. Flush sling cups are located on each side centered 2½" back from the tip of the fore-end, and two more are near the heel on the buttstock. They allow a sling to be rigged for carrying the rifle flat against the back and for configuring it as a shooting aid in a way that one pair of QD studs simply would not.

The one-piece aluminum bottom metal unit incorporates a squared-off trigger guard that houses a magazine-release button inside its lower front corner. The magazine well is designed to accept AICS-pattern magazines, and the test rifle came with one Magpul PMAG 5. Its center-feed design ensures cycling reliability, and its polymer construction makes for smooth operation, light weight and low cost. (Versions chambered in 6.5 PRC ship with a three-round steel magazine.)

On the test rifle, the PMAG latched in easily with an audible and tactile "click" and dropped free even when empty when the magazine release was pressed forward with the trigger finger. And thanks to the trigger guard's generous length, that movement is not something likely to occur inadvertently. The bottom metal is secured to the receiver by way of two 1/4x28 TPI Allen head screws that also accept a 3/16" Allen wrench. Aluminum pillars embedded into the stock ensure that it cannot be crushed through overtightening when applying the recommended 65 in.-lbs. of torque.

The carbon-fiber-wrapped barrel, which weighs 38.3 ozs., has an inner 416 stainless steel portion that measures 1.200" in diameter just ahead of the receiver ring and tapers 41⁄8" forward to mate with the 0.940"-diameter carbon-fiber section. This extends another 14¼" to the 3/16"-thick shoulder of a specially shaped nut against which a 2"-long, 0.936"-diameter muzzle brake is attached by way of 5/8x24 TPI threads. BSF describes the barrel's construction as consisting of a 416 stainless steel blank turned down and fluted longitudinally before a "roll-wrapped carbon-fiber sleeve" is slipped on and tensioned in place by the aforementioned shoulder nut. The flutes create air gaps designed to promote cooling of the barrel, and the nut allows for tensioning of the assembly. 

At The Range And In The Field

The timing of Waypoint's release precluded my hunting with it, but I was determined to attach a favorite sling and carry it on pre-season scouting trips across private wooded eastern whitetail country. I found it to carry easily and come to the shoulder effortlessly thanks mostly to the stock's cleanly blended contours and the rifle's reasonable overall weight.

I also wrung out the Waypoint at Peacemaker National Training Center's Independence range, which offers both paper and steel targets at distances from 100 to 300 yds. Further, I enlisted the aid of Rifleman Associate Editor Christopher Olsen, a lifelong hunter and experienced competitive rifle shooter.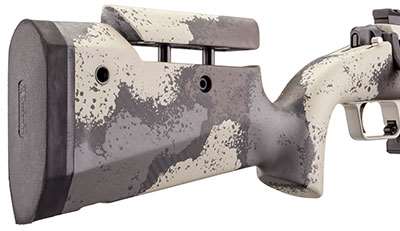 We brought along three varieties of 6 mm Creedmoor ammunition, including: Berger 105-gr. Hybrid Target; Hornady 103-gr. Precision Hunter; and SIG Elite Performance 107-gr. OTM Match. Before firing the rifle, I used a 5/64" Allen wrench to adjust the Waypoint's Trigger Tech Field mechanism down to a 3-lb. pull weight, which, because of its unique roller-assisted design, yielded a break that seemed a sensible compromise for target and hunting applications.

It also contributes to a claimed 1.9-millisecond lock time. After dry-firing it a few times, I shot a couple sighters to establish the gun's point of impact at 100 yds. The stock's nearly flat fore-end allowed it to ride the supports well, and the 6 mm Creedmoor's light recoil allowed me to concentrate on proper shooting technique.

As to accuracy, the rifle impressed from the start using the Berger factory 105-gr. Hybrid Target load. The first three shots printed a cloverleaf measuring 0.257" at 100 yds., and two more resulted in a five-shot group measuring 0.521". I didn't know until later that Springfield promises 0.75-m.o.a. accuracy, albeit for three-shot groups, using match ammunition. And, as I progressed around the other aiming points on the target, without allowing any more time for cooling than it took to load the five-round magazine and re-establish my shooting position, subsequent groups opened up a bit.

In all fairness, though, the largest five-shot group for that load still measured only 1.03". Olsen and I agreed that the incremental increase in group sizes was likely the result of accumulating barrel heat exacerbated by direct sunlight on the 90° F day. Indeed, the barrel remained hot to the touch for some time afterward, but group sizes never exceeded an acceptable level considering the Waypoint's intended application as a hunting rifle.

Moving to 300 yds., Olsen managed a first-round hit on that range's toughest target: a tennis ball suspended on a string from the target frame. We then took turns ringing steel plates, the smallest of which, at 6" across, represents a solid hit on the vitals of a big game animal at that distance.

Throughout the firing of more than 180 rounds, the Waypoint exhibited no functional failures. Working the bolt consistently resulted in brass being extracted and ejected in a predictable pattern with no signs of mangled or dented cases, and primer indentations were centered and appeared consistent in depth.

Observations And Final Thoughts

Olsen said of the Waypoint, "I found myself enjoying its styling and function. The tried-and-true action combined with useful and purpose-built contemporary accoutrements seem to be a good fit with the slippery bullets of the light-recoiling 6 mm Creedmoor cartridge. It is obvious to me that Springfield has taken note of the most sought-after attributes of tactical-style, match-grade rifles and put them into one design trimmed down and tailored for hunters."

I agree, and couldn't help but wonder if, considering Springfield's history, a tactical-version Model 2020 rifle might be a logical future offshoot of the Waypoint hunting rifle. There's no question that, with a few appropriate enhancements, the 2020 has the essential mechanical and ergonomic features necessary to be pressed into such a role.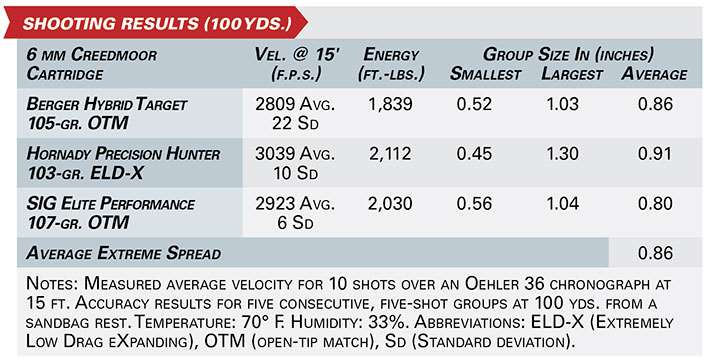 And while it's true that no single aspect of Springfield's Model 2020 platform is revolutionary, it's also true that its first iteration, the Waypoint, is somewhat of an achievement given the highly competitive nature of the precision bolt-action rifle marketplace. Like the many Springfield offerings that have preceded it, the Model 2020 represents the sort of value for which the company has become well-known: enviable features rendered in high quality and backed by excellent customer service at a reasonable price.

When asked about the rationale behind the company's entrance into the bolt-action hunting rifle market, Reese said, "I tasked the Springfield Armory team to provide hunters with an authentic, well-designed and utterly capable bolt-action rifle—and the Model 2020 is the realization of that effort." I found it hard to argue with that assessment. In fact, my sense is that with its latest offering, the Waypoint, Springfield appears to be both in the hunt and on solid ground.