posted on November 17, 2020
Support NRA American Rifleman
DONATE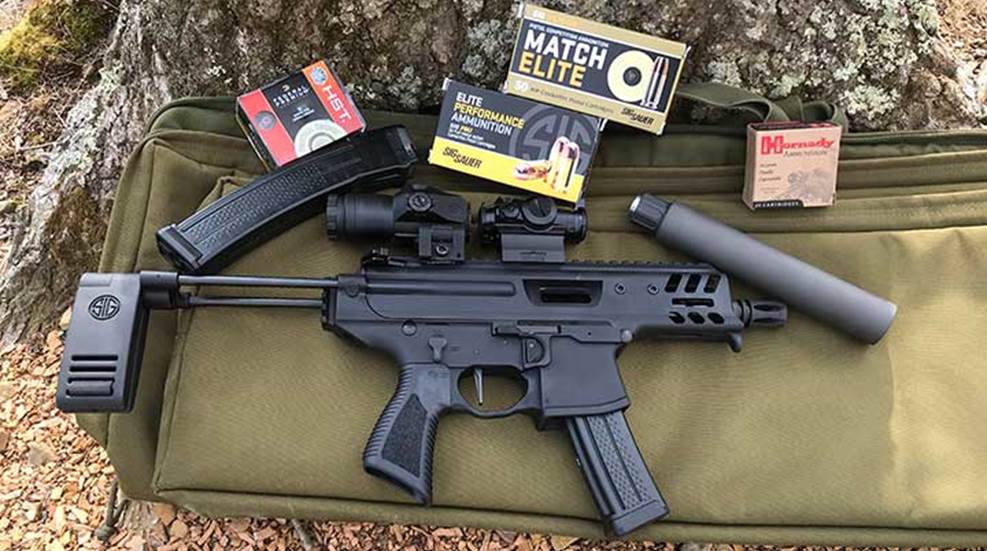 The SIG Sauer MPX was a much-heralded introduction at the 2013 SHOT Show. In a military sense, SIG's goal with the MPX was to provide an updated offering for aging submachine guns found worldwide with designs dating back to the 1960s or earlier. The MPX operates through a scaled down short-stroke gas piston adapted for use with pistol-caliber cartridges.

The use of a fully closed and locked rotating bolt is another performance enhancement. This sets the MPX apart from previous gun designs which operated via blowback, recoil or roller-delayed methods. The MPX operating controls and basic ergonomics are similar to the ever-so-prevalent AR-15, an important consideration for training and orientation purposes.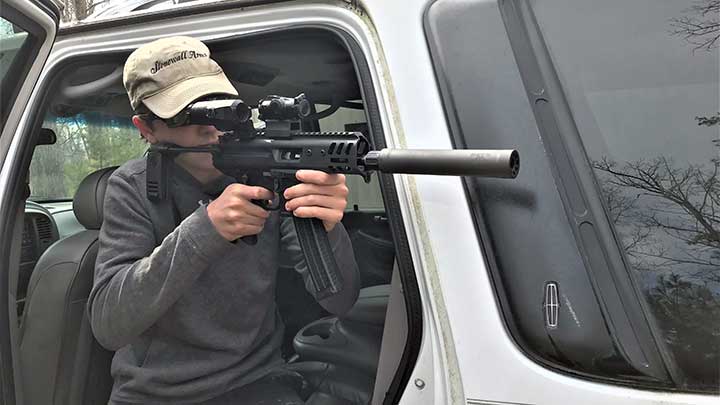 An AR-like ambidextrous magazine and bolt release along with centrally located non-reciprocating charging handle will be instantly familiar to any AR user. A flat top upper with Picatinny rail allows for any AR-compatible sighting system. This AR theme is reinforced by using an AR-style fire control group. The trend towards shrinking firearms into smaller and lighter packages is full steam ahead.

For civilians, this is being facilitated by a customer favorite: the pistol brace. The semi-automatic SIG Sauer MPX Copperhead is a perfect example of this. In particular, we're focusing on the MPX Copperhead derivative with a threaded barrel, fitted with a A2 flash-hider. This flash-hider is easily removed to allow suppressor mounting.

Like other firearms within the SIG Sauer catalog, the Copperhead was in response to a specific customer request. The Copperhead was purpose built as a discrete bag or vehicle firearm with smallest possible size as the goal. This is reflected by the 3.5" barrel, allowing for an overall length of 14.5". Weight is a feathery 4.5 lbs., unloaded.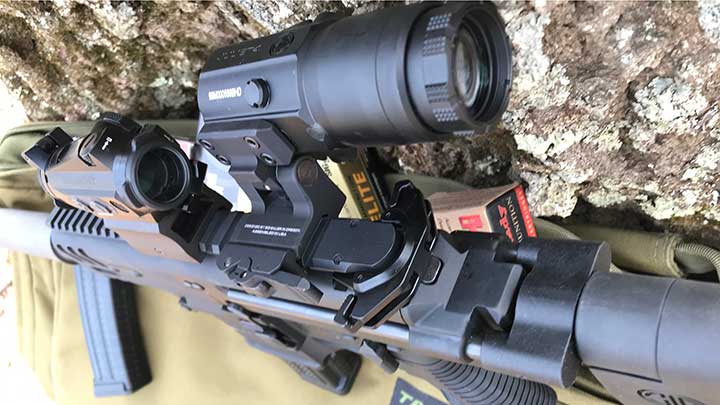 When it comes to viewing the MPX platform in a military sense, there are some who believe that pistol-caliber platforms are no longer a viable weapon class. They point to the format's steady relegation to the sidelines in terms of use since the end of World War II. True, too, is the fact that select-fire weapons chambering intermediate cartridges, like the famous StG44 and the AK-47, closed the gap between submachine guns and full-power battle rifles.

The appearance of the Personal Defense Weapon (PDW) class seemed to be the final death knell of the submachine gun. The PDW is characterized by its compact size, much like a submachine gun, centered around new cartridge designs facilitating increased penetration.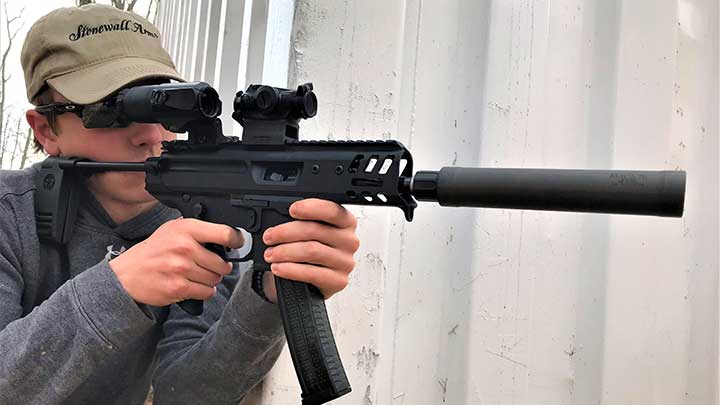 The 5.7x28 mm FN and Heckler & Koch 4.6 mm are two of the more prominent examples of PDW cartridges. Times and threats have changed, breathing new life back into the pistol-caliber class of guns. While certainly not comparable to a rifle cartridge, a 115- to 147-gr. 9 mm instills more confidence than a PDW's 23-gr. .22 caliber, or smaller, bullet when having to put down an opponent in close quarters. Adaptability for suppressor use with the heavier-weight 9 mm that is naturally subsonic is another argument for the revival of the pistol-caliber platform.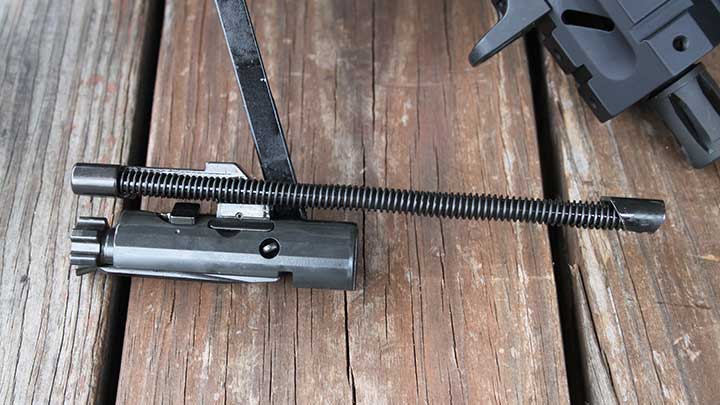 The SIG Sauer MPX Copperhead is poised to reassert the pistol-caliber platform's potency and viability. The distinguishing MPX Copperhead features are the 3.5" barrel, monolithic upper receiver with an integrated stock knuckle lower and SIG Sauer Pivoting Contour Brace (PCB). The PCB brace easily adapts to the movement of the shooter's arm with a patented swivel operation for adaptable placement and can be rapidly deployed via folding out from the receiver.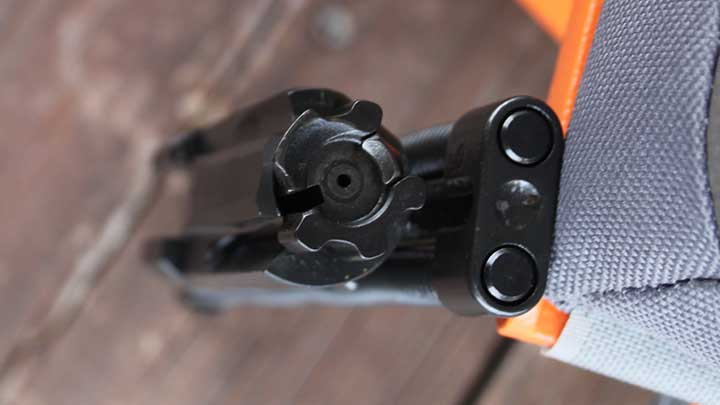 One MPX Copperhead variant has an integrated brake that prevents suppressor use. Enough requests must have registered at SIG headquarters to prompt another Copperhead option with threaded barrel. The obvious impulse to use the MPX Copperhead in conjunction with SIG suppressor led me to focus on using 147-gr. 9 mm ammunition.

This only makes sense when considering most 147-gr. 9 mm ammunition is subsonic, taking full advantage of the compact MPX suppressed package. Suppressor use has never been as popular for military, law-enforcement and civilian circles as it is today. The benefits of suppressor use are hard to argue against. A SIG SRD45 suppressor was mounted on the MPX Copperhead for this review. 

The SRD45 suppressor features a Grade 9 titanium tube, and 17-4PH stainless steel baffles make it light weight and durabe. The SRD45 features a booster for use with Browning tilting-barrel type pistols. A fixed-barrel spacer is also available for use with fixed-barrel hosts like the SIG MPX. The SRD45 ships with both .578-28 t.p.i. and M16x1 mm left hand pistons. An optional 13.5 mm adapter was acquired for use with the MPX Copperhead.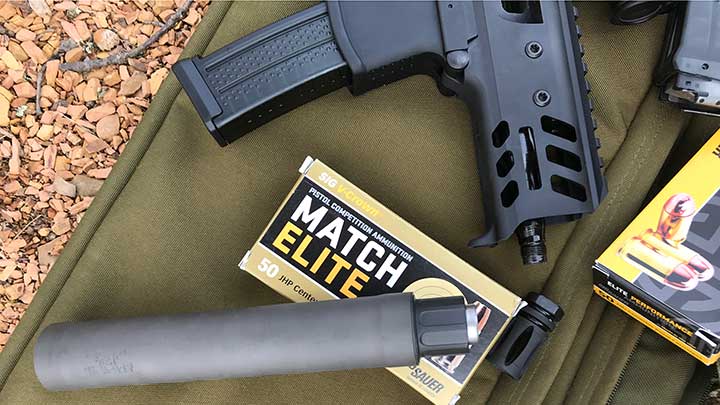 The SRD45's overall length is 7.9" with a diameter of 1.38" and weighs only 12 oz. while offering 133 dB sound rating. The SRD45's baffle stack is not only optimized for a sound reduction, but also designed to come apart, allowing for easier cleaning. It does not take a drastic imagination leap to visualize what roles an MPX Copperhead fitted with SIG Sauer SRD45 would fill.

Not to be underestimated is the ability to target shoot with minimal noise, flash and blast. Suppressors are the most efficient muzzle brakes available. Many turn to a 9 mm platform for the reduced recoil and muzzle blast of the 9 mm compared to a rifle cartridge. The SIG Sauer MPX Copperhead's non-discriminatory handling of several types of 9 mm ammunition was a pleasant surprise.

The MPX Copperhead functioned flawlessly with SIG Sauer Elite 365 FMJ, Match and V-Crown. The ability to feed the JHP and other non-FMJ bullet profiles was totally unexpected bonus and a credit to the MPX design. This further increases its potency as a CQB firearm for law-enforcement and civilian use.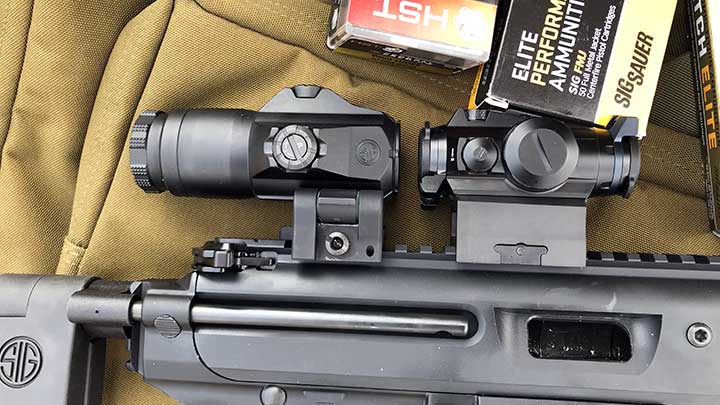 A SIG Sauer ROMEO 4 red-dot optic was mounted to the MPX Copperhead. A quick-detach SIG Sauer Juliet 4 magnifier was also utilized for increased accuracy potential for longer-range targets. The MPX Copperhead has an ambidextrous charging handle that is very similar in appearance and function as that found on the AR-15. It was determined that manual operation worked best by placing fingers on both sides of the charging handle so as to pull it back evenly.

The ambidextrous safety and magazine release are found in familiar places to anyone who has operated an AR. The MPX Copperhead proved durable during our testing at Echo Valley Training Center (EVTC) with nearly 700 rounds fired across multiple range visits. EVTC's Hesco Shoot House was a popular venue for testing. One note here is that one must pay attention when purchasing MPX magazines; make sure that Gen 2 MPX magazines are used with the MPX Copperhead. 

Magazine changes with the MPX Copperhead proved a smooth affair indicative of AR-like ergonomics. The closed-bolt MPX does have a bolt-hold-open device, which is different than most pistol-caliber designs, aiding in swifter reloading. The balance of the MPX Copperhead combined with firing 9 mm in a 4.5-lbs. weapon minimizes any recoil or muzzle climb.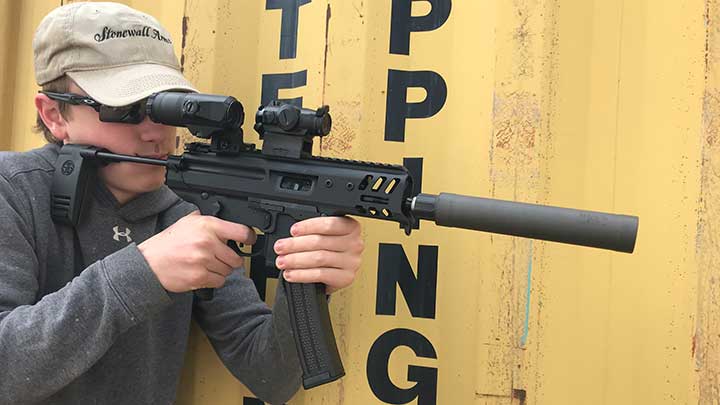 This is especially important in the MPX Copperhead's select-fire brethren designed for military use, which has a cyclic rate of more than 1,000 rounds per minute. The piston-operated rotating-bolt MPX contributes here as well. Bolt weight is minimal compared to more traditional blowback methods featuring a hefty chunk of metal for operation. Strings of fire consisting of multiple rounds sent downrange had no problem smacking steel due to minimal muzzle climb.

The diminutive nature of the MPX Copperhead can be a source of nervousness, due to how closely your support hand can get to the front end of the gun. You definitely do not want to take a high-thumb forward grip. When everything is stripped away in terms of its design innovations, aesthetics and ergonomics, at its core, the SIG MPX Copperhead is a compact 9 mm intended to put rounds on target in a hostile environment.

The SIG MPX Copperhead is lighter and better-handling than its full-powered brethren. While not as prevalent of late, there is an economic advantage in terms of the amount of 9 mm that can be purchased versus a rifle cartridge. These economics can be taken advantage of with more training, not to mention the ability to access indoor ranges or shoot house with a pistol-caliber weapon such as the MPX Copperhead.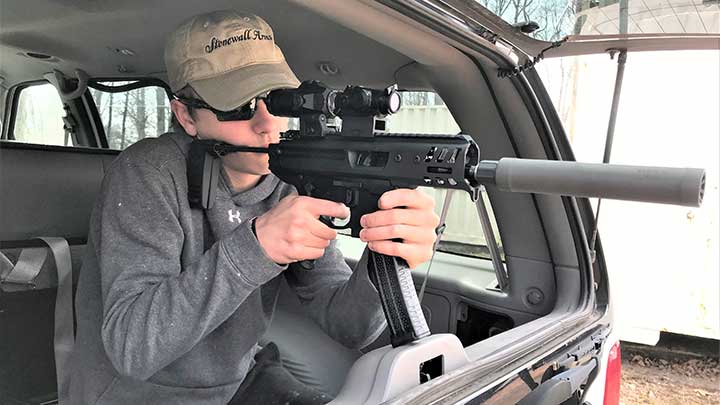 For the military and law enforcement, it seems the SIG MPX Copperhead will force a reevaluation of submachine gun use. The braced, semi-automatic-only MPX Copperhead variant will appeal to civilians looking for an upgrade over a basic handgun. Most engagements happen well within 100 yds., and a comprehensive look at defensive scenarios will highlight that handling and reliability often play more of an important role for the armed citizen than the caliber selected.

Along these same lines, a civilian concerned with home defense will find the MPX Copperhead hard to resist with its reliable, generous magazine capacity and great handling. The muzzle blast differential between a 9 mm versus the obnoxious rifle muzzle signature is further evident in confined spaces, such as inside a home. Will a rifle cartridge hit with more authority than a 9 mm?  Yes, of course, but mission specifics may dictate when the SIG Sauer MPX Copperhead is a more practical choice of weaponry.