by
posted on May 28, 2015
Support NRA American Rifleman
DONATE
In its LAR-47 line, in which all models are chambered for the intermediate-range 7.62x39 mm round, Rock River Arms now offers four options: CAR A4; Delta Carbine; Tactical Comp; and X-1. The X-1 is reviewed here.

Creating a reliable and accurate 7.62x39 mm-chambered AR is problematic for firearm engineers. One reason is the broad disparity in AK magazines. The Avtomat Kalashnikova (AK-47) is the world's most prolific firearm design, so while the magazines for it are widely available and generally inexpensive, their dimensional specifications and tolerances vary greatly. Moreover, 7.62x39 mm ammunition is equally inconsistent; it ranges from new-production, high-quality loads from Hornady, Federal, Cor-Bon and Winchester to corrosive, early Cold War "discoveries"—and everything in-between.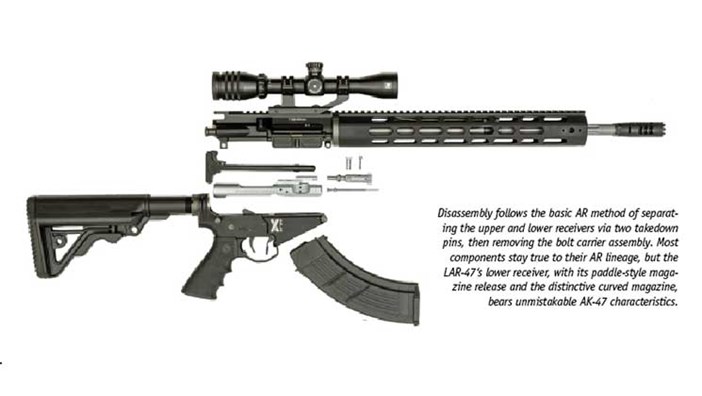 When creating the LAR-47 X-1, Rock River Arms purchased nearly every type of military-surplus magazine that it could locate, as well as numerous modern polymer variants. Recognizing that most shooters would employ easy-to-find, inexpensive, imported ammunition, the company also purchased large quantities of said rounds for use during the development phase. The result: Production X-1 rifles reliably operate with both widely available military-surplus magazines and those from Rock River Arms. Some magazines, such as the Magpul PMAG, have thicker lips that must be reduced for bolt carrier clearance. The only other magazines that are not compatible with the X-1 are those from U.S. PALM, TAPCO and various AK drum-types. As for ammunition, the company states that the X-1 is compatible with virtually all 7.62x39 mm ammunition; the company tested it until attaining nearly 100 percent reliability.

Similar to most traditional, AR-style rifles, the LAR-47 X-1 features direct-impingement gas operation. Although Rock River Arms tested carbine- and mid-length gas systems, the company elected to move forward with the former, though company personnel have mentioned that mid- and rifle-length gas systems may be offered in the future. The design makes use of a low-profile gas block. As the direct-impingement gas-operation system mimics that of the standard AR, so too does the configuration of the chromed bolt carrier group; however, it must be noted that the X-1's bolt and bolt carrier, extractor, ejector, and firing pin aren't interchangeable with LAR-15 (or AR-15) components, as they are proprietary to the LAR-47-series rifles. Other non-interchangeable components on the X-1 include the upper and lower receivers, barrel, barrel extension, magazine catch (and associated components), trigger guard and hammer spring.

Outfitting the proprietary, forged A4 aluminum upper receiver is an 18" fluted, cryo-treated, bead-blasted stainless steel barrel to which one of two 4140 steel brakes—Beast or Hunter—is fitted via 5/8-24 threads. The primary difference between the two is the 10 integral, pointed appendages extending from the Beast version. At its widest, the brake measures 0.962". Surrounding the barrel is an extended-length, free-floating RRA TRO-XL aluminum handguard with an integral, full-length strip of Picatinny rail on the top. This, combined with the integral strip atop the receiver, gives ample room for adding iron sights (not provided), optics or accessories. Near the muzzle end of the handguard are threaded sections for the addition of short rail sections. To save weight, as well as increase aesthetic appeal, there are alternating 1.430"- and 1.030"-long cutouts that measure 0.355" wide. There is a dustcover and a forward assist, the latter of which is an important feature for both hunting and personal-defense applications.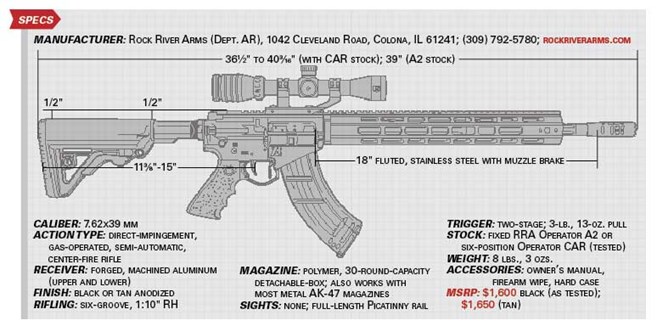 The X-1's proprietary, forged aluminum lower receiver exhibits a blend of expected and unusual features, most of which stem from integrating the AK-47 magazine into the AR platform. Immediately noticeable is the absence of a bolt hold open, although the company is looking into ways to address that issue in future LAR-47 variants. Moreover, the X-1 features a bilateral magazine release that resides inside the trigger guard and has two wings extending 0.375" outside the trigger guard. It is possible to push forward on the magazine release—and thus drop the magazine—when the rifle is shouldered. It's not easy however, and that's likely purposeful. The design makes for a tight fit with a gloved finger. The X-1 retains the familiar pivoting two-position safety of its AR brethren. The sample rifle's two-stage trigger was nothing short of remarkable; breaking at an average 3 lbs., 13 ozs., there wasn't the slightest hint of creep or overtravel. Completing the lower receiver is a Hogue rubber grip and either the RRA Operator A2 or the six-position RRA Operator CAR buttstock. The test rifle had the latter.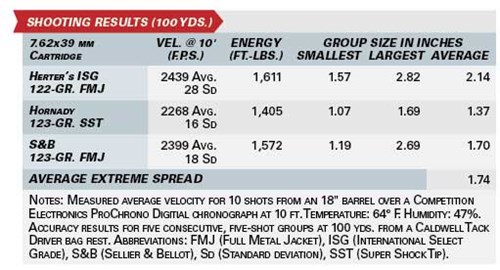 For testing, we topped the LAR-47X-1 with a 2-7X 34 mm Redfield Battlezone TAC scope in a Weaver one-piece scope base with integral rings. As for ammunition, we opted to test it with a blend of high-quality and inexpensive selections. The match-quality trigger was especially noticeable during this phase of testing.

With accuracy testing completed, we tried a variety of steel AK and polymer Rock River Arms magazines and experienced no function issues. As noted elsewhere, a TAPCO magazine would barely enter the magazine well and certainly wouldn't work. We did not try those from U.S. PALM or Magpul. We would recommend using only those previously mentioned as compatible. And, as with the AK-47, securing the magazine requires inserting the leading edge of the magazine and rocking it rearward; attempting to insert it as with an AR magazine will only result in frustration and an empty rifle.

In terms of ammunition price, the budget-conscious plinker and whitetail/hog hunter would likely be better served by selecting a 7.62x39 mm-chambered rifle rather than a standard 5.56 mm AR-15, and they'd be hard-pressed to find a better option than the Rock River Arms LAR-47 X-1.