by
posted on August 15, 2013
Support NRA American Rifleman
DONATE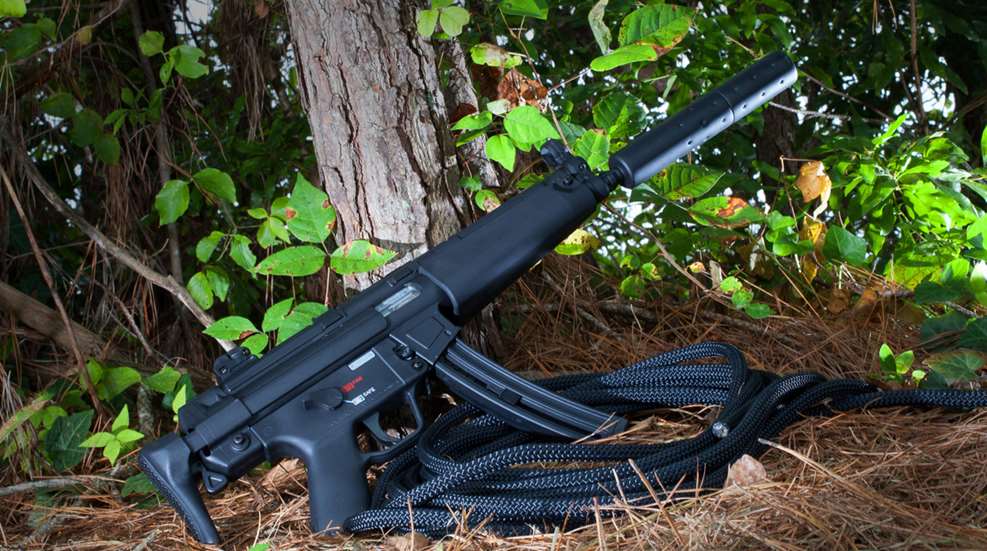 Looks can be deceiving, and the wisdom of that motherly advice is underscored by the commando-tough appearance of the Heckler & Koch-licensed MP5 A5 .22 LR. Manufactured in Germany and distributed by Walther Arms, beneath its flat-black and rugged exterior beats the gentler, kinder heart of a budget-conscious blowback rimfire.
Sure, lots of lawful citizens have neutralized criminal threats with a .22 LR-chambered firearm, but this version has some intimidating cosmetics that do a good job making you think it's a genuine 9 mm submachine gun. The fake suppressor, for example, caught my grandson off guard. He thought the non-functioning "can," which is 7 7/8 inches long and 1.38 inches in diameter, was real. It cannot be removed, so the integral unit makes the overall barrel length officially 16.2 inches (so no federal stamp is required to take the gun home), although the rifling runs for only 13.78 inches.
The sights are equally convincing. A rotating diopter rear sight offers four different-size apertures, from a geezer-friendly .23-inch-diameter opening, to the more tack-driving .10. It's both windage and elevation adjustable with the provided Allen wrench, and the metal construction makes it rugged enough for abuse. Rotate far enough in either direction and this sight will top or bottom out, so don't be surprised if it happens. During testing the unit held zero, and adjustment was quick and easy. A protective metal circle with an interior diameter of .70 inch surrounds the front post sight. Its walls are .11-inches thick, so don't expect them to succumb to daily abuse anytime soon. The setup makes finding the front sight an effortless and fast affair, even during fast-firing drills. The post itself is .067-inch wide and the MP5 A5 .22 LR ships with an identical-width replacement that is .056 inch taller. Both posts are also made of metal to survive the rigorous use for which this rig begs, and swap-out is simple by loosening the post with the Allen wrench, backing it out of its dovetail and reversing to install the new version.
If you're an AR-15 fan and haven't handled a gun like this, the stock may seem a bit clunky. This design is a product of the mid 1960s, when the real MP5 came off the drawing board and fell into the hands of operators across the globe. So there are two positions, collapsed and extended. That's it.
Fully extended, the overall length of the gun is 32.5 inches. Collapsed, it's a more transportable 26.5. The "stock" itself is composed of two, stout metal ribs that slide along both sides of the receiver. When locked in the collapsed position, it's solid and there is no rattle. Fully extended and locked there's a slight bit of vertical movement-it's annoying at first, but bear in mind this is, after all, a .22 LR lookalike, not a crisis-intervention tool. Besides, most of the originals had the same nuance. To alter stock position, a large knob (with a generous paddle that is 3/4 inches long to give you plenty of leverage) at the back and bottom of the receiver is rotated clockwise to unlock the mechanism. Push or pull the stock to deploy or collapse and once the paddle is released lockup is solid.
There isn't a ton of polymer on this gun, but the stock's butt is one such item. It's shaped nicely to fit your shoulder, has texturing to ensure it stays put once shooting begins, and the hard, non-sticky injection-molded piece looks stout enough to take a beating.
Adding to the MP5 realism is an H&K logo and "MP5" stamped into the left side of the cast-aluminum receiver. That's somewhat mitigated on the right side, where markings indicate the firearm was imported for Umarex and the mag well states the gun was manufactured by Carl Walther in Germany. That's the ejection side anyway, so it's doubtful anyone will see it when you're on the firing line.
The non-reciprocating charging handle is on the left side of the receiver, further forward than most .22 LRs (above the fore-end). Its shape and texturing made it a breeze to use at the range, and it can be locked back (by pushing up at its full rearward travel) to show clear at the range. That also means you can perform that "Hollywood cool" reload, where you toss in a fresh mag, slam the charging handle with the heel of your hand and get back into the fight. The fact that my grandson was particularly fond of that maneuver proves he's watched too many action movies.
Drift out a non-captive pin and the fore-end comes off easily. Disassembly is similarly effortless at the back end of the receiver, although bolt removal for a full scrubbing was a bit cumbersome. With familiarity it will become routine and fast. The Navy-style pistol grip, fore-end and charging handle are all polymer. Metal sling-attachment points are found up front (on the left side of the barrel, at the bottom of the front-sight assembly) and at the back end of the receiver (also on the left). These are old-school versions, so don't expect to rig up quickly with your QD gear.
Perhaps the only complaint I have with the Heckler & Koch MP5 A5 .22 LR is the trigger. It's a blowback-operated .22 LR, so my hopes weren't high. Let-off weight averaged 6 3/4  pounds, which is acceptable for a gun whose primary mission is plinking, but there's enough take-up that I considered homesteading somewhere along the line. It measured .14 inch at the bottom of the trigger, which doesn't seem like a lot until you're behind it and considering all the mineral rights you're passing by. Yes, it's not a bad safety thing since young shooters will flock to this gun and its economy, but then there's the creep. It's all survivable, and easy to get accustomed to, but after looking at the rest of the gun's features it took me by surprise.
The fit and finish of this gun are very nice. It has an ambidextrous manual safety, and although the single, push-button magazine release is on the right side, a paddle behind the mag well performs the same function with equal aplomb from both sides. Reloads were a breeze on the polymer magazine. The test rifle shipped with a 25-round version, although 10-round mags are available.
How does it shoot? It's a .22 LR, so the real question is how fun is it to shoot? Let's put it this way, I thought my 16-year-old grandson was going to run my rimfire supply dry. Were it not for the intervention of an unexpected downpour, I would be out of .22 LR. And even then, he didn't surrender the firearm until after 30 minutes of drenching rain. I waited until he and the storm left, then I went back to shooting. It's that fun.
Using three different test loads, there were no stoppages or malfunctions of any kind. Not too many new rimfire semi-automatics can make the same claim. At 50 yards (from a sandbagged rest), Remington's 40-grain Target load had a five consecutive, five-shot group average of 1.718 inches. The best group was 1.463 inches, and with the relatively short sight radius and thick front post, that's decent accuracy. It only gets better. CCI's 40-grain Mini-Mag HV averaged 1.612 inches and Norma's 40-grain .22 LR Match load came in at 1.345 inches. One Norma group printed .809 inch. That's not MOA accuracy at 50 yards, but awfully impressive for a rimfire made to look like, shoot like and feel like a submachine gun.
No, it probably won't free hostages, support the toppling of a communist regime or storm beaches, but it will make you smile without breaking the bank. And that, alone, makes the Umarex Heckler & Koch MP5 A5 .22 LR worth a close look.
Specifications
Manufacturer: Walther Arms, hk22rimfire.com
Model: Heckler & Koch MP5 A5 .22 LR
Caliber: .22 LR
Finish: anodized black
Action: blowback-operated, semi-automatic rimfire rifle
Receiver: cast aluminum
Rifling: six grooves, 1:13.75" twist
Barrel: 16.2"
Magazine: 25-round (10-round version also available)
Sights: variable diopter rear adjustable for windage and elevation, windage adjustable front blade
Trigger: Single stage, 6 3/4 lb. let-off weight
Weight: 6 lbs., 2.5 ozs. with empty magazine
Accessories: Owner's manual, cable lock, disassembly tool, Allen wrench for rear sight adjustment, extra front sight blade
MSRP: $475