by
posted on May 22, 2021
Support NRA American Rifleman
DONATE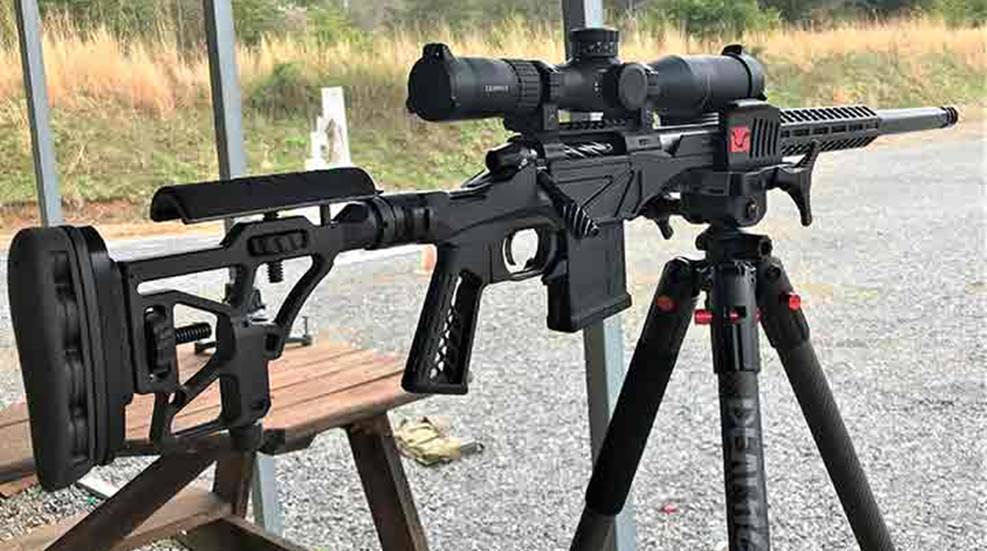 Venturing off the standard path in search of something new with firearms is not always the easiest path to follow. FALKOR Defense's .300 Win. Mag. Petra AR is proof the company is willing to take on most any challenge. FALKOR recently decided to up the ante with its CSS bolt action rifle, which combines its new 7Even bolt action, CSS chassis, and 26" DRACOS Straightjacket barrel.

The same FALKOR principles that guided the company's AR design journey are present in the CSS. Only after thorough study did FALKOR move forward with the precision bolt-action project. The FALKOR CSS chassis is machined from aerospace billet aluminum. Typical of FALKOR products, it merges unique aesthetics with performance, as it looks good while reinforcing the receiver like a sleeved benchrest rifle.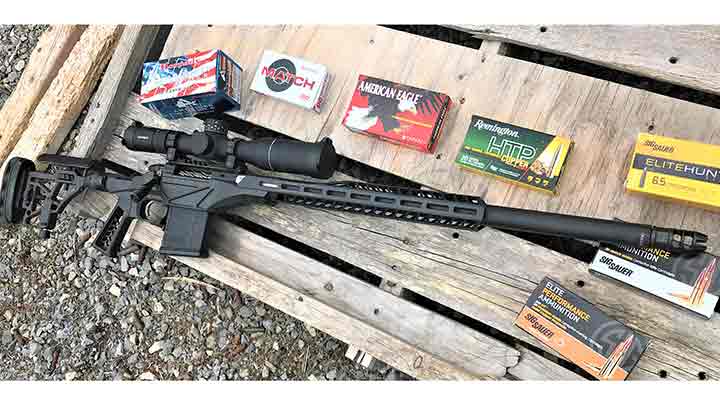 A folding multi-adjustable buttstock and modular M-LOK handguard also add to the modular package. The folding buttstock is handy for transporting the CSS in standard-length rifle cases. The buttstock's integral monopod is a nice attention-to-detail component. The wide, flat fore-end works well with sandbags and rests, if one chooses not to use a bipod. The CSS chassis can accommodate barrels up to 1.6" in diameter.

The FALKOR 7Even action is machined from pre-hardened billet 416 stainless steel and has an integrated recoil lug and 20 m.o.a. Picatinny scope base. The one-piece fluted bolt is created from 4340 chrome-moly steel. Lug pathway rails inside the receiver are wire-EDM cut. The bolt features a M16-style extractor design. Interestingly, FALKOR chose to go with a vertical-side bolt release for strength purposes compared to more typical horizontal method.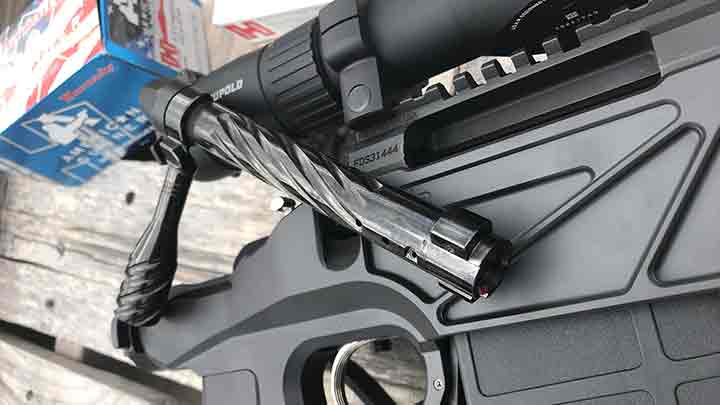 A TriggerTech trigger is also mated to the 7Even action. The entire package including the CSS chassis, 7Even action and DRACOS Straightjacket barrel, weighs in at 10.5 lbs. and measures 47.25" long. FALKOR and DRACOS operate from the same facility and share ownership. The DRACOS Straightjacket barrel starts out with a steel barrel blank, contoured down to shave away as much material as possible.

An aluminum sleeve is press-fit over the barrel blank, hence the name "straightjacket." A proprietary composite material is poured in between the sleeve and barrel, then baked overnight to cure. Once hardened, the compound becomes more ridged than steel, minimizing barrel whip. Additionally, the compound is an extreme conductor pulling the heat away from the barrel to be dissipated through the aluminum. Aluminum is used instead of steel, as it has a shorter heat memory.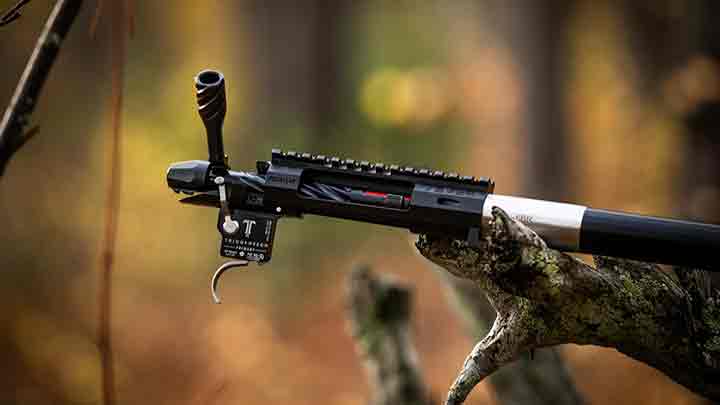 This keeps the barrel core much cooler than a standard steel or carbon-fiber-wrapped barrel, thus extending the barrel life while also cutting down on throat erosion and chamber wear. DRACOS reports two to three times the amount of rounds out of a DRACOS barrel versus a steel or carbon-fiber barrel before signs of accuracy degradation appeared. DRACOS enlisted the independent H.P. White Laboratory to conduct tests on the Staightjacket barrel system.

One test involved firing 390 rounds in three minutes and 40 seconds from a M4 equipped with a DRACOS barrel. After testing was complete, temperature testing was done on the chamber and muzzle ends. With ambient temperature being 65 degrees Fahrenheit, the barrel was a mere 207 degrees Fahrenheit at chamber and muzzle. Existing military data says a conventional barrel would be over 1500 degrees Fahrenheit after the same test. The full 24-page test result is posted on DRACOS website for review.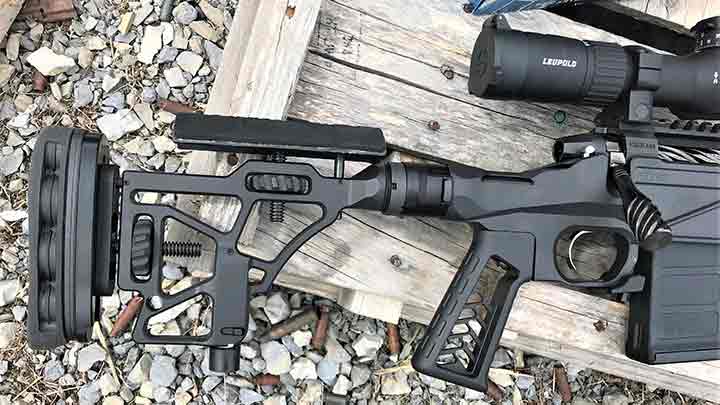 The FALKOR CSS is not only confined to only shooting from the supported prone or bench position. The CSS allows for offhand and other types of supported fire. Think PRS competition-style formats. The ergonomics of the stock allows for a comfortable, repeatable cheek-weld, combined with hand placement that aids in a precise trigger pull. All of the FALKOR components contribute to constant and repeatable CSS accuracy, no matter ambient conditions.

Detachable AICS magazines feed the CSS. Magpul five- and 10-round magazine were used in testing. The single-stack magazine minimizes the amount of material removed from the chassis extra rigidity. The thought process of a single-stack magazine further reinforces the attention to detail found in the FALKOR CSS, as rounds are stripped straight from the magazine into the chamber compared to other magazine designs that have rounds set an angle to a rifle's centerline.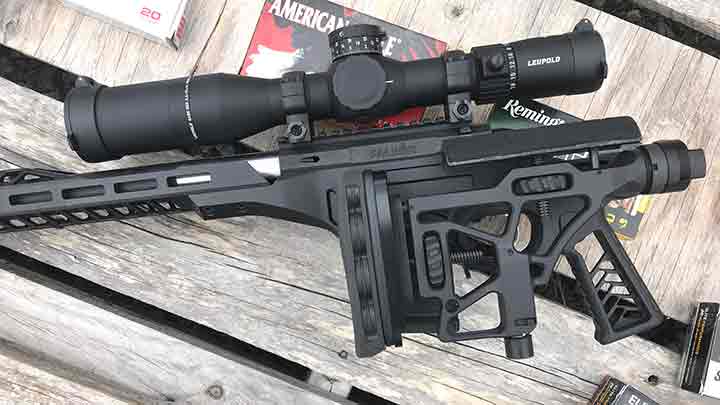 Current chamberings offered by FALKOR for its CSS bolt-action system are 6 mm Creedmoor, 6.5 mm Creedmoor and .308 Win. A long-action CSS variant will also appear soon. The 6.5 mm Creedmoor typifies the short and efficient cartridge concept, as its bullets have a reputation for a high ballistic coefficient (BC) rating as well as sectional density (SD). SD is the ratio of a bullet's mass to its cross-section. Bullets with a high SD penetrate better than a low SD.

BC is a measurement of how well a bullet moves through the air. Velocity loss and the impact of wind drift are minimized as the round travels downrange, the higher the BC rating. The final sweetener is only moderate recoil, as 120- and 140-gr. bullets have always attracted various users. It's hard to beat a 130-gr. High-BC bullet moving at nearly 3,000 f.p.s.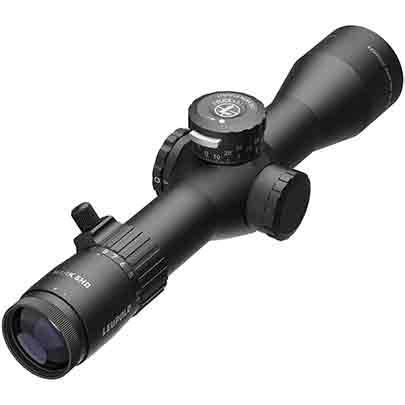 An important part of the accuracy equation is a quality optic to go along with the cartridge and rifle. A Leupold Mark 5HD 3.6-18x44 mm scope was chosen for testing. The size and weight of the 35 mm tube Mark 5HD 3.6-18x44 mm stands out in a positive way. The Mark 5HD 3.6-18x44 mm weighs in at 26 oz. This is 20-oz. lighter than many competitors' offerings with the same features. The Leupold Mark 5HD measures only 12.6" long.

The 35 mm main tube of the 3.6x18x44 mm is constructed with 6061-T6 aluminum. Numerous reticle designs are available within the Mark 5HD product line up, including illuminated options. A H59 reticle was used in the 3.6-18x44 mm for this test. Optics are all about the glass quality. Leupold maximizes this with their Twilight Max HD process. Twilight Max HD combines exceptional light transmission and glare management to provide vivid, bright and high contrast images in all conditions—low light as well as high glare.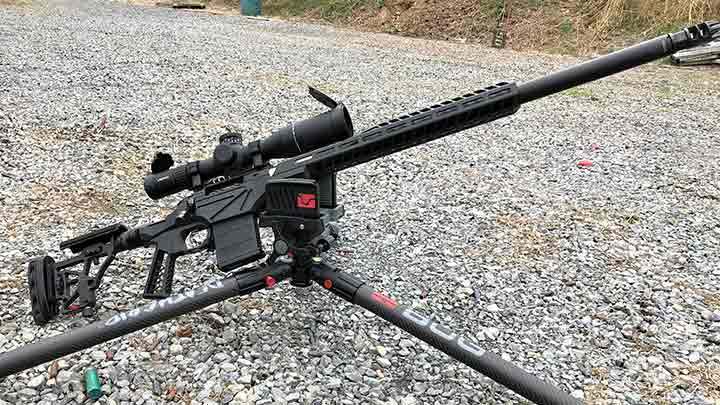 Leupold consulted with elite military personnel and professional shooters when initially considering a new optic that eventually evolved into the Mark 5HD. All insisted on ruggedness to bear the brunt of abuse afield. High level optical contrast, increased internal reticle travel range, and improved ergonomics for making magnification and sighting adjustments were high on the list as well, all in the most compact package possible.

Thanks to its 35 mm main tube and redesigned erector housing, the Mark 5HD has a generous industry leading 120 MOA of internal adjustment available. The Leupold M5C3 ZeroLock turrets provide positive one-tenth mil clicks allowing very precise elevation and windage corrections for shooters. Various 6.5 mm Creedmoor hunting and match loads from Hornady, SIG Sauer, Remington and Federal were chosen to illustrate performance of the FALKOR CSS and Leupold optic.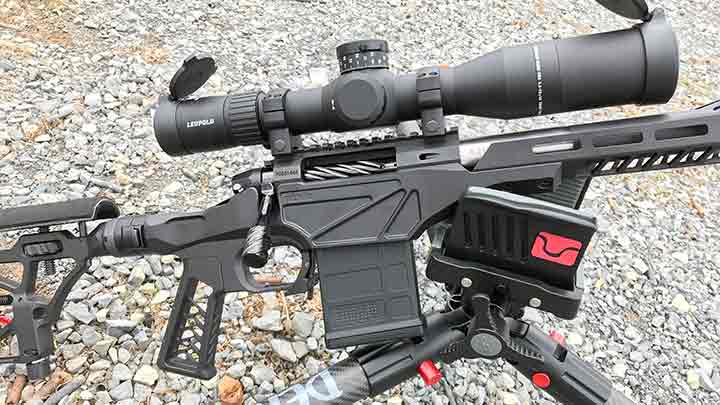 The specific loads were SIG Sauer's 120-gr. HT Copper, 130-gr. Controlled Expansion Tip (CET), and 140-gr. OTM.  For Remington the 120-gr. TSX BT was chosen. Hornady was represented by Match 140-gr. ELD and American Gunner 140-gr. BTHP. This is just a small sampling of the 6.5 mm Creedmoor loads available from each company. Multiple groups were fired with each load. Overall, accuracy was impressive with no five round group larger than 1.25" at 100 yards, most were at or under the magical 1" mark.

The SIG Sauer Elite 140-gr. OTM took the accuracy title with a couple 0.62" inch groups. Not a lot of time was spent at Echo Valley Training Center's (EVTC) Range No. 2. There are more indicative evaluations for a precision rifle than merely firing from a bench at a 100-yard target. Groups were also fired at 300 yards, as a further evaluation of the FALKOR CSS's intrinsic accuracy, with the SIG Sauer loads performing the best again.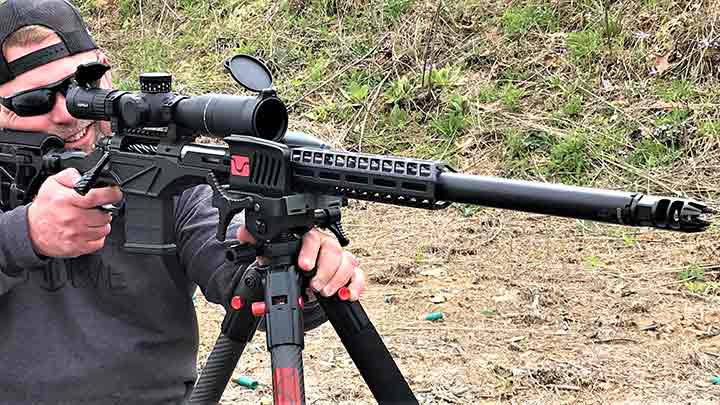 The 300-yard tests were done from more field-expedient positions, such as prone with bipod and pack support, along with from prepared "dug-in" positions offered at EVTC Range One. Most of the loads stayed at m.o.a. (smaller than 3" at 300 yards) or better. This is a credit to both the rifle and the optic. It was decided to further test the FALKOR CSS using a competition format discovered at a local LE shoot attended frequently.

Competitors are tasked with engaging multiple hanging clay pigeons at 220 yards, followed up with firing at more clay pigeons at 315 yards and then half-scale IPSC steel targets placed at 550 yards. Shooting was from various positions, including prone and from BOG Death Grip tripod. The inherit accuracy of the FALKOR CSS made short work of the course of fire.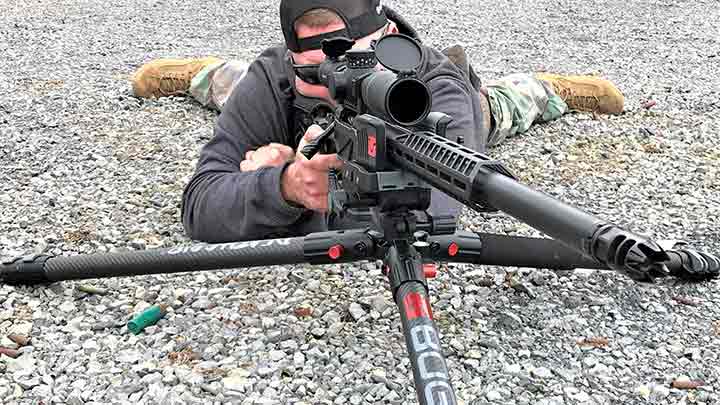 The oversize handle and smooth passage of the bolt allows for minimal reticle disturbance when the rifle's bolt is worked, allowing for fast follow-up shots. The multi-adjustable rear stock allowed for proper check weld and the integral monopod proved its worth. It was no problem riding the rifle's recoil, with minimal disturbance overall.

The Leupold Mark 5HD optic allowed for effective hold offs with its reticle design. If preferred, a shooter can dial in the changes with the turrets, especially as ranges extend past 300 yards. The key point with the FALKOR Defense CSS bolt action is out-of-the-box performance. The FALKOR Defense CSS takes a back seat to no rifle in terms of precision, repeatable accuracy, ergonomics and reliability.