by
posted on August 2, 2022
Support NRA American Rifleman
DONATE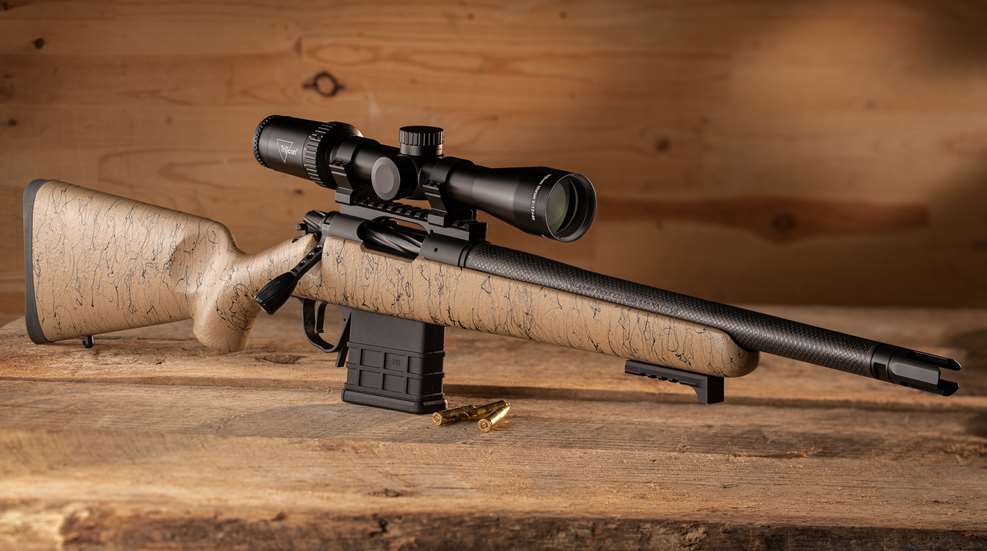 Retired U.S. Marine Lt. Col. Jeff Cooper, a firearm instructor, writer and expert in the use and history of small arms, contributed a variety of shooting techniques and gun designs to the shooting sports community—and many of his ideas are still held in high regard today. Among them was his concept of the ideal "scout" rifle that he described in the early 1980s.
Cooper recognized the need for a compact, lightweight rifle that could be comfortably carried long distances across rough terrain. His ideal scout gun would be an accurate and reliable bolt-action design weighing less than 6 lbs., 8 ozs., with an overall length under 40". It should be chambered to fire a cartridge with an effective range of up to 450 meters for the harvesting of game or to serve as a self-defense option should the need arise. Over the years, several well-known rifle manufacturers have tackled the scout concept, including Mossberg, Ruger and Savage or have partially acknowledged it in name, including Howa and the rifle reviewed here.
Recently, Christensen Arms of Gunnison, Utah, released its own interpretation of the scout rifle platform, known as the Ridgeline Scout, with a few noteworthy variations on the theme. Thanks to the abundant use of carbon fiber, it is among the lighter models in this category, with listed unloaded weights starting at 5 lbs., 14 ozs. The gun reviewed here weighed in at 6 lbs., 3 ozs., with the empty magazine, and measured 37.5" in overall length. Despite its reduced weight and shorter stature, this rifle still ships with the company's famous sub-m.o.a. guarantee.
This bolt-action carbine is available in Cooper's preferred chambering, .308 Win., along with the flat shooting 6.5 mm Creedmoor and more recently developed 6 mm ARC. It's also available chambered for cartridges favored for use in Modern Sporting Rifle (MSR) platforms, including .300 Blackout and .223 Rem./5.56 NATO, and this evaluation takes a closer look at the latter version of the rifle.


The Ridgeline Scout's action is in the Remington 700 pattern. The gun's weight has been minimized wherever possible with the goal of not reducing performance or durability. Its receiver is machined in-house from 416R stainless steel and treated with a durable, matte-black nitride finish. The receiver is topped with a 5.5" aluminum Picatinny optics rail, although, despite the rifle's scout moniker, there is no provision for forward mounting of an optic. The two-lug bolt assembly's body is fluted, the handle is skeletonized and the aluminum knob has deep, canted grooves for improved purchase. A two-position safety lever is located to the right side of the bolt assembly, with the bolt-release lever found on the left side of the receiver. The safety can remain fully engaged when cycling or removing the bolt.
The one-piece bottom-metal assembly is made from aircraft-grade aluminum with a matte-black hardcoat anodized finish, and the open magazine well is configured to accept AICS-type removable box magazines. In this case, the rifle shipped with one 10-round polymer magazine manufactured by MDT. An extended magazine-release lever is mounted into the front of the trigger guard. The rounded trigger guard is generously oversized to provide plenty of room for gloved fingers.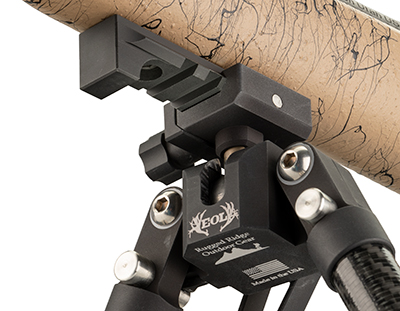 Christensen Arms includes a modular trigger group made by TriggerTech on the Ridgeline Scout. This adjustable, single-stage trigger sports a long, straight, flattened, aluminum shoe. It exhibits an almost imperceptibly short arc of travel that breaks cleanly with an adjustable pull weight between 1 lb. and 3 lbs., 8 ozs., of pressure, depending on the owner's preferences; the trigger was set to 2 lbs., 3 ozs., for our range test.
The Ridgeline Scout has a compact 16" barrel with rifling twist rates appropriate to the cartridges for which it is chambered. The .223 Rem.'s barrel features a 1:8" twist rate that is suitable for bullets up to 80 grains in weight while still effectively stabilizing lighter bullets. The lightweight, free-floated, 416R stainless-steel barrel is wrapped in carbon fiber for improved rigidity and heat dispersion; it is threaded 1/2x28 TPI (5/8x24 TPI for larger calibers) to accept a variety of popular muzzle accessories. A removable 2.25"-long, three-prong flash hider is installed at the factory.
The sporter-style stock is a carbon-fiber composite featuring spot bedding and stainless-steel bedding pillars. Not only is it lightweight, but its composite construction is weather-resistant and rigid in a variety of temperatures. The underside of the rounded fore-end is fitted with a 3" aluminum block that serves as both a hand stop and a four-slot Picatinny accessory rail. The exterior of the stock has a subtle pebbled texture with a tan finish and black "webbing" to break up the outline. The stock is capped off with a grooved, soft rubber recoil pad that lends the rifle a 13.75" length of pull.
At the shooting range, the Ridgeline Scout fed, fired and ejected without any mechanical- or ammunition-related issues. The rounds tested included match-grade, practice-grade and hunting .223 Rem. cartridges. The smooth, clean feel of the action only improved with lubrication and use. The rifle is not only light, but well-balanced, lending to a handy, intuitive swing for standing shots. Although scout rifles are traditionally chambered for .30-cal. cartridges, chambering this gun in .223 Rem. makes it both a lightweight and low-recoiling configuration that is all-day comfortable to carry and shoot.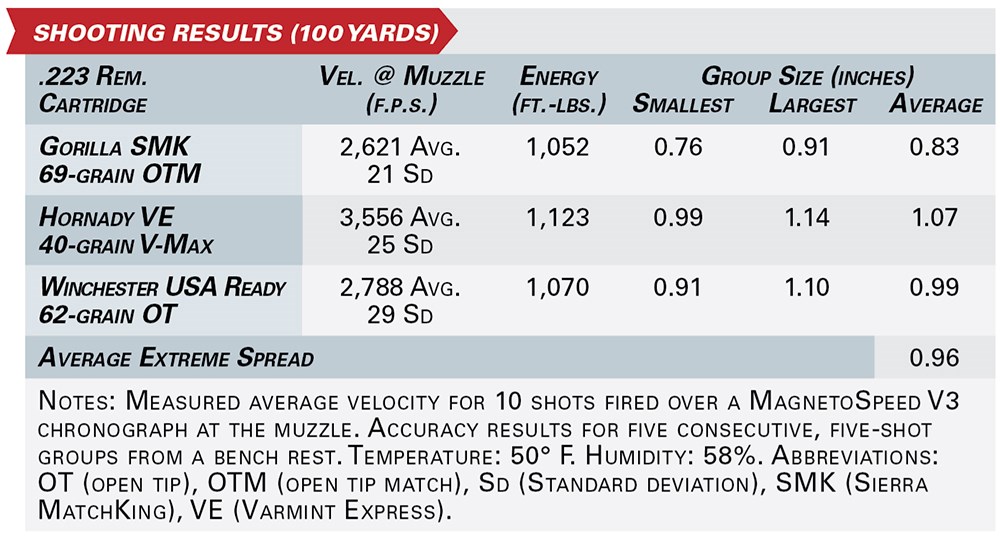 Christensen Arms' sub-m.o.a. guarantee states that this rifle should be capable of printing three-shot groups 1 m.o.a. in size (1.047") or less, at 100 yards. Our testing protocol consists of five, five-shot groups averaged together—harsher parameters that make keeping groups under 1.047" in size more of a challenge—but the Ridgeline Scout proved to be up to that challenge. The 16" barrel tapped out five-group averages of 0.83" and 0.99" with two of the three .223 Rem. loads tested; the third load was just over the line with an average of 1.07" for an average extreme spread of 0.96".
Christensen Arms' use of top-notch components and the company's attention to detail are clearly evident in the features, handling and performance of the Ridgeline Scout rifle. The high-quality and cutting-edge design of the Ridgeline series of bolt-actions makes them an attractive option for serious sport shooters and hunters alike. Yet, at an MSRP of $2,199, these rifles are not so expensive as to keep them out of the hands of the average shooting sports enthusiasts, as competing ultra-light rifles can sport prices starting at $3,000 and rising from there.