by
posted on January 24, 2023
Support NRA American Rifleman
DONATE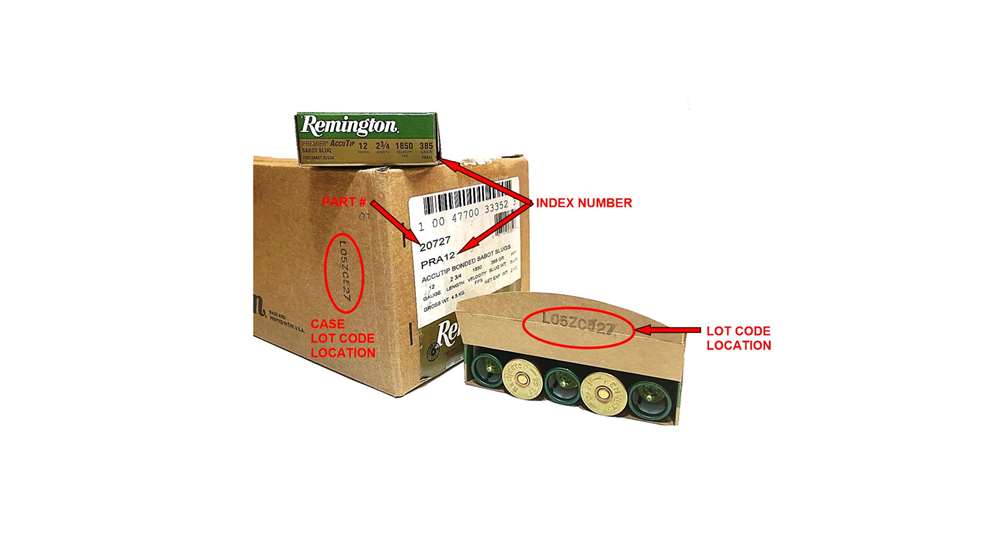 Remington Ammunition has determined that some boxes of Remington Premier AccuTip Slugs may contain shells that are loaded with an incorrect propellant. Owners of the ammunition should not use them until they check to determine those they have on hand are not part of the limited number included in this safety recall.
The affected Remington 12 Gauge Premier AccuTip 2 3/4" sabot slugs are lot codes: L05ZC527, L05ZB527, L06ZB527, L06ZC527. Use of this product may result in firearm damage and/or personal injury. 
The lot codes are found on the inside flap of each load's individual box. Below is an example:
Description: Remington 12 gauge – 2 3/4" Premier AccuTip Slug
Index Number: PRA12
Part #: 20727
Lot Code: L05ZC527, L05ZB527, L06ZB527, L06ZC527
For those who have cases of the ammunition on hand, they are also printed on the outside of the cardboard container. The index number and part numbers are on the white sticker. Lot numbers are stamped on the side of the box.
Examples of both locations can be seen in the above image, provided by Remington Ammunition.
Anyone in possession of the ammunition from these lot codes needs to immediately discontinue its use and contact Remington by calling (800) 243-9700. The Remington Ammunition Consumer Service Department will arrange for the return shipment, and once received by the company, it will send you replacement ammunition. There is no cost for shipping or replacement incurred by the owner.
Only Remington 12 Gauge Premier AccuTip 2 3/4" sabot slugs with lot codes L05ZC527, L05ZB527, L06ZB527 and L06ZC527 are affected by this safety recall. Full details are available on a special web page set up by Remington Ammunition. The company apologizes for any inconvenience caused to owners and promises to expedite return shipments of ammunition.