Support NRA American Rifleman
DONATE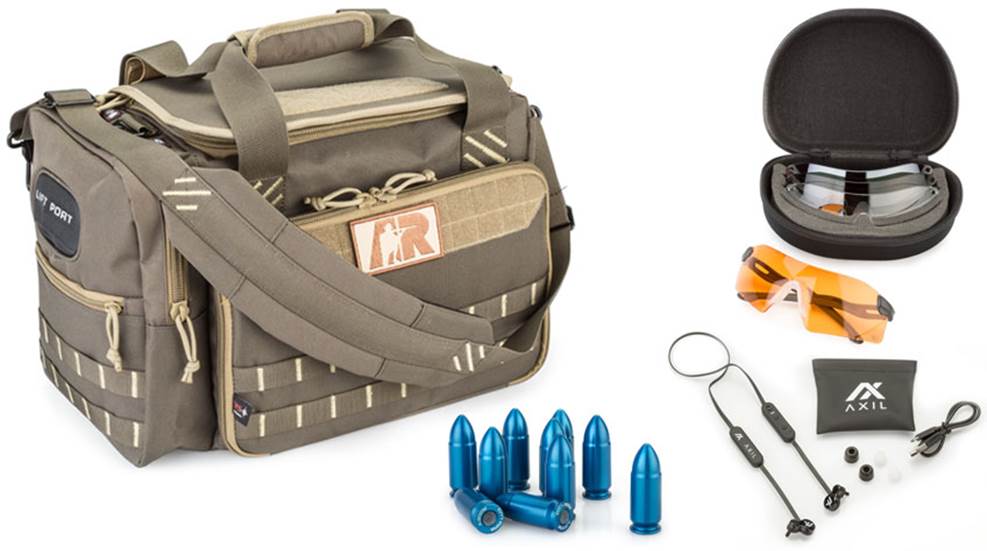 The shooting accessory market is filled with bags devoted to range use, but few maintain the organization of their contents while providing the handy features and space necessary to make the most of your time at the range. The G.P.S. M/L Range Bag (1., $129) from G-Outdoors (goutdoorsproducts.com) offers great features, and it's not like the one granddad used.
Built of 600-denier polyester, the M/L Range Bag features heavy-duty lockable zippers, and offers a seemingly endless amount of pockets, each pre-labeled with the company's Visual I.D. Storage System.


Outfitting the bag was fun and fast—it took about 15 minutes to have my entire range kit assembled and organized neatly, with room to spare. I can now fit my iPad Pro with ballistic software, which I keep protected in the waterproof DAKA medium pouch (2., $23) from Magpul (magpul.com). Along with the iPad, I can pack other devices such as a rechargeable 250-lumen Stylus Pro USB Penlight (3., $97) from Streamlight (streamlight.com) and a portable battery pack such as the waterproof Venture 30 Power Bank Micro/Lighting unit (4., $100) from Goal Zero (goalzero.com), which provides 7,800 mAh of power at the ready.
When it comes to essential gear, ear and eye protection are at the top of the list. The M/L Range Bag provides labeled access for both, and to outfit my kit I decided to go with Axil (goaxil.com) for a set of rechargeable Ghost Stryke electronic ear buds (5., $150), to not only provide for hearing-safe sound suppression, but also for its 6X hearing enhancement capability.


Venturegear Drop Zone safety glasses, with four lenses and a storage case (6., $43), from Pyramex (pyramexsafety.com), help protect my eyes. And in case of a serious accident, the Micro Trauma Kit NOW! (7., $129) from Blue Force Gear (blueforcegear.com), just might save my life. I also included the Replaceable Edition Shooting/Hunting set (8., $40) from Fix-It-Sticks (fixitsticks.com), which provides 16 bits and stick drivers in a compact package. A 10-pack of A-Zoom snap caps (9., $24) from Lyman (lymanproducts.com) facilitate function and dry-fire practice, and the all-in-one SPD Range Rod for pistols (10., $23) from Brownells (brownells.com) helps to measure groups, clear bore obstructions and clean pistol barrels and cylinders.
With space for five medium-size pistols, spare magazines, loose ammunition and rows of MOLLE—along with hook-and-loop sections inside and out—nothing gets left at home. It is obvious that G-Outdoors has researched what shooters need today, and it is reassuring to know exactly where I put my ear pro—so long as I remember to follow the labels.