Support NRA American Rifleman
DONATE
Today's self-protection firearms, whether rifles or pistols, emphasize light weight and compact dimensions, while still offering ample magazine capacity for full-power ammunition. Given these considerations, it is no wonder Eugene Stoner's AR-15 platform is serving as the foundation for the current crop of portable, and powerful, defensive arms—primarily carbines and large-format pistols—known as PDWs.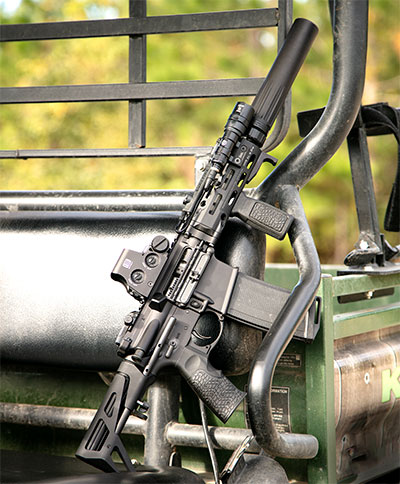 While the PDW concept can be traced from the AR-15 and submachine guns like the MP5 back to the M1 Carbine of World War II and the lever-action repeaters of the American West, the current crop of semi-automatic, gas-powered, AR-style pistols have evolved the category to new levels of utility. One of the most recent entries to the field, and the topic of this review, is the DDM4 PDW in .300 Blackout from Daniel Defense—an American manufacturer that knows a thing or two about building ARs.
At less than 6 lbs. and measuring shorter than 21" with the pistol brace collapsed, the DDM4 PDW is easy to carry and small enough to store just about anywhere—one benefit of a defensive tool such as this is its ability to remain discreetly stowed within arm's reach. It's also a shooter! In range testing, using a Trijicon MRO HD red-dot sight, the PDW stacked rounds into ragged holes at 25 yds. When paced out to 50 long steps, five-shot groups averaged less than 1.5"—a fair piece better than even my best results with a conventional handgun.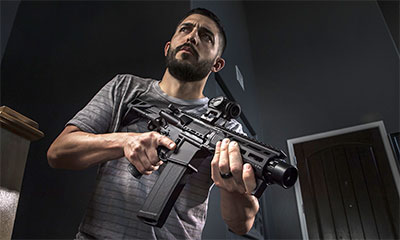 Another advantage the DDM4 PDW offers over other defensive arms is its chambering. The .300 Blackout cartridge was designed specifically to function in auto-loading platforms, and offer big-gun power, from close range out to moderate distances, without the bark or recoil of traditional .30-cal. rifle ammunition. It's also extremely well-suited for use with short-barreled platforms, shorter gas systems, and in conjunction with suppressors thanks to its relatively mild chamber pressures and the availability of a variety of both super- and sub-sonic loadings. Considering the PDW's 7" cold-hammer-forged barrel, pistol-length gas system and threaded muzzle—5/8x24 TPI—it really is a brilliant pairing, both in concept and operation. The addition of a linear compensator at the muzzle further tames the effects of recoil and directs the escaping gases forward, away from the shooter's face, facilitating faster follow-on shots and ensuring an enjoyable range experience.
Considering the current popularity of PDW-style firearms—probably the highest among armed citizens since the days of the pioneers—and the recent evolution of large-format AR-style pistols, the new offering from Daniel Defense deserves due consideration. Combining size, shootability and a serious chambering in the .300 Blackout, the DDM4 PDW is equally adept at punching paper at the range or providing predator protection on the ranch, in the wild, or in defense of the home.

Specifications
Manufacturer: Daniel Defense (danieldefense.com)
Model: DDM4 PDW
Chambering: .300 Blackout
Action Type: direct-gas-operated, semi-automatic, center-fire pistol
Receiver: CNC-machined 7075-T6 aluminum
Barrel: 7" chrome moly vanadium steel, cold hammer forged, S2W contour; 5/8x24 TPI threaded muzzle with linear compensator 
Rifling: 1:7" twist
Stock: Maxim Defense CQB Pistol Brace
Magazine: 30-round detachable box, Magpul PMAG
Sights: Picatinny rail for optics
Trigger: mil-spec fire control group
Safety: bilateral selector
Overall Length: 20.75"-24.75"
Weight: 5 lbs., 11 ozs.