posted on September 6, 2018
Support NRA American Rifleman
DONATE
The Boyd's At-One series provides shooters with feature-rich and user-customizable precision gunstocks that offer adjustability at budget-friendly prices. For those unfamiliar with Boyd's Hardwood Gunstocks, the company is known for laminated-wood stocks that fit many popular long guns—from modern and surplus center-fire rifles, to rimfire rifles and shotguns. Boyd's customization options are seemingly endless, and the design process can be a lot of fun, too. I recently placed an order with Boyd's for several different examples of At-One stocks to fit the firearms shown above (top to bottom): a Remington 870 with a custom target barrel; a modified Mosin-Nagant 91/30; a Ruger American Predator; and a CZ 455 rimfire with bull barrel and Blackhawk Pulse suppressor.


First Impressions:
The company's maple lamination process makes for a sturdy wear-, weather- and chemical-resistant base material, and the At-One stock, like all of Boyd's offerings, can be styled according to the user's preference—from bright and bold, to tasteful and traditional. The advantage of the At-One, though, is the easily adjustable comb and buttplate—users can simply depress the flush-mounted, push-button retainers to fine-tune a firearm's fit. The stock also includes a 1/2" soft recoil pad, flush-mounted sling cups on left and right sides of the buttstock, a sling swivel stud at the butt and two more on the fore-end for mounting accessories such as a bipod or a sling. Of the combinations I selected, including a non-laminated Walnut option (premium price) affixed to the CZ 455, I found the wood finish to be neither too glossy nor too dull. I also liked the feel of the replaceable grip and fore-end panels. Over-molded rubber units, along with color- and pattern-dipped options, are available at extra cost.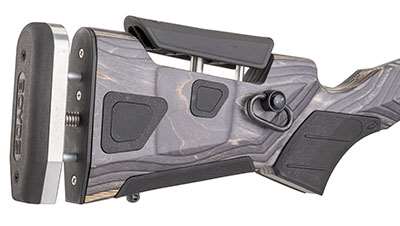 Fitment And Use
Inletting of the stocks is clean and precise, and installation of all four barreled actions was simple, although two required some additional fitting. The Mosin-Nagant 91/30, with a Timney Trigger installed, required the action screw holes to be lengthened, and the Ruger American Predator required the V-Block recess to be modified to fit the Ripple Blaze variation I chose—a Dremel tool with a small milling cutter was used, and, after a few minutes of wood removal, the components were ready for final assembly. Of course, those who find such an endeavor unappealing can choose to leave the task to a professional gunsmith.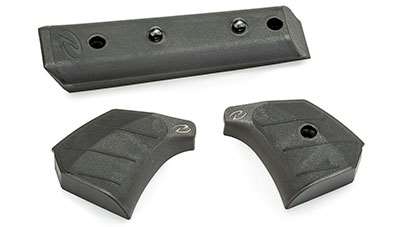 Across the board, the At-One stock performed as anticipated. I passed an outfitted At-One example around to four shooters, ranging from 7 to 65 years old. Each one was able to manipulate the stock to fit their physique, quickly. The youngster of the group had minor difficulty depressing the adjustment buttons, which was to be expected due to age. The butt pad adjustment range of 1.5" was adequate for tuning the length of pull, and the 9/16" comb-adjustment range enabled all shooters to customize the fit for precise and consistent sighting—regardless of whether or not the host gun employed an optic.
Shooters in the market for fully adjustable, custom gunstocks will find Boyd's At-One series, starting at $189, offers real value with performance features typically found on more expensive products.