Support NRA American Rifleman
DONATE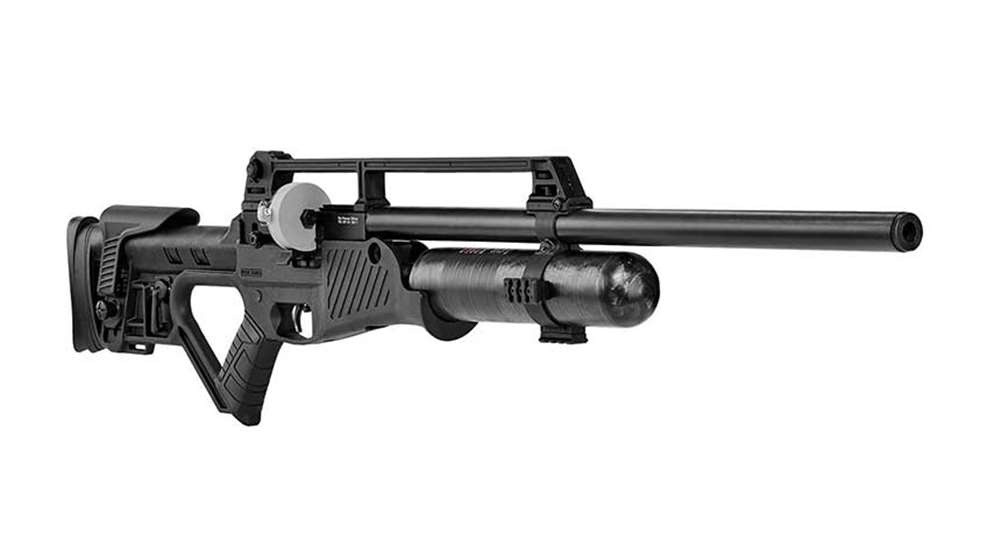 Hatsan is one of the leading innovators in the air-gun world, and the company has departed the realm of .177-cal. and .22-cal. products by rolling out big-bore, hard-hitting airguns chambered for .30-cal. pellets. The company's latest offering, the Blitz, offers this large-bore punch in an automatic package that puts rounds on target faster than most firearms.
Each Hatsan Blitz select-fire air rifle uses a gas-operated cycling system that's powered off the included 580cc carbon-fiber air tank. When pressurized, the tank provides enough power to shoot 100 .30-cal. rounds, as well as cycle the action for a new shot. The tank holds up to 3,625 PSI of pressure and features a gauge that allows you to track the amount of air left. With a full charge, a single .30-cal. pellet fired from the Blitz will max out at 730 f.p.s. This produces more than 50 ft.-lbs. of energy, an incredible amount of power from a pneumatically operated firing system.
Feeding the Hatsan Blitz is easy, thanks to the two rotary magazines included with the gun. Each magazine holds up to 16 .30-cal. pellets and feature a clear plastic cover, so you can easily see how many rounds are left at a quick glance. The select-fire system features a manual safety switch, and you can choose from safe, semi-auto and full-auto function. The air rifle is outfitted with a synthetic stock that incorporates a pistol grip, adjustable cheek rest and a rubber butt pad that's adjustable for drop and cant.
You'll also find a 22 mm Weaver optics rail, as well as an 11 mm dovetail optics rail, allowing you to mount sights easily. The Blitz ships with a single-piece carry handle with built-in open sights that can be adjusted for windage and elevation. There are also integrated sling mounts for easy field carry. The Hatsan Blitz measures 45.2" long and is equipped with a 23" barrel. The total weight of the system is 8.9 lbs., and the suggested retail price is $999.99. For more information, visit
hatsanusa.com
.