Support NRA American Rifleman
DONATE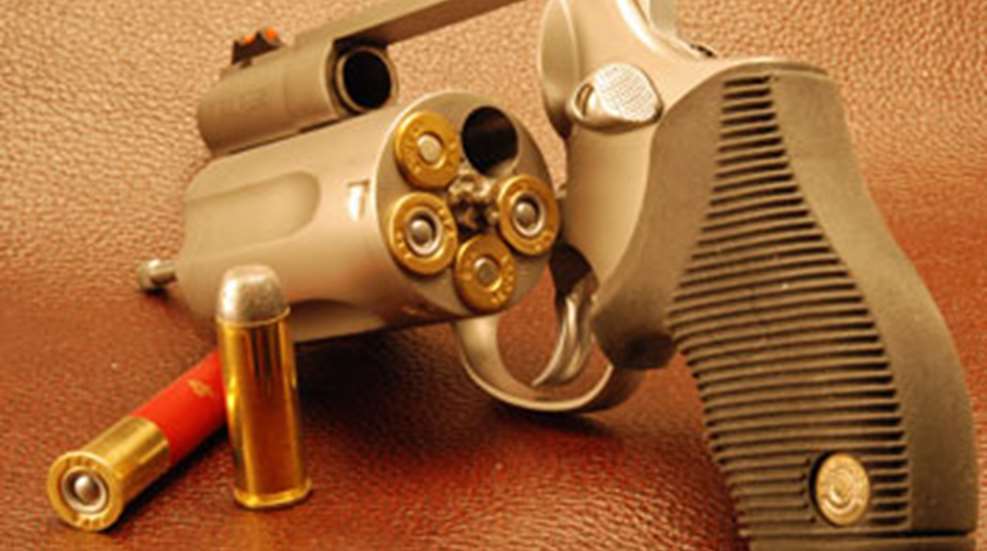 All of this current interest in revolvers that shoot several calibers from the same cylinder has set some handgunners minds a'racing. Since the Taurus Judge and S&W Governor shoot a .410 shotgun shell, as well as a .45 Colt, is there any tactical advantage to loading the cylinder in a pattern? For example, you could load two .410s with No. 4 shot, followed by two .45 Colt rounds with 225-grain JHP bullets and top it off with a single round of .410 with 000 buckshot—in a five-shot Judge. The Smith & Wesson entry is different in that it is a six-shooter and also will work with .45 ACPs in special clips. Therefore, the options are considerably wider. You could go with two .45 Colts, two .410s and two .45 ACPs. The possibilities are quite varied with a revolver. The basic idea is to have the best load for a series of situations readily available in the gun.
Even before we had wide availability of specialized revolvers that use shotgun shells, we were able to pattern-load standard revolvers in various ways. You could always use several kinds of .38 Spls. in a revolver chambered for that cartridge or a mixture of .38s and .357s in a magnum wheelgun. It was also true of a few others, like the .44 Spl./.44 Mag. situation. This kind of versatility was most valuable in training scenarios, but it saw some use in a single cylinder situation. I knew of an old-time cop who routinely carried .38 Spls. as the first four rounds in his revolver, followed by a pair of .357 Mags. By regulation, he was not allowed to use magnum loads, but reasoned that in a deadly shootout, he would prefer to have them at the ready if the .38s did not get it done. He had decided he would worry about the consequences of violating a regulation after he survived the fight.
Not all of handgunning is of the life-and-death, white-knuckle stuff of personal defense. It can be handy for an outdoorsman to have a shot load or two in the cylinder of his holstered revolver. Usually, this is done to deal with a close range varmint or snake. Through quick manipulation of the gun, he could advance the cylinder to where the shot load(s) needed are chambered. It may be slower than a draw-and-fire situation, but there are times when you need the spread that comes with shot and nothing else will suffice.
However, there is little doubt that this new class of handgun is primarily intended for personal defense. After several readers brought up the possibility of an defensive advantage to be gained by pattern loading the gun, I dug a little deeper into the matter. In my opinion, there is no real advantage to be gained by any sort of pattern in the way the gun is loaded with several kinds of ammo. Some may see this practice as somehow hitting harder with two kinds of loads. But if one of these loads is somehow more effective than the other, why not load with two (or more) of them? If you are anticipating a given range inside which you are going to be attacked, you are defying well-established statistics that show that it will be close—inside 7 yards. The new class of handgun is assuredly effective, if you can handle the mass and weight of the gun. But it's because it shoots special loadings of the .410 shotgun shell and not because you can also use .45s of either kind.