by
posted on January 20, 2022
Support NRA American Rifleman
DONATE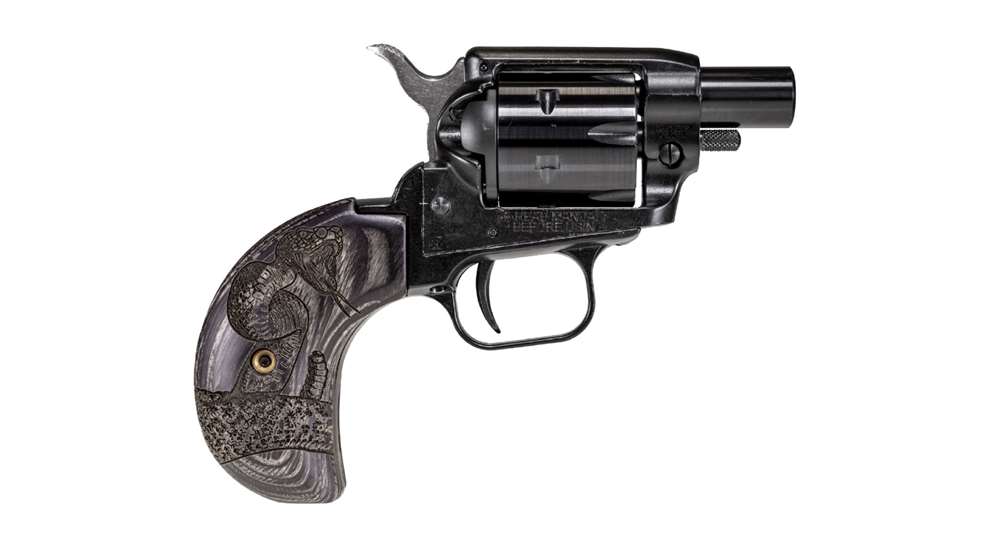 One of the most popular, affordable handguns on the market is the Heritage Mfg. Rough Rider revolver, a single-action rimfire wheelgun chambered for .22 Long Rifle that's fun for plinking. Heritage expanded its Rough Rider lineup with the unique Barkeep in 2021, and a year later, the company built on this compact platform with the Barkeep Boot revolver.
The Heritage Mfg. Barkeep Boot is built with a birdshead grip frame and is outfitted with engraved wood grips that feature rattlesnake ready to strike. The gun retains the classic single-action firing mechanism of the original Rough Rider, as well as the six-round cylinder, but what makes this gun stand out is its highly compact design. Along with the birdshead grip, the revolver is outfitted with a 1" barrel, so altogether, the Barkeep Boot measures just 6.3" long, 1.5" wide and 4.86" high. Unloaded, the gun weighs 25.5 ozs.
Like the original Barkeep, the Heritage Barkeep Boot does not feature the traditional ejector-rod housing, due to the compactness of the gun's barrel. Instead, the cylinder pin is held in place through a spring-loaded retaining pin located on the front portion of the frame. Simply press it to free the cylinder pin, which slides out through the front of the frame. This makes it easy to load and unload the cylinder, though the included wood-handled ejector rod can also be used to poke spent shells out from the cylinder through the gun's loading gate, too.
As an extension of the Rough Rider lineup, the Barkeep Boot is also equipped with a manual safety lever located on the left side of the recoil shield. Also worthy of note is that this gun is compatible with Heritage's .22 WMR cylinder, but the company does not recommend swapping cylinders, as the short barrel negates any extra performance from .22 WMR rounds, which also may keyhole out of the compact gun.
Suggested retail pricing on the Heritage Mfg. Barkeep Boot is $205.38. For more information, visit heritagemfg.com.