by
posted on January 26, 2022
Support NRA American Rifleman
DONATE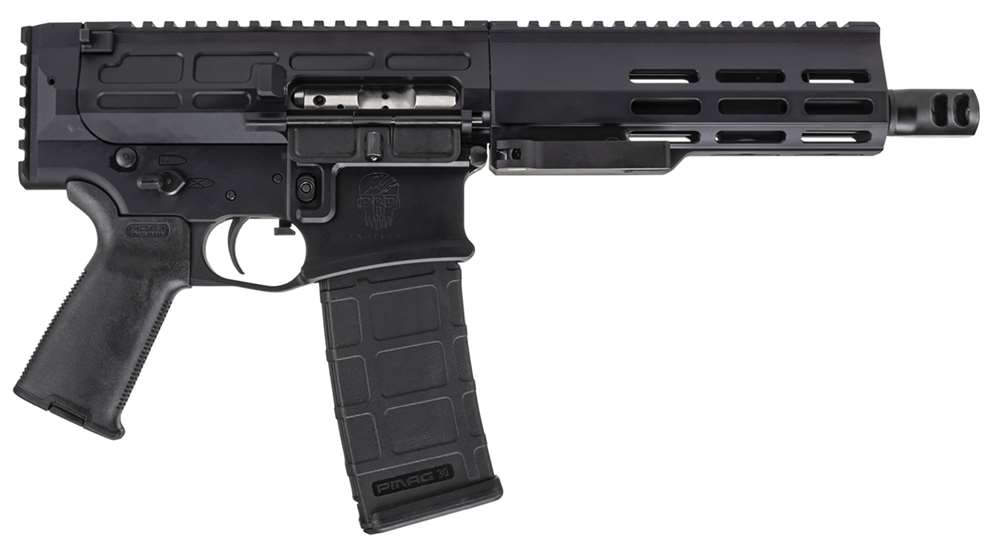 DRD Tactical is know for its innovative designs based around the AR-15 design and the new MFP-21 is no exception, although it marks the first large-format handgun to be released by the company. The MFP-21, like its rifle counterparts, is largely based off of the AR platform, with a separate aluminum upper and lower receiver group. However, the back of the lower receiver is redesigned with an integral Picatinny rail sement, instead of the standard threaded holes for a buffer tube.
This added rail allows any Picatinny compatible brace attachments to be used with the MFP-21, including folding options, without being limited to AR-buffer tube specific patterns like many other AR-based pistols. The MFP-21 is able to accomplish this feat without the use of a standard AR buffer or buffer tube through the use of a proprietary bolt carrier and action spring design, which are all contained within the upper receiver. However, the design still uses the typical direct-impingement style action of the AR-15.
The MFP-21 comes with a 8" barrel that can be quickly detached for increased stowage and portability, offered in chamberings of 5.56 mm NATO and .300 Blackout. This results in a small package, with an overall length of 18" and weight of 5.3 lbs. unloaded. The barrel is topped off with a muzzle break and surrounded by a short proprietary aluminum hand-guard, which has a Picatinny rail running across the top and M-LOK slots machined into the slide. A Picatinny rail also runs across the top of the upper receiver for mounting optics. 
Many of the controls on the MFP-21 are bilateral and similar to other AR platforms, with exception to the left-side mounted charging handle that functions similar to the one found on the FAL. The new DRD Tactical MFP-21 pistol has a suggested retail price of $2,500. For more information on the DRD Tactical MFP-21 large-format handgun, as well as the company's other lines of rifles, visit drdtactical.com.