by
posted on November 16, 2021
Support NRA American Rifleman
DONATE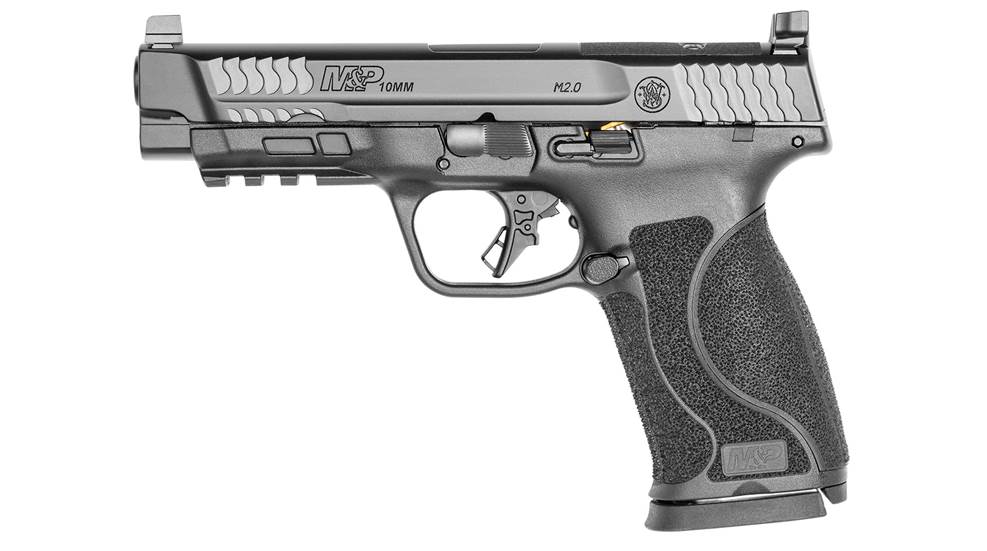 Smith & Wesson unveiled its latest addition to the M&P M2.0 line of polymer-framed, striker-fired handguns today, the M&P 10 mm M2.0. This new addition to the M&P M2.0 lineup marks the first time in over two decades that Smith & Wesson has produced a handgun in the 10 mm cartridge as stated by Smith & Wesson's senior new product manager John Myles, "Having not made a 10 mm semi-automatic handgun since the 1990s, it's a pleasure to re-enter that space with the M&P 10 mm M2.0 pistol. The 10 mm caliber has its own following, and our customers have been asking us to bring one back."
The M&P 10 mm M2.0 is based off of the basic footprint of the M&P 45 M2.0, with its full-size version having a similar size at 7.9" long, 5.6" tall, a width of 1.3" and an empty weight just under 30 ozs. With that, the M&P 10 mm M2.0 is also compatible with the pre-existing aftermarket accessories for the M&P 45 M2.0. At the same time Smith & Wesson has added a few new features to the design, including the M2.0 flat-faced trigger and optics ready slide.
Right out of the gate, Smith & Wesson is also offering two variations to the M&P 10 mm M2.0, one with a slightly shorter 4" barrel with carry in mind, and another with a 4.6" barrel to provide a longer sight radius. With it chambered for the 10 mm cartridge, the barrels of this new addition have a twist rate of 1:10". Both versions have the same full-size frame and feed from double-stack magazines with a capacity of 15 rounds, of which two come with each handgun. They also come with raised white-dot iron sights, which provide a lower co-witness if a micro red-dot sight is mounted to the slide.
Other features include an 18-degree grip angle, four interchangeable palmswell grip insets and the familiar grip texturing found on other M&P M2.0 handguns. The controls are also largely the same with ambidextrous slide catches and a reversible magazine release. A Picatinny rail segment for mounting lights and lasers can be found molded into the polymer dust cover. There are also the options of with or without a manual thumb safety for both the 4" and 4.6" barreled versions.
The suggested retail price of the 4" barreled version is $654, while the 4.6" has a retail price of $665. For more information on the new Smith & Wesson M&P 10 mm M2.0, visit smith-wesson.com.