by
posted on March 4, 2020
Support NRA American Rifleman
DONATE
To commemorate the 75th anniversary of the battle of Iwo Jima and the American servicemen who achieved victory, Thompson Auto-Ordnance of the Kahr Firearms Group has developed a series of three specially engraved firearms: the Iwo Jima 1911 in .45 ACP ($1,247), Iwo Jima M1 Carbine in .30 Carbine ($1,391) and Iwo Jima Thompson also in .45 ACP ($1,886).

The guns feature an OD Green and Distressed Copper Cerakote finish, and are artfully engraved with depictions of the battle, maps of Iwo Jima, the American flag and even an illustration of the flag-raising scene atop Mount Suribachi. Outlaw Ordnance of West Monroe, La., partnered with Kahr on the guns' design and ornamentation. Firearms in the series also wear engraved text, including "Operation Detachment," "Iwo Jima," "FEB 19 – MARCH 26 1945," and Admiral Nimitz's famous quote "Among the men who fought on Iwo Jima, uncommon valor was a common virtue."

The battle of Iwo Jima is unique in the whole of the Pacific Theater of WWII in that American combat casualties actually exceeded those of the Japanese. In five weeks of fighting, U.S. forces suffered 26,040 total casualties, among whom were 6,821 dead, while the Japanese suffered as many as 18,375 dead and missing.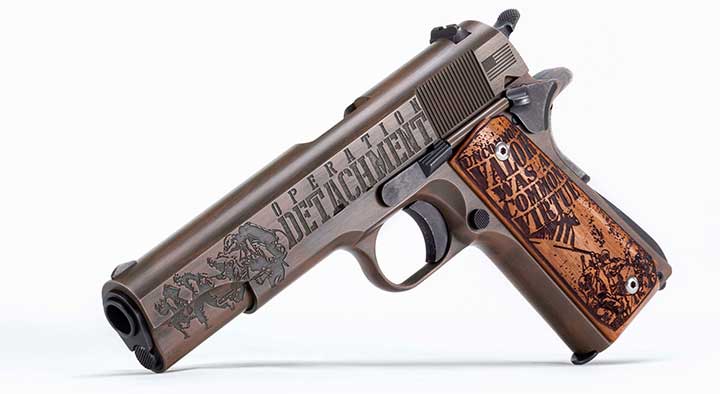 Iwo Jima 1911 Specifications

Caliber: .45 ACP
Barrel Length: 5"
Weight: 39 ozs.
Length: 8.6"
Sights: Blade front, drift-adjustable rear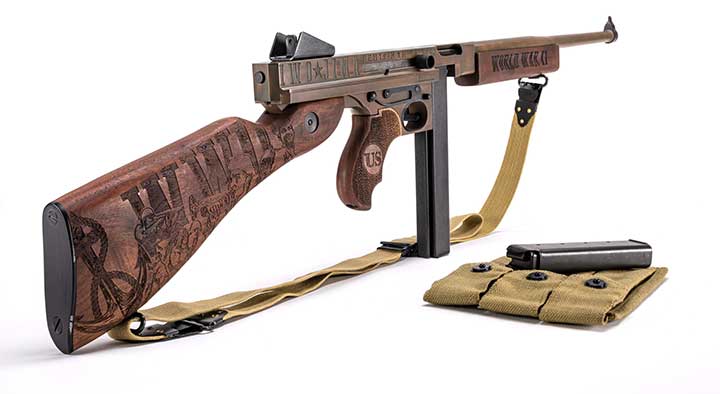 Iwo Jima Thompson Specifications

Caliber: .45 ACP
Barrel Length: 16.5"
Weight: 11.5 lbs.
Length: 38"
Sights: Blade front, fixed battle rear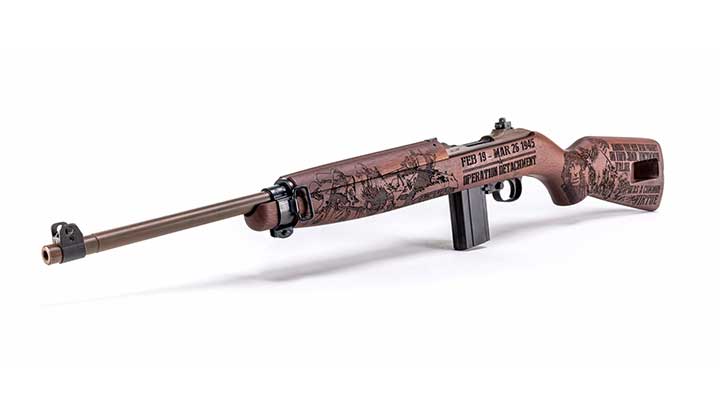 Iwo Jima M1 Carbine Specifications

Caliber: .30 Carbine
Barrel Length: 18"
Weight: 5.4 lbs.
Length: 35.75"
Sights: Blade front, flip-style rear aperture


Contact: Thompson Auto-Ordnance; (508) 795-3919; auto-ordnance.com.