Support NRA American Rifleman
DONATE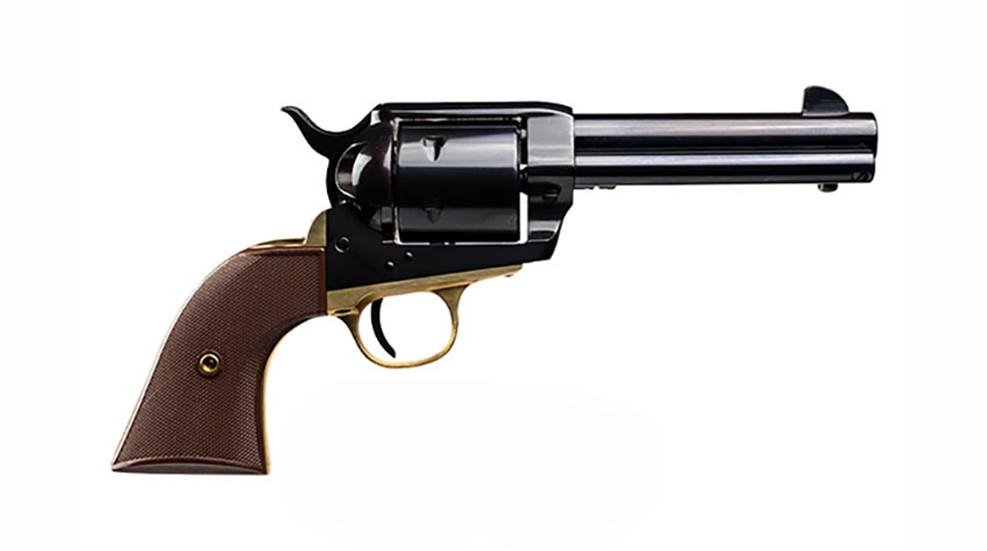 Davidson's
, based in Arizona, is one of the firearm industry's largest wholesalers and distributors, and it gained this position through shrewd thinking and planning. Davidson's doesn't just sell any firearms. In addition to the run-of-the-mill offerings produced by all manufacturers, there are also exclusive guns made specifically for Davidson's only, so you can only get them through the company's distribution network. These Exclusive 1873 single-action revolvers are two examples of these guns.
"We are excited to start up yet another venture by creating exclusive firearms from Pietta", said Kane Cannedy, Davidson's vice president of purchasing. "This is a project we have worked on for some time, and it's fantastic to see Pietta bring it to life."
Based in Italy,
F.LLI Piett
a is one of the largest manufacturers of reproduction arms in the world, particularly of firearms commonly associated with the mid-to-late 19th century in America. These reproductions range from the 1836 Colt Paterson to the 1860 Army to, of course, the iconic Model 1873 Single Action Army as originally produced by
Colt
.
While Pietta's Single Action Army reproductions are available from a wide variety of places, these two Davidson's Exclusive 1873 revolvers are unique in their finishing and construction. Two models are available, both treated with a high-gloss blued finish on the frame, cylinder and barrel. The trigger guard and grip frame are made from brass, and the gun is finished with a pair of brown, two-piece grips made from checkered polymer.
The guns both feature a short 4.75" barrel with an ejector rod housing that runs nearly to the muzzle, creating a sleek, snubnose look. The Exclusive 1873's are also outfitted with the signature "four-click" hammer that produces the iconic sound of a Colt revolver cocking. A traditional sighting system is included with these pistols, feature the blade-style front viewed through the notch at the rear of the frame.
While the classic .45 Colt is a chambering offered in the Davidson's Exclusive 1873 line, shooters looking for a more modern take on these Wild West wheelguns can also get the same revolver chambered in .357 Mag. Suggested retail pricing on these revolvers is $519.99. For more information, visit
galleryofguns.com
.