by
posted on July 19, 2010
Support NRA American Rifleman
DONATE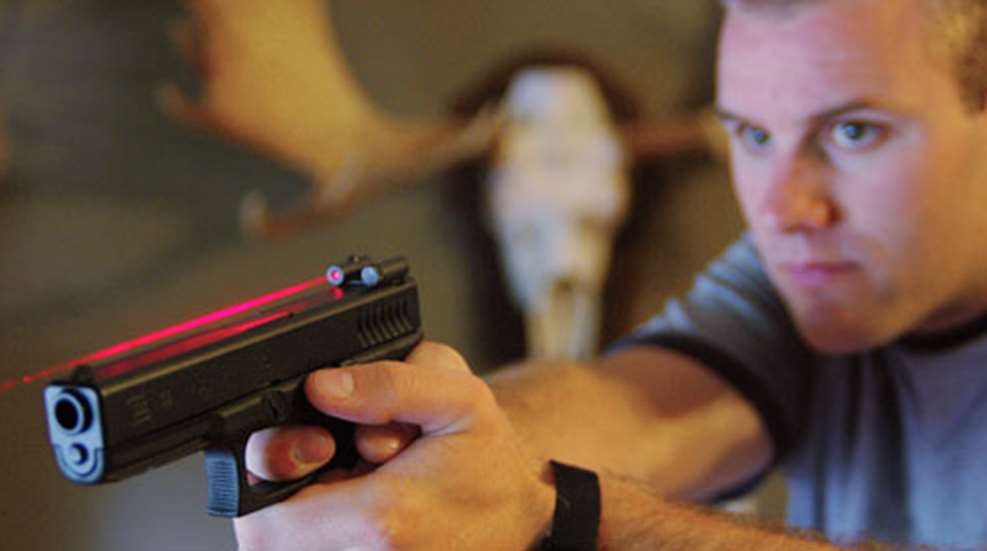 Simply put, a laser sight enhances any carry gun. But, the down side of a lot of laser sights is finding a convenient way to mount them on handguns. Most require replacing parts. Others hang on a rail, causing problems with holster fit. The new LaserLyte Rear Sight Laser is a novel approach to that problem. It is integrated into a replacement rear sight for the handgun, allowing the gun to fit into existing holsters and requiring no other modifications. It also puts the laser close to the bore and to the line of sight, which eliminates some of the wandering point of impact problems common to lasers mounted at a greater distance from the bore.
LaserLyte uses metal injection molding technology (MIM) to make the sight. It has a matte-black oxide finish. Two tubes, one on each side of the sight, measure just longer than 1/4-inch in diameter and contain the laser and power supply. The left tube is 0.90-inches long and houses four No. 377 watch batteries. A push-button switch in the back activates the laser. Push once for a constant beam laser, twice for the pulse mode and three times to turn the unit off. Batteries provide one hour of run time on constant and two hours in pulse mode. A small light-emitting diode (LED) on the back of the laser indicates the laser's mode setting.
The tube on the right side houses the laser. In order to make it fit in so small an area and still be adjustable, the laser is held in a polymer case by what LaserLyte describes as its patent-pending "biasing cone technology." The sight comes unadjusted with the screws backed out, which allows it to be zeroed. Once the adjustments have been set, readjustment requires the screws be backed out, the unit to sit for 30 minutes to allow the polymer to reset, allowing the shooter to adjust the zero again. LaserLyte specifications call for a 10-foot range of adjustment at 100 yards. The center section of the sight is a conventional, non-adjusting rear sight with a bold white outline.
LaserLyte is shipping rear sights for Glock, Ruger SR-9, S&W M&P, Springfield XD/XDM, and various M1911-style pistols with more models planned in the near future. The sight is easy to install once the old sight is removed: Once pushed left-to-right into the dovetail with the supplied brass punch, a set screw in the center locks it in place.
Contact: LaserLyte; (928) 649-3201; www.laserlyte.com.