by
posted on January 14, 2015
Support NRA American Rifleman
DONATE
Kestrel is introducing a new model called the Sportsman Ballistics Weather Meter at the Shooting, Hunting and Outdoor Trade Show in a few days. AmericanRifleman.org will showcase new products from the show floor, but with so much to see—and all of it cool—I'd hate for this handy unit to get lost in the crowd and me never again have the opportunity to reference "I Dream of Genie."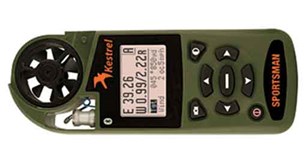 It's almost as good as having a professional spotter, except it bottles up nicely in your pocket, and never stiffs you on a bar tab. This is one crazy portable weather station that provides instant and accurate barometric pressure, elevation, density altitude, dew point, headwind/tailwind, heat stress index, relative humidity, temperature, wet bulb temperature, wind chill, wind direction and wind speed.
Talk about information overload. If you're unmarried when you start calculating a firing solution with all those variables long hand, you may have grandkids in college when you're done.
Kestrel prevents premature aging by sucking the data into a ballistics calculator. Then it's plotted against one of the 16 gun/bullet combinations you've stored, whereupon an internal genie folds her arms, unleashes magic, and in a blink of an eye a firing solution appears. There's no smoke from the pair of AAA batteries powering the unit, but your astronavigation legend will build quickly at the range. And, your shooting buddies will look at you as if Barbara Eden was with you on the firing line.