Support NRA American Rifleman
DONATE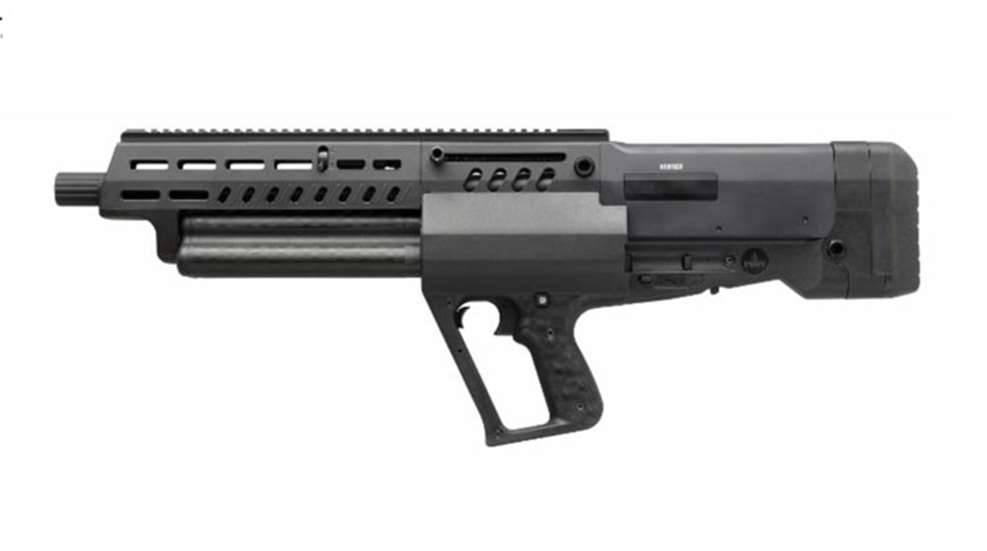 IWI US, Inc., has brought its first bullpup shotgun to market: the Tavor TS12. The 12-gauge gas-regulated, smoothbore semi-automatic shotgun feeds from one of three magazine tubes, each capable of holding four 3" shotgun shells or five 2" shotgun shells, for a total potential magazine capacity of 15 +1 rounds. The TS12 can be fed and unloaded from either side and configured for either right- or left-side ejection or operation.
"The Tavor TS12 is our first entry into the home-defense shotgun market, and we held off until we had something unique and desirable that held the same characteristic quality and performance of the entire Tavor line," said Casey Flack, CEO of IWI US.
The Tavor TS12 features a unique patented "bullhead" bolt locking system, specific to the TS12. The 18.5" smoothbore barrel with a 3" chamber is fed rounds through a tubular magazine system that automatically loads the next round when the tube is rotated in position. The muzzle threads are internal and compatible with Benelli/Beretta choke tubes. The gun ships with one choke tube.
Compact in length (only 28.34"), the TS12 has a one-piece, full-length 1913 Picatinny top rail with M-LOK receptacles integral in each side of the forearm of the shotgun body, allowing multiple placement possibilities for the addition of accessories.
Available initially in a black finish, later versions will be offered in OD and FDE. MSRP is $1399.
Tavor TS12 Specifications:
Gauge: 12GA/ 3" chamber
Weight: 3.6 kg (mag empty) / 8 lbs.
Barrel Length:  47 cm / 18.5"
Overall Length: 720 cm (not including choke) / 28.34"
Height: 260 mm / 10.23" (from pistol grip to top)
Magazine: Tubular system, 15 rounds total capacity (five 2.75" or four 3")
Choke: Internal muzzle threads / Benelli / Beretta Type (one choke included)
Picatinny Rail:  one-piece, full-length 1913 standard top rail
Safety: Cross-bolt safety 

For more, visit iwi.us