Support NRA American Rifleman
DONATE
Responsible gun ownership means securing firearms in a manner that minimizes the chances of unauthorized access. Among the marketplace's newest safes sized for securing a defensive handgun is Hornady's RAPiD (RFID Accessible Protective Device) Safe, which uses radio-frequency identification (RFID) as one of several ways to gain access.  
Today's home invasions may be violent and lightning-quick, so the RAPiD Safe offers three methods of accessing a handgun: programmable combination; RFID-enabled bracelets, card and key fob; and keys. The latter requires careful removal of the control panel, so it was not included in timed sessions.   
A GoPro camera recorded the safe's "fast" access methods at work—10 times, each. A review followed to determine the number of frames between the last keypad stroke or initial RFID wave, and it's slightly less than a second. Results were consistent, even when deploying a full-size M1911. The findings are far from precise, but inspire confidence and confirm that the safe does not lunge or jump during operation.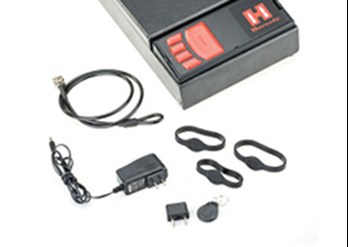 Other units may be faster, but consider the time that may be lost fumbling with and gripping the pistol. The Hornady RAPiD Sleeve recovers critical tenths-of-seconds by using a metal-framed, foam lining that secures a handgun with holster-like security. The RAPiD Safe measures 15.5"x9"x3.5" and interior dimensions are 11"x8"x3". Most revolvers with barrels of up to 6" fit, and the RAPiD Sleeve is removable. 
 Upon opening, the lid clears to a height of 11½", but the sleeve reliably stages at 6½"—plenty of clearance to assume a proper grip and draw. 
Power is supplied by any household outlet, and a 59" plug-in cord is provided. In the event of an electrical outage, eight AA batteries (not included) hidden under the control panel take over.
The RAPiD Safe exceeds ASTM Int'l (formerly American Standards for Testing and Materials) performance standards for youth-resistant firearm containers. Dual, 1/4"-steel locking lugs, wrapped 16-ga. steel construction and a 15-lb., 10-oz. weight makes it a formidable unauthorized-access foe. 
As if that's not enough, it comes with a 39" security cable—rated at 1,500-lbs.—that attaches the safe to any immovable object. Pre-drilled holes at the safe's bottom also allow permanent installation. Four rubber feet beneath minimize furniture marring during operation. 
The safe can recognize only two of the five provided RFID-capable devices at any one time. Owners program the pair they intend on using, and the others can be stored for future use. Three sizes of the bracelet come with the safe, as does an RFID card, an RFID key fob and two keys. 
Labeling is the only possible source of complaint—the loud Hornady logo on top may clash with your home décor. Fortunately, the magnetic label can be removed. Moreover, the box reads, "Made in China." What isn't these days? There are also multiple warnings that guns should not be stored in a safe when loaded, but that's another subject.  
With well-designed features like a control pad that can be oriented for left- or right-handed use and tactile bumps on the buttons for nighttime operation, the Hornady RAPiD Safe's retail price of $277 makes it a viable option for today's gun owners. Add the one-year warranty, and it's one insurance policy that's hard to beat. 
Contact: Hornady Mfg. Co., 3625 W. Old Potash Highway, Grand Island, NE 68803; (800) 338-3220; hornady.com.