Support NRA American Rifleman
DONATE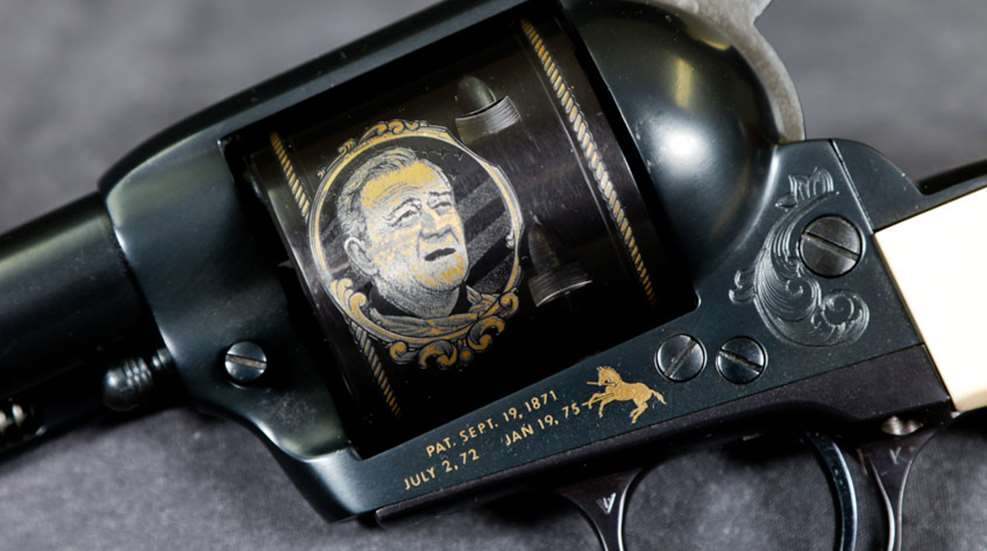 Each year, the Happy Trails Children's Foundation—a leading children's charity that actively supports Second Amendment rights, the shooting sports and responsible gun ownership—raffles off a unique prize package that celebrates the motion picture stars of yesteryear, with all proceeds benefitting the Foundation's work with abused and at-risk children. This year's drawing, Silver Screen Legend XXI (marking the 21st year of the event), commemorates John Wayne's 50-year career with a prize that features a pair of limited-edition firearms customized to honor "The Duke."
The first gun is a Colt Single Action Army, with a 4¾" barrel, chambered in .45 Colt. Finished in a dark blue and furnished with ivory stocks, the revolver bears a special John Wayne-themed serial number. Engraved throughout, it is further embellished with gold etching of an American eagle and John Wayne's name on the left side of the barrel, a gold-etched portrait of The Duke on one side of the cylinder and a rendering of Wayne on horseback on the other, as well as his signature and Red River D brand gold-etched into the backstrap. Included with the revolver are a holster and gun belt custom-made by John Bianchi, a premier holster maker and close personal friend of the late John Wayne.
Also included in the Silver Screen Legend XXI prize package is an engraved Winchester lever-action carbine, chambered in .32-40 Win., with a big-loop lever and a John Wayne medallion imbedded into the right side of the stock. Accompanying the carbine is a saddle scabbard, a wall mount and a box of John Wayne commemorative .32-40 Win. cartridges from Winchester. Both prize guns are functional, and are therefore subject to all federal and state firearm regulations.
Founded by NRA Life member Roy Rogers and Dale Evans, the Happy Trails Children's Foundation is a charitable non-profit organization that operates the Cooper Home—a residential care and treatment facility for victims of child abuse who have been removed from their homes. Tickets for the Silver Screen Legend XXI drawing are $10 each or 11 tickets for $100, and can be ordered by mail, telephone or online. The drawing will be held Dec. 15, 2018, and the winner will be notified by phone. Donations are tax-deductible. Contact: Happy Trails Children's Foundation; (855) 788-4440; happytrails.org.