Support NRA American Rifleman
DONATE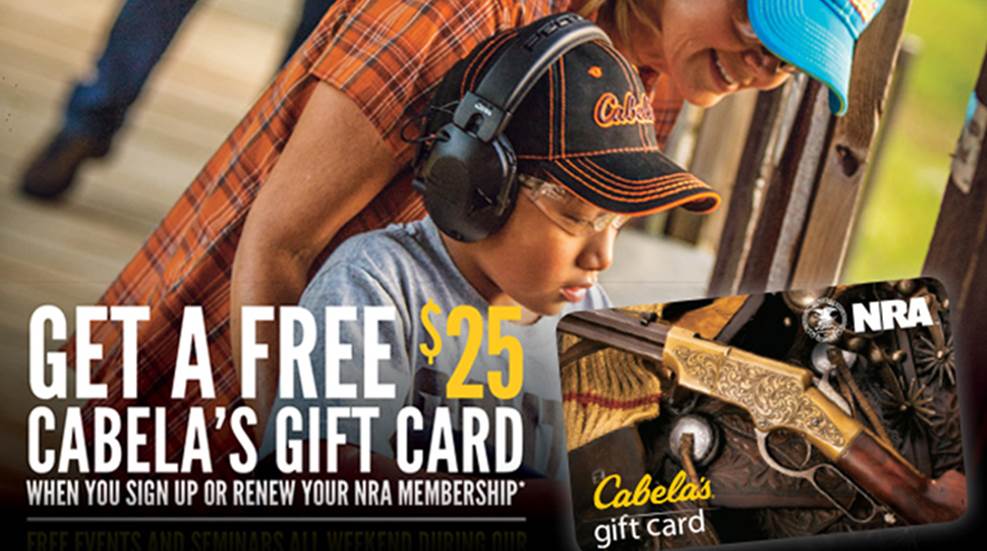 Cabela's stores nationwide are holding an NRA weekend Feb. 10 to 11, 2018 with a long list of special events, and anyone who signs up or renews their NRA membership during the festivities receives a free $25 Cabela's gift card. The deal's a tough one to pass up, and with more than 80 locations across the United States and Canada you probably won't have to venture far.
The educational seminars are worth the trip alone, though. The closest store to me—in Garner, N.C.—is hosting concealed carry, firearm safety, how to carry concealed, dog training, first firearm purchase and AR-15 accessory seminars, just on Saturday. By Sunday, the children are the focus, with a scavenger hunt and fish feeding on the calendar. Adults haven't been left out, because a preparation/protection event follows.
The busy schedule isn't exclusive to North Carolina's outlet, either. In Glendale, Ariz. youngsters can enjoy an airsoft range, while adults learn more about spring shooting opportunities in the state or attend an introduction to tactical firearms. A Cabela's Cup competition with laser guns will also take place. The next day NRA's Refuse to be a Victim Seminar will headline events, but basic firearm cleaning information will be presented as well, along with "Handguns 101—Armed and Fabulous." The airsoft range for youngsters will also be open.
Cabela's has a convenient store locator on its website, if you haven't memorized the closest location already. Select the outlet closest to you, and you'll be directed to a page with store details, hours of operation and location. Scroll down and you'll see the calendar of events—including everything scheduled during this special NRA weekend.
You're going to renew/upgrade your NRA membership anyway, so why not save some money on the gear you need? And, be sure to tell all your shooting friends—you know, the baker's dozen or so you know who claim to be members, but always seem to borrow your American Rifleman magazine.