Support NRA American Rifleman
DONATE
Image courtesy BSF Barrels

While industry innovation and trends change year after year, the comments from my envious friends do not, who consistently proclaim they'd give their right arm to attend the annual Shooting, Hunting and Outdoor Trade (SHOT) Show.
I'll admit the show has never let me down and when it comes to finding diamonds in the rough, determining trends, catching up with friends and getting global perspective on the industry, there is no better place. SHOT Show is where we first saw tactical guns and gear skyrocket, a renewed fascination with the Zombie apocalypse, bigger bore diameters on airguns, and a dramatic surge in popularity of precision bolt-guns. 

While we do learn and see a lot—more than enough to determine trends, growth and decline—we also miss some buzzworthy products. While not every company can fit on the show floor—some wait several years for the opportunity to secure a booth space—for some, SHOT Show real estate is cost prohibitive. What does this mean? It's simple. Some pretty cool products missed their SHOT Show moment. Fortunately, I have compiled a list few products below that were missing from the 2018 show floor. 
Challenge Targets
Short of shooting pigs in my home state of Texas, nothing beats shooting steel, especially far enough out that it takes a second or two after the trigger breaks to wonder if you're on target. Whether shooting enthusiasts are prepping for their next long-range match, just plinking or brushing up on their law enforcement sniper skillset, Challenge Targets deserves some major attention and props. 


I recently spent some time hammering a Challenge Targets steel silhouette. To say I am impressed is an understatement. Challenge Targets offers much more than the usual 3/8" steel gong hanging on a chain. The company is a true one-stop shop for affordable AR500 steel targets. From gongs and traditional silhouettes to resetting and reactive, staked or base-mounted human-shaped hostage and torso targets—even an array of paper targets—the company is the epitome of industry-leading competitive steel target production. 
As a steel target company that is leaps and bounds beyond the innovative aspirations of some of the industry's top producing steel target manufacturers, I was surprised it haden't yet made its SHOT Show debut. While Challenge Targets is busy producing innovative, master-crafted steel targets for every branch of the U.S. military, hundreds of law enforcement agencies and countless civilian enthusiasts, it hasn't lost sight of what really matters—outreach. The company has partnered with the NRA Grant Program to provide target systems to hundreds of shooting clubs and ranges. challengetargets.com
BSF Barrels 
One of the greatest disappointments at SHOT was the absence of BSF Barrels. When it comes to carbon-wrapped barrels, in less than a year, BSF has dropped many a jaw and turned this niche of industry on its ear. The patent-pending barrel's look is unmistakable—a carbon-fiber weave, now available with woven colors like red and blue, riddled with race-track oval ports that act as windows to the sheen of the 416R stainless steel match barrel underneath.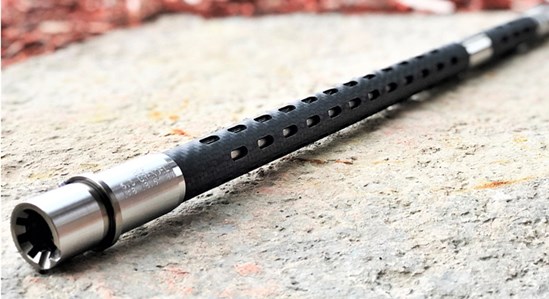 While other manufacturers literally employ a carbon-fiber wrap and introduce potential heat and delamination issues, BSF Barrels' system is free-float jacketing; in fact, only 5 percent of the carbon-fiber jacket actually contacts the barrel at any point. The combination of the precision-cut oval ports and jacketing produce an airfoil effect to cool the barrel quickly. In my personal testing of a 22" 6.5 Creedmoor BSF Barrel on a premium AR-10 6.5 build, I dumped two full magazines and was able to immediately reach down and grab the barrel; I'll admit, I was a bit apprehensive at first. 
Sure, they may look (and feel) cool, but they're much more than just a pretty barrel. BSF Barrel founder Aaron Painter possesses a wealth of knowledge and experience when it comes to precision barrel manufacturing, carbon-fiber technology and down-and-dirty ingenuity. While BSF's design cools the barrel quickly and eliminates any potential for delamination, it is also loaded under tension, resulting in increased stiffening as the barrel warms. In a world that embraces MOA precision, Painter promises any shooter worth their weight on the gun ½-MOA or better gas-gun accuracy. bsfbarrels.com 
Phoenix Weaponry .45-70 Auto AR-10
The first of its kind, Phoenix Weaponry's direct-impingement .45-70 Auto AR-10 is the perfect example of what makes ARs exciting. Even though Phoenix Weaponry was not at SHOT Show, I did find this gem hanging out with some good folks at the Hexmag booth. 
Bottom line … take what you thought you knew about AR platform rifles and trash it. While AR manufacturing and sales stagnated following the pro-Second Amendment shift in our political landscape, it's companies like Phoenix Weaponry and outside-the-box product development like its .45-70 Auto that has pulled this segment of our industry back up by its boot straps. 
As its name implies, the rifle is chambered in a rimless .45-70 cartridge and built upon a 7075-T7 billet aluminum AR-10 (.308) receiver set. Phoenix Weaponry employed an 18" Douglas air-gauged 4140 chrome-moly barrel with 1:14" twist and chevron muzzle brake for sub ½-MOA accuracy and significantly mitigated recoil—I understand it's quite a comfortable rifle to get behind.   



Phoenix Weaponry's semi-automatic beast also boasts a 15" CNC-machined 6061-T6 aluminum, free-floating handguard; a .308 bolt carrier group; a Magpul ACS stock and MOE grip; a 3-lb. precision trigger and a proprietary barrel nut with screw-lock mounting. The .45-70 is offered in a more traditionally styled AR-10 platform, as well as in a dressed-to-the-nines model complete with rich, premium wood trim. The company can also produce this rifle as a completely custom system. 
And, as easily as this rifle is sure to blow minds, beat down steel and take Texas feral hogs off their hooves, Phoenix Weaponry doesn't stop there. As an innovator that, in my mind, truly carries the load for the recent bounce-back of AR-style modern sporting rifles, the company also just announced a .338-06 AR-10 sure to get people frothing at the mouth! phoenixweaponry.com 
Q The Fix
Not long ago, I wrote a 2018 SHOT Show precision rifle roundup and among the comments a reader asked, "What about the Fix from Q?" 
The answer was simple: The article was a SHOT Show roundup and Q wasn't there. I also added that The Fix just might show up in another feature. Whit, if you're reading, here you go and thanks for reading.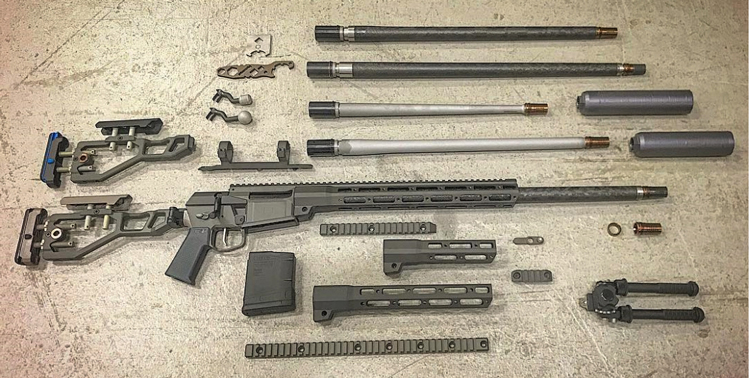 Forged from "science and innovation" as Q, LLC suggests (and I believe), The Fix rifle systems are the epitome of forward-thinking, industry-leading design … and the Q's performance, by numerous evaluators, does much to support such esteemed recognition. While many continue to eek out features and performance enhancements on bolt-gun or AR platforms, The Fix is a healthy hybrid of sorts offering an array of AR-platform distinctions on a 45-degree bolt-throw system—not quite the stuff borne of sorcery but more than enough to leave guys like me shaking my head at its simplicity and smiling at its truly game-changing design. And, of course, the sub $3,000 price tag in a world of rifles easily going for twice to five-times that, makes it incredibly attractive. 
Offered in both 6 and 6.5 Creedmoor, .260 Rem. and .308 Win. with options to upgrade to Bartlein and Proof Research barrels, The Fix was designed from the ground up for competitive long-range shooting, hunting and yes, to work on the business side to stop two-legged evil-doers if need be. The Fix also features a single-piece chassis, 15" free-floating handguard with Q's Q-Sert mounting system, a full-length top picatinny rail, Cherry Bomb muzzle brake, 2-stage match-grade trigger, AR controls and a skeletonized folding stock complete with shoulder, comb and LOP adjustability. liveqordie.com 

Bino Dock
The Bino Dock turns your cup holder into a secure place to store your binocular. Virtually anything capable of hosting a cup holder becomes fair game: cars, trucks, boats, SUVs, ATVs, UTVs, golf carts, shooting tables, rigid-topped chair arms, box-blind interiors. Honestly, even a cup holder in your treestand would keep your binoculars secure with the Bino DocK. The ingenious device fits into your cup holder and uses rubber bands to ensure a stable grip. The Bino DocK also includes a padded interior and an adjustable strap for worry-free storage on the go. www.binodock.com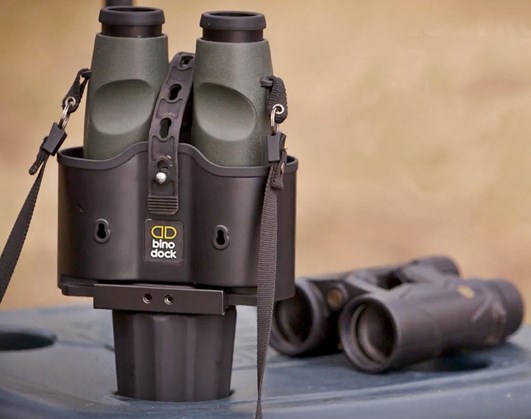 Gas Block Genie 
The single most common problem affecting DIY-built AR-15s is the installation of the gas system. One of the easiest mistakes to make is to simply push the gas block up against the shoulder, which leaves the ports in the barrel and gas block misaligned. The Gas Block Genie, a small jig designed to fit over a .75-in. barrel, makes alignment easy. Other barrel diameters should be available soon. gasblockgenie.com