by
Kelly Young, Senior Executive Editor
posted on May 6, 2020
Support NRA American Rifleman
DONATE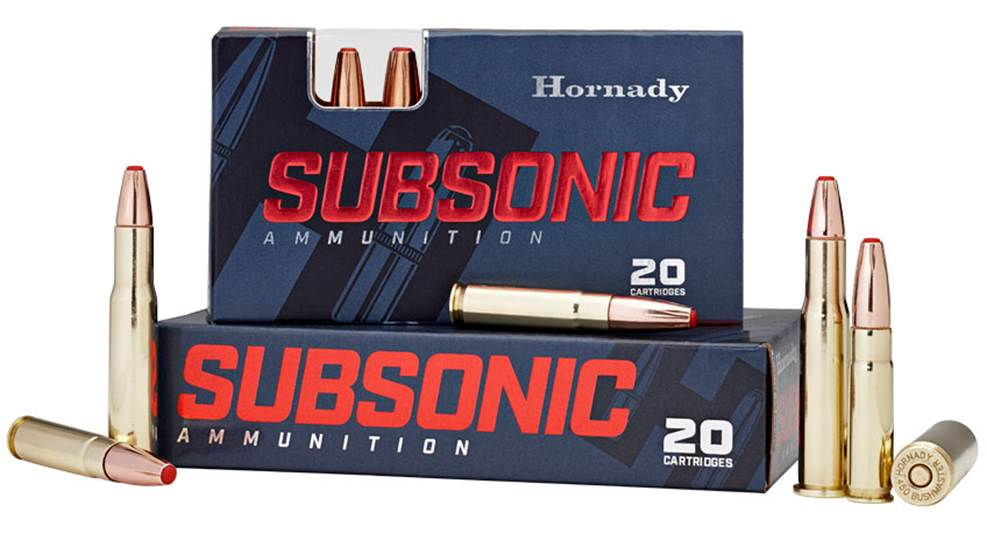 Hornady launched its Subsonic Ammunition line (and the Sub-X projectile utilized therein) back in 2018 with a single .300 Blackout load, a cartridge already well-known for its subsonic suitability.

For 2020, the Nebraska-based company is taking the opposite tack, expanding the Subsonic family to include ammunition options for .30-30 Win., .450 Bushmaster and .45-70 Gov't—greatly increasing the versatility of three rifle chamberings not traditionally loaded for use at speeds below the sound barrier.

The three new offerings include a 175-gr. .30-30 Win. load, a 395-gr. .450 Bushmaster load and a 410-gr. .45-70 Gov't load, all using powders optimized for a minimal flash signature and tipped with the Sub-X bullet designed to initiate immediate expansion upon impact at velocities as low as 900 f.p.s.

In addition to the new rifle options, the Subsonic line is also growing to accommodate three new pistol cartridges, all employing heavy-for-caliber XTP bullets: a 147-gr. 9 mm Luger load; a 180-gr. .40 S&W load; and a 230-gr. .45 ACP load. For more information on this load and other new loads for 2020, visit hornady.com.