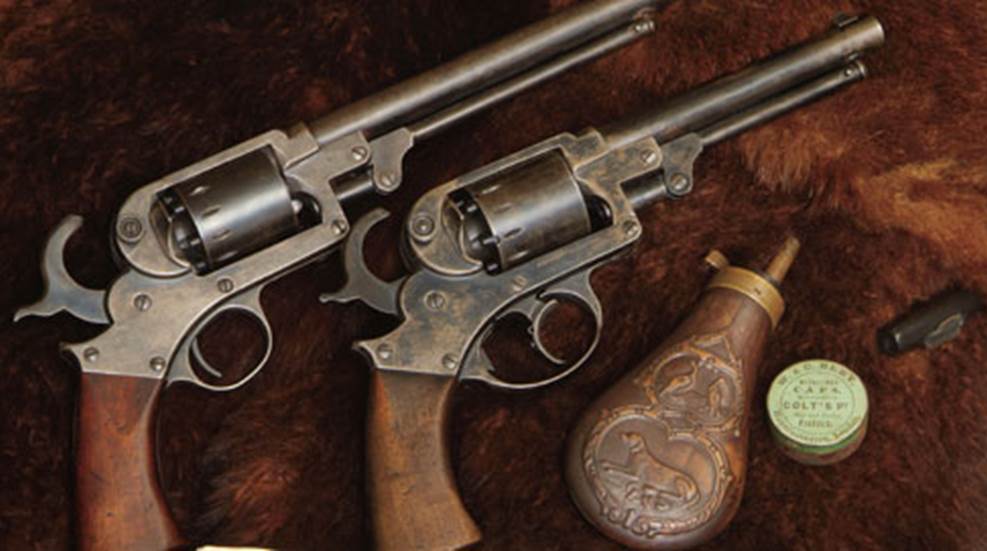 There was, for lack of a better word, a prejudice by many cowboys against double-action revolvers. Author and historian Joseph G. Rosa tells a story in his book, "The Gunfighter: Man or Myth?," in which a "New Mexico Democrat" writer observed a young cowboy deciding on the purchase of a new revolver in 1884. The shop's proprietor reached into a display case and retrieved a handsomely mounted .45-cal. revolver and asked, "How do you like this? It is the newest thing out, a double-action forty-five." The cowpoke looked at the Colt Model 1878 and turned up his nose: "Ain't worth a row of beans. No man 'cept a tenderfoot wants that kind of thing. Give me an old reliable all the time. Ye see, a man that's used to the old style is apt to get fooled, not pull her off in time, and then he'll be laid out colder'n a wedge."
That was the general consensus throughout much of the late 19th century as single-action revolvers remained the most popular sidearm among cowboys, lawman and others. That isn't to say they didn't entertain the thought or even carry a new-fangled double-action as a second gun. Both Billy the Kid and Sheriff Pat Garrett owned and carried double-action revolvers. The Kid's was a Colt's Model 1877 .41-cal. Thunderer, the gun he was carrying the night Garrett shot him dead in July 1881. Garrett was known to carry, among other revolvers, a seven-shot Merwin, Hulbert & Co. double-action pocket model, as well as a Hopkins & Allen .32 DA. The Colt Thunderer was also among the handguns of choice carried by John Wesley Hardin, and it was very likely the gun he was carrying when captured by Texas Rangers in 1877.
John Henry "Doc" Holliday also took a liking to Colt's Model 1877 double-actions. Holliday's first known gun was a Colt Model 1851 Navy given to him by his uncle Dr. John S. Holliday. In the early 1870s he began carrying a Colt Peacemaker with a 7 1/2-inch barrel (rather than the 4 3/4-inch barrel often alluded to in films), and in 1877 he acquired a .38 Colt double-action Lightning. According to the Oct. 12, 1880, "Tombstone Epitaph," a dispute between Holliday and gambler Johnny Tyler at the Oriental Saloon in Tombstone resulted in the confiscation of their guns by bar owner Milt Joyce, and both Tyler's and Holliday's Colt Single Actions were placed behind the bar for safety. A disgusted Joyce had both men thrown out, but Doc came back and demanded the return of his gun. When Joyce refused Holliday left, returning a few minutes later with a Colt Lightning, with which he offered to persuade Joyce to hand over his Peacemaker. Instead the husky bar owner rolled Doc's Colt Peacemaker over and smacked Holliday over the head with the barrel of his own gun, knocking him to the floor. He then jumped the bar and pounced on top of Holliday, who in the ensuing scuffle discharged the double-action Colt, shooting Joyce through the left hand. The following day Joyce had charges brought against Holliday for assault with a deadly weapon and intent to kill. Doc pled the charges down to assault and battery, a misdemeanor, and was fined $20.
The Big Double-Action Colt
A year after introducing the Lightning and Thunderer, Colt upped the ante by adding the Model 1878 chambered for the same cartridges used in the Single Action Army. A much larger revolver than the Lightning, the 1878 had both heft and style: a distinctive birds' head grip with a lanyard ring; and a variety of barrel lengths from as short as 2 1/2 inches up to 12 inches. Most barrels were 4 3/4, 5 1/2 or 7 1/2 inches in length. Produced until 1905, Colt's sold more than 50,000 Model 1878s.
The .45-cal. Model 1878 was a favorite among some Western lawmen and more than a few outlaws, including Rose Dunn, "The Rose of Cimarron," and the only female member of the deadly Doolin Gang. Though nearly all of Doolin's men had been captured or killed by U.S. Deputy Marshals Bill Tilghman, Heck Thomas and Chris Madsen, ringleader William Doolin escaped from the Guthrie County jail after being brought in by Tilghman. In 1896, Doolin and what remained of his men were finally brought to justice by U.S Deputy Marshal Louis Eichoff, who carried one of Colt's latest double-action models, a New Army in .41 Colt with a swing-out cylinder.
As for Rose, she was just an impetuous girl in love with George Newcomb, a former member of the Dalton gang who had joined up with Doolin in 1893. After a shootout with U.S. marshals and local lawmen in September, which left nine people dead or wounded, the price on Newcomb's head rose to $5,000 and Rose's own brothers turned in Newcomb and another member of the gang for the reward. To Rose's despair, Newcomb was killed in an exchange of gunfire with lawmen. She managed to escape prosecution for her involvement with the Doolin gang, as there was no hard evidence she had ever participated in a robbery or any other crime.
Although Dunn is famously pictured holding a Colt Model 1878, no one knows for certain if it was her gun or one belonging to another member of the gang. After Newcomb's death, Dunn left her shady past behind, married an Oklahoma politician and lived out her life as a respectable citizen.
Frontier scout and showman Capt. Jack Crawford was another fan of double-action Colts and owned both an 1877 Lightning and a .45 Colt Model 1878. Crawford had replaced Buffalo Bill Cody as chief of scouts for the 5th Cavalry on Aug. 24, 1876, just two months after the Custer massacre at the Little Big Horn. Four years later Crawford was scouting for the Army in New Mexico in the war against the Apaches. Crawford was appointed a special agent for the Justice Dept. in 1889, investigating illegal liquor traffic on Indian reservations. A teetotaler, Crawford was the only scout, joked Buffalo Bill Cody, who could be trusted to deliver a bottle of whisky across the plains unopened.
By the late 1880s, Crawford was carrying either a Lightning or one of his 1878 Colts, the most famous of which was an engraved .45 presented to him by Colt. Crawford continued to travel across America as an actor, a lecturer on Western life, a special government agent and an adventurer for the next three decades—with a Colt double-action revolver strapped to his side.
Smith & Wesson Weighs In
In the 19th century Smith & Wesson was a little late to the double-action game, not introducing double-action models until three years after Colt's. But the Springfield, Mass., armsmaker quickly became the leader of the parade, a position S&W held for more than 125 years. The first models, c.1880-81, were the wellspring for several of the finest and most advanced handguns of the Old West. The first double-action models were top-break designs and were offered in different frame sizes and calibers from .32 S&W and .38 S&W to large-frame .44-cal. models.
Smith & Wesson's first model was in .32 cal., a traditional chambering dating back to the original Tip-Up .32 rimfire No. 11/2 and No. 2 revolvers of the Civil War era. The new five-shot, .32-cal. guns eschewed their predecessor's spur trigger design for a new frame incorporating a full trigger guard with a reverse curve at the rear. It is estimated that only 30 examples were built before S&W replaced it with an improved 2nd Model in 1880. The guns were offered with a standard-blued or optional nickel-plated finish.
All models, regardless of finish, had blued reverse-curve trigger guards. The popular .32-cal. revolvers were manufactured in five model ranges: 1st Model in 1880; 2nd Model 1880-1882; 3rd Model 1882-1883; 4th Model 1883-1909; and 5th Model 1909-1919. Sales totaled in the hundreds of thousands.
In 1880 S&W added a double-action top-break chambered in .38 S&W center-fire, and a year later, its first .44 cal. (.44 S&W Russian and .44-40 Win.) double-action model. The .38s were virtually identical to the .32-cal. DA revolvers and followed the same design changes and improvements over the years. The .44-cal. double-action S&Ws looked like oversized .38s, right down to the reverse-curve trigger guards. With six, instead of five chambers, the big six-shooters were offered with barrel lengths of 4, 5, 6 and 6 1/2 inches. Like the .38s, the .44s had checkered, hard-rubber grips and were offered with either blued or nickel-plated finishes.
As to popularity, the entire production run of .44 DA S&W top-breaks (1881-1913) amounted to around 71,000 guns in four variations, while the S&W 3rd Model .38 top-break alone accounted for more than 203,000. The 4th Model .38 introduced in 1895 featured mechanical improvements to the trigger mechanism, the availability of target sights with an adjustable rear sight and were available with extra-cost target grips.
The 4th Model was manufactured through 1909 with sales totaling over 216,000. This was followed by the 5th Model in 1909. Almost a continuation of the 4th, it featured barrel lengths as short as 1 1/2 inches, and standard lengths of 3 1/4, 4, 5 and 6 inches. The 5th Model was short-lived, just 15,000 produced, as S&W was about to introduce one of the most important design changes in its early history: the c. 1909 transitional Double-Action Perfected.
The .38 cal. Perfected was to be S&W's last top-break and the only one to have an additional side thumbpiece release, which had to be pressed forward in order to break open the action, eject cases and reload. This device would not be used on the first c.1896 Hand Ejector models with swing-out cylinders, but would appear shortly after the turn of the century, beginning in 1903 with the new Hand Ejector S&W revolvers.
The most famous of these early thumbpiece-release, swing-out cylinder six-guns would be the 1st Model .44 "Triple Lock" Hand Ejector introduced in 1908. While a 20th century gun, the Old West was still very much "wild," particularly in Oklahoma, Texas, Arizona, Nevada, and parts of California, and lawmen and outlaws alike were quick to recognize the advantages of a .44-cal. double-action with a swing-out cylinder.
Colt's had actually preceded S&W by introducing its first swing-out cylinder DA in 1889. The new Colt Navy Revolver was chambered in .38 Long and Short Colt. These were followed by the Models 1892, 1894, 1895, 1896, 1901 and 1903, with calibers up to .41 Long and Short Colt. Hartford's first large-frame .45 double-action revolvers with swing-out cylinders would begin to appear right before the turn of the century.
The famous Colt "New Service" made its debut in 1898. By then S&W had the 1st Model Hand Ejector in calibers up to .45 Colt (including .44 Spl., .44 Russian, .38-40 Win., .44-40 Win., .45 S&W Spl., and British chamberings of .455 Mark II and .450 Eley). Colt's was offering the New Service in calibers ranging from .38 Colt to .45 Colt along with comparable British chamberings. By the end of the 19th century, when it came to a double-action .45 with a swing out cylinder, Colt's and S&W left no one wanting.
Merwin, Hulbert & Co.: Most Practical Double
Colt's and S&W may have had the corner on double-action revolver sales in the late 19th century, but no company built a better or easier-to-use double-action revolver in the 1880s than Merwin, Hulbert & Co. The quality of machining of its guns was so precise that, when opened and closed for loading and unloading, a vacuum was actually formed, which caused the guns to draw themselves part-way closed.
After its first double-action models were introduced in the early 1880s, particularly the Pocket Army DA, Merwin, Hulbert & Co. expanded its product line with a variety of smaller-caliber double-action models. Offered in .32 MH and .38 MH (.38 S&W) chamberings, the .32s had the advantage of being offered in five-shot and seven-shot models (the latter beginning in 1889), while the larger .38s were limited to five-shots.
There were variations of both models that could be had with a unique folding hammer spur, square butt (saw handle) or bird's head-style grips, and elaborate engraving. For double-action shooting the folded hammers made it easier to retrieve the gun from a coat or vest pocket. The folding hammer was even offered on the larger .44-40 Win. Pocket Army models. The .32-and .38-cal. Merwin, Hulbert double-action revolvers virtually eclipsed the maker's earlier single-action spur-trigger models. The .38-cal. DAs were particularly popular with law enforcement and orders were received from Portland to Miami to Boston. Both the Cincinnati and Detroit Police Depts. ordered double-action .38-cal. models with 3 1/2-inch barrels. One of the examples with a slightly cut down (possibly by the factory) barrel was reputed to have been carried in the 1880s as a back-up gun by a New Jersey police chief.
The .38 MH-cal. models were among the most successful of all Merwin, Hulbert revolvers because of their balance, compact dimensions, ease of use, and the availability of interchangeable barrels in lengths of 3 1/2 inches and 5 1/2 inches. It is estimated that the company managed to sell several thousand each of the .32- and .38-cal. double-actions before ceasing operations and closing the books on one of the best guns of the Old West.