Support NRA American Rifleman
DONATE
During last year's NRA Annual Meetings and Exhibits in Dallas, Texas, I caught a portion of Jeff Gonzales' lecture on the fundamentals of concealed carry. The former Navy SEAL is a nationally recognized instructor with his own training company, Trident Concepts (tridentconcepts.com). One of the very first items he covered was the importance of comfort as it relates to successful everyday concealed carry—if your firearm is uncomfortable to wear, you may blow concealment by constantly re-adjusting, or you may choose not to carry at all.
A good gun belt can truly enhance comfort, and one feature recommended by Gonzales is a buckle system capable of "micro adjustments." Throughout the day, as we sit, stand, eat, walk, etc., our bodies experience minor changes that can affect the way our belt feels and fits—the sensation is amplified when carrying a defensive firearm, which constantly exerts extra downward pressure. In order to remain comfortable, our belts often need to be tightened or loosened to ensure a snug, but not suffocating, fit.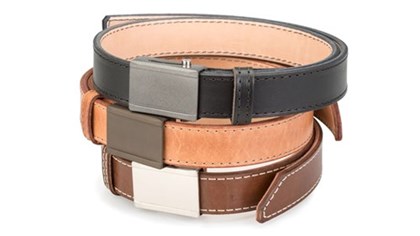 A good option I've found is pairing a stout no-hole gun belt with a slide-style buckle, which allows for a large range of precise micro-adjustments, especially compared to a typical belt with a limited number of holes. Crossbreed Holsters' (crossbreedholsters.com) Crossover Gun Belt is a good example of the concept, combining the sturdy construction of 1/4"-thick hand-finished leather (belt strip and liner) with the near-limitless adjustability of a metal slide buckle. The Crossover is a handsome belt, too, and customers can select from a variety of leather, buckle and thread color combinations. Priced between $90 and $100, depending on style, the Crossover is on par with other premium gun belts, and represents a good value regardless of your carry position.
Speaking of carrying in the appendix position, it was a nearly two-year journey for me to make the transition from 4 o'clock, strong-side carry to appendix inside the waistband (AIWB), with the biggest hangup being comfort over longer durations of carry. Despite being exposed to a number of quality AIWB rigs, I could not find the right fit for me. So, I turned to recommendations from armed professionals, trainers—like Gonzales—and gun writers who I consider "in the know." One name that kept coming up was JM Custom Kydex (jmcustomkydex.com). A family-owned and -operated business founded in 2011 by John "Tony" Mayer, and based in northern Nevada, JM Custom Kydex has a well-earned reputation for building quality concealment holsters with thoughtful features to greatly enhance comfort.


The company's primary offering is simply, and aptly, called the AIWB Holster ($70). It's constructed from a single sheet of Kydex wrapped or folded over to fit a specific model of firearm and secured by a single Chicago screw below the trigger guard area. Firearm retention is provided by a molded lug that engages the trigger guard, and can be adjusted via the screw assembly. There are more than 160 fits listed on the website, and several options for families of firearms, such as M1911s and Glocks.
A few interesting features really set JM's AIWB Holster apart, though. First, there are five options for belt retention: a wide polymer clip; a steel clip; JM's injection molded split loops; a pair of fixed soft loops; or soft loops with Pull-The-Dot (PTD) snaps. My personal preference is the soft loops—which allow the holster to move just a little bit, improving comfort in my opinion—with PTD snaps for excellent security and the ability to put on and take off the holster without "dropping trou."
The next feature worth mentioning is a wedge integrally molded into the holster above the trigger guard area where the belt loops attach. Besides providing a flat surface on which to mount loops or a clip, it angles the gun's frame toward the body, allowing the grip to more closely follow the contours of the torso, improving concealment.   
Finally, staying on the topic of wedges, JM also incorporates a neoprene sponge wedge (NSW) on to the back of the holster, and this feature has been a game changer for me. The NSW comes at a slight premium—$12 for a small wedge, $15 for large, based on barrel length—but the benefits are twofold. First is comfort, the sponge is a serious improvement over hard Kydex against the body. Secondly, the wedge does a great job of pushing the muzzle of the holstered firearm forward, away from a very sensitive area of the body.
After trying out a JM Custom AIWB during my review of the Wilson Combat EDC X9, I ended up purchasing a rig for my primary carry pistol. I've been using it for months now, and have found that it provides excellent retention, concealment and, frankly, a level of comfort I never thought possible with AIWB carry.