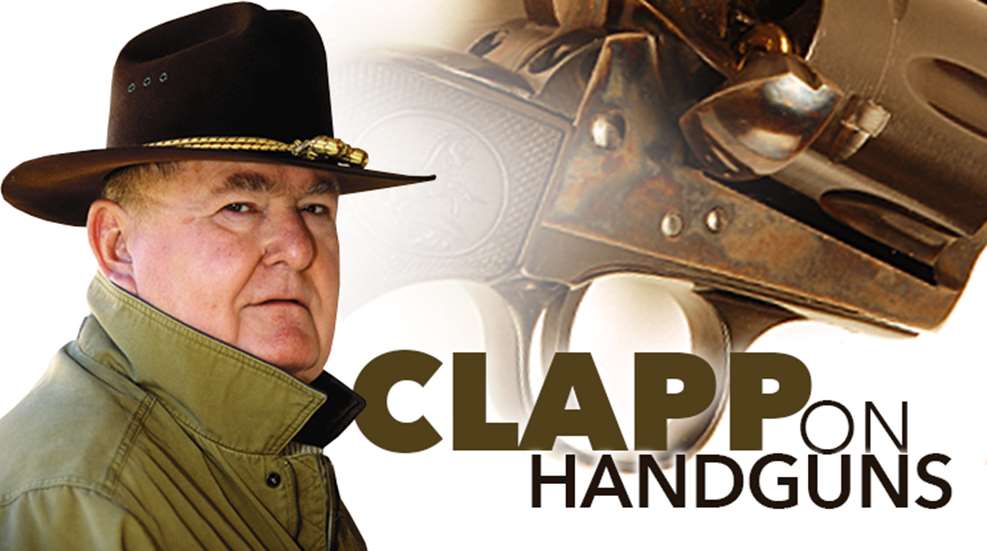 For the first half of the 20th Century, one of the bread and butter mainstays of the revolver line was the New Service. A double-action sixgun of generous size, the New Service was big enough to take all of the big cartridges of the day—.476 Eley, .455, .45 Colt, .44-40, etc.—as well as .38 Spl. and other milder calibers. Made from just before the turn of the century until the beginning of World War II, the New Service was used primarily by police and military personnel. Variations included adjustable-sighte "Target" models, as well as the legendary Shooting Master of the 1930s. The gun's greatest use was in World War I, when the government bought a total of 151,800 5 1/2-inch barreled 1917s, all chambered for the .45 ACP cartridge. That was the most numerous variation of the many New Service models. It is a big, rugged gun that could (and often did) take a lot of abuse. But, for reasons I have never understood, the New Service has never drawn the same interest as other contemporary handguns.
Happily enough, that seems to be changing. In the big collector auctions around the country, the prices for cherry specimens are beginning to climb significantly. Another gauge of collector interest is a new book published by Collector Grade Publications. Timothy Mullin, author of several excellent gun books, has focused his considerable skill and wide experience on doing a full book on the grand old gun. The result is "Colt's New Service Revolver." A large format volume with multiple illustrations, the book is the most thoroughly researched effort to tell the New Service story. The many variations are covered, as are the details of dimensions and markings that give the advanced collector a case of the vapors.
Reading the book, I am struck with the author's obvious effort to have his audience appreciate the gun as a cultural artifact. Having once published a very detailed account of the New Service by the late Chuck Karwan, I am impressed by Mullin's warm good humor over the rough-and-ready revolver that armed doughboys, Border Patrolmen and other pistoleros who used enough gun.