by
posted on September 19, 2017
Support NRA American Rifleman
DONATE
The 22 Nosler cartridge was unveiled at the 2017 SHOT Show, and it hasn't taken long for AR rifle makers to build new products that will accept the super-fast center-fire cartridge. CMMG is the latest to announce four new rifles chambered in the new round.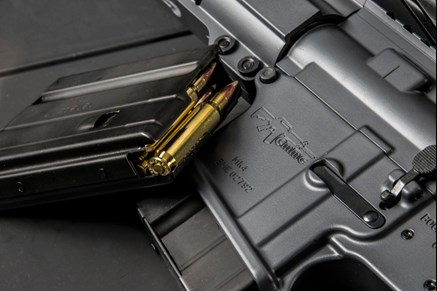 "The 22 Nosler caught our eye for a number of reasons," said Chris Reinkenmeyer, CEO of CMMG Inc. "First, it's designed around the AR-15 and so it's very compatible with our rifles and also easy to match up with an existing lower. Second, our customers want rifles that are unique but with purpose." He continued, "Based on our testing, we feel that the 22 Nosler does present significant ballistic advantages for shooters who require a fast, accurate and flat shooting projectile out of a relatively lightweight rifle."



Already SAAMI approved, a 55-gr. 22 Nosler Ballistic Tip round can reasonably expect muzzle velocities approaching 3,500 f.p.s. out of a 24" barrel. 
Featuring 25 percent more case capacity than the .223 Rem./ 5.56 NATO, the width of the 22 Nosler means that it feeds out of 6.8 Rem. SPC magazines. Despite the larger casing, the rim has been necked down so that the round runs off a standard .223 bolt carrier group.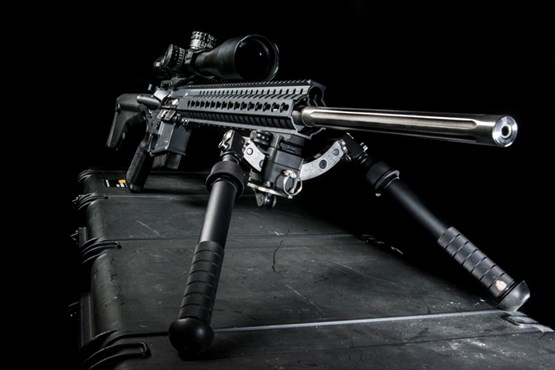 When paired with this type of ballistic performance, CMMG's Mk4 rifles in 22 Nosler are capable of filling the needs of long-range shooters and a variety of hunting applications.

 
CMMG's 22 Nosler line-up will include four different rifles, four upper receiver groups that can be paired with any mil-spec AR-15 lower receiver and three barrel sub-assemblies. Each rifle comes standard with a 10-round magazine.

Specifications:

COMPLETE RIFLES



Rifle, Mk4 S, 22 Nosler
Product Desc: Rifle, Mk4 S, 22 Nosler
Barrel: 18" 1:8" Twist, 22 Nosler, Medium Taper 416SS Barrel
Muzzle: A2 comp., threaded 1/2-28
Handguard: CMMG RKM14 KeyMod handguard
Furniture: A2 pistol grip, M4 buttstock with 6-pos mil-spec receiver extension
Receivers: Forged 7075-T6 AL M4 type upper, AR-15 type lower
Trigger: Single stage mil-spec style trigger
Weight: 6.5 lbs. (Unloaded)
Length: 34.5" (Stock Collapsed)
Gas Port Location: Rifle
MSRP: $1,099.95 



Rifle, Mk4 RCE, 22 Nosler
Product Desc: Rifle, Mk4 RCE, 22 Nosler
Barrel: 18" 1:8" Twist, 22 Nosler, Medium Taper 416SS Barrel
Muzzle: CMMG SV Brake, Threaded 1/2-28
Handguard: CMMG RKM14 KeyMod handguard
Furniture: Magpul MOE Pistol Grip, Magpul CTR stock with 6-pos mil-spec receiver extension
Recivers: Forged 7075-T6 AL M4 type upper, AR-15 type lower
Trigger: Geissele Automatics SSA 2-Stage
Weight: 6.7 lbs. (Unloaded)
Length: 35" (Stock Collapsed)
Gas Port Location: Rifle
MSRP: $1,399.95 



Rifle, Mk4 P, 22 Nosler
Product Desc: Rifle, Mk4 P, 22 Nosler
Barrel: 22" 1:8" Twist, 22 Nosler, Medium Taper 416SS Barrel
Muzzle: CMMG SV Brake, Threaded 1/2-28
Handguard: CMMG RKM14 KeyMod handguard
Furniture: Magpul MOE Pistol Grip, Magpul MOE Rifle stock
Receivers: Forged 7075-T6 AL M4 type upper, AR-15 type lower
Trigger: Single stage mil-spec style trigger
Weight: 7.3 lbs. (Unloaded)
Length: 42"
Gas Port Location: Rifle
MSRP: $1,199.95



Rifle, Mk4 V2, 22 Nosler
Product Desc: Rifle, Mk4 V2, 22 Nosler
Barrel: 24" 1:8" Twist, 22 Nosler, Medium Taper Fluted 416SS Barrel
Muzzle: Target Crown
Handguard: CMMG RKM14 KeyMod handguard
Furniture: Magpul MOE Pistol Grip, Magpul MOE Rifle stock
Receivers: Forged 7075-T6 AL M4 type upper, AR-15 type lower
Trigger: Giessele Automatics SSA 2-Stage
Weight: 7.5 lbs. (Unloaded)
Length: 42"
Gas Port Location: Rifle
MSRP: $1,449.95 
_________________________________________________________________________________
COMPLETE UPPER RECEIVER GROUPS
Upper Group, Mk4 S, 22 Nosler
Product Desc: Upper Group, Mk4 S, 22 Nosler
Barrel: 18" 1:8" Twist, 22 Nosler, Medium Taper 416SS Barrel
Muzzle: A2 comp., threaded 1/2-28
Handguard: CMMG RKM14 KeyMod handguard
Upper: Forged 7075-T6 AL M4 type upper
Gas Port Location: Rifle
MSRP: $799.95 
Upper Group, Mk4 RCE, 22 Nosler
Product Desc: Upper Group, Mk4 RCE, 22 Nosler
Barrel: 18" 1:8" Twist, 22 Nosler, Medium Taper 416SS Barrel
Muzzle: CMMG SV Brake, Threaded 1/2-28
Handguard: CMMG RKM14 KeyMod handguard
Upper: Forged 7075-T6 AL M4 type upper
Gas Port Location: Rifle
MSRP: $849.95 
Upper Group, Mk4 P, 22 Nosler
Product Desc: Upper Group, Mk4 P, 22 Nosler
Barrel: 22" 1:8" Twist, 22 Nosler, Medium Taper 416SS Barrel
Muzzle: CMMG SV Brake, Threaded 1/2-28
Handguard: CMMG RKM14 KeyMod handguard
Upper: Forged 7075-T6 AL M4 type upper
Gas Port Location: Rifle
MSRP: $874.95
Upper Group, Mk4 V2, 22 Nosler
PART#: 23BEF72
Product Desc: Upper Group, Mk4 V2, 22 Nosler
Barrel: 24" 1:8" Twist, 22 Nosler, Medium Taper Fluted 416SS Barrel
Muzzle: Target Crown
Handguard: CMMG RKM14 KeyMod handguard
Upper: Forged 7075-T6 AL M4 type upper
Gas Port Location: Rifle
MSRP: $899.95 
_______________________________________________________________________________
BARRELS & SUB-ASSEMBLIES 
Barrel Sub-Assm, 18" MT 416SS, 22 Nosler
Product Desc: Barrel Sub-Assm, 18" MT 416SS, 22 Nosler
Muzzle: Threaded 1/2-28
Gas Port Location: Rifle
MSRP: $209.95 
Barrel Sub-Assm, 22" MT  416SS, 22 Nosler
Product Desc: Barrel Sub-Assm, 22" MT  416SS, 22 Nosler
Muzzle: Threaded 1/2-28
Gas Port Location: Rifle
MSRP: $229.95 
Barrel Sub-Assm, 24.0" FV 416SS, 22 Nosler
Product Desc: Barrel Sub-Assm, 24.0" FV 416SS, 22 Nosler
Muzzle: Target Crown
Gas Port Location: Rifle
MSRP: $349.95