by
posted on October 16, 2018
Support NRA American Rifleman
DONATE
Long- and extreme-range shooting are games of margins; minor changes in equipment and techniques can ultimately aid or hinder success. For that reason, competitive marksmen incessantly seek an edge—however slight—over the competition. Nowhere is this more obvious than with cartridge choice. An Internet search will quickly reveal numerous factory and wildcat cartridges in 6 mm, 6.5 mm and 7 mm that are smartly configured for superior performance in the less-restrictive, extended-distance shooting disciplines of NRA High Power Long Range, F-Class Open, and Precision Rifle Series (PRS) Open and Production Division matches, to name a few.
Among the more well-liked cartridges used in the aforementioned contests—in particular, PRS—are the competition-ready numbers developed by Hornady Mfg. Co. Why? The "cost of entry" is low, and the cartridges—6 mm and 6.5 mm Creedmoor—were optimized from the get-go for accurate, extended-range targeting—i.e. turnkey solutions. In this respect, Hornady can be considered the American equivalent of the Finnish company, Nammo Lapua Oy (Lapua)—designer of the 6.5x47 mm Lapua, one of the Creedmoors' chief rivals.
"For regular PRS-style matches, the 6 mm and 6.5 mm Creedmoor are very well-suited for the common distances, long shot strings and minimal recoil for seeing impacts," said Neal Emery of Hornady. It was the 6.5 mm Creedmoor's ballistics at extreme range, though, that caused a segment of the long-range-shooting fraternity to recognize the need for a faster, more powerful sibling. Hornady did, too. "While the 6.5 mm Creedmoor is miles ahead of the .308 Win., shooters engaging targets past 1,000 yds. can really benefit from extra speed and energy," reported Emery. "We've definitely had a demand for more horsepower than what it has to offer."
Hornady heeded the call and has subsequently created the compact 6.5 mm Precision Rifle Cartridge (PRC), which Emery described as, "A wonderful option for hunters and extreme long-range (ELR) shooters." Doing so, though, required Hornady to break free from long-standing constraints.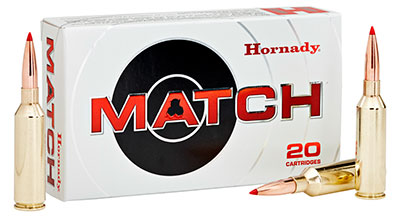 Chain Breaker
The impetus for the 6.5 mm PRC first came to Hornady from George Gardner, founder of G.A. Precision. According to Emery, "Gardner came to us years ago wanting a cartridge in this class [the 6.5 mm PRC]. However, it was at the height of crazy demand during the previous administration, and we just couldn't consider doing it as a new cartridge then with the difficulty in making enough existing products." That didn't curb Gardner's desire to create, though. Ultimately, he necked down the .300 Rem. Short Action Ultra Mag. (SAUM) case to 6.5 mm and coined the cartridge "6.5 GAP 4S." Hornady would eventually manufacture cases for Gardner's brainchild.
"Now that things have slowed down, we finally were able to build the cartridge the way it was intended, with more commercial appeal than the 6.5 GAP 4S," explained Emery. Of the 6.5 GAP 4S, Emery said, "It's a fine cartridge ballistically, but with a rebated rim it is harder to get to feed and function well in a variety of rifles."
Gardner isn't alone in the expedient necking down of a short magnum case to 6.5 mm. Joining him is Jim Carmichael, former shooting editor of Outdoor Life. As detailed in Cartridges Of The World: 13th Edition, in 2001 Carmichael necked down the then-new .300 WSM case to 6.5 mm to produce his "6.5 Leopard"—a long-range alternative to the 6.5 mm-.284 Norma that would fit in short-action rifles, including the Remington Model 700.
And, lest we forget Lazzeroni Arms' proprietary 6.71 Phantom, a hunting cartridge introduced in 1997 that duplicated the ballistics of the .264 Win. Mag., but did so in a short-action cartridge fitting in a 2.80" action. Moreover, it had minimal body taper, a 30-degree shoulder and a rim of approximate case-body diameter.
The developments detailed above are important in that all were considered and/or incorporated into the new 6.5 mm PRC. As Emery explained, "The parameters were that it had to have a significant increase in velocity over the Creedmoor and stay short-action, and without being in too large a case (think WSM) where loading and performance get finicky. At 2.955" cartridge overall length (C.O.L.), it's a bit longer than Remington Model 700 short-action factory magazines and their clones, but fits just right in most of the other short-action models on the market."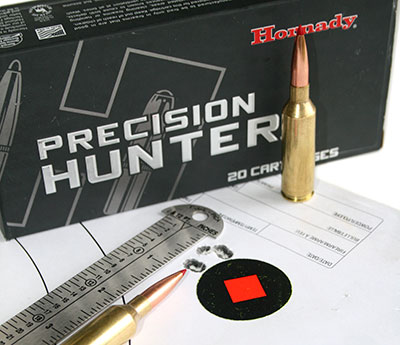 Hornady's commitment to performance is illustrated by its refusal to be shackled to a single company's product, despite the long-held belief that Remington Model 700 compatibility was a prerequisite for a successful short-action cartridge. "If we had kept it short enough to fit the short-action 700 magazine, it would not have had enough advantage over the Creedmoor to be worth doing," affirmed Emery. "We couldn't let long-standing rifle limitations dictate the potential of this cartridge." Kudos, Hornady! Emery did say that aftermarket internal box magazines allow the 6.5 mm PRC to run in short-action Model 700s.
Lastly, Emery said, "The 6.5 mm PRC needed to benefit the shooter in the same way that has made the 6.5 mm Creedmoor so successful. Keeping the bullet seated outside the case, controlling the chamber dimensions, and properly stabilizing the long, heavy bullets is paramount and was incorporated into the 6.5 mm PRC."
Formally adopted by the Sporting Arms and Ammunition Manufacturers' Institute (SAAMI) at its June 2018 meeting, the following measurements are the most pertinent for the 6.5 mm PRC. The parent case is the .375 Ruger—also basically a .300 RCM necked down to 6.5 mm—so the body measures 0.5320" wide at the head, a measurement that it carries back to the rim; therefore, there's no rebated rim. The case is still 0.5166" in diameter at a point 1.300" forward of the head, so body taper is minimal. In weighing five Hornady cases before and after adding water and then averaging the differences, I found that case capacity is about 67.7 grs./water.
Following the established formulation for top-notch accuracy, the 6.5 mm PRC has a 30-degree shoulder angle, and the neck is slightly longer than caliber. Case length is set at 2.030" (+0.00/-0.020"). Taking that and the 2.955" C.O.L. into consideration, there is 0.925" for bullet protrusion, which is critical for streamlined, 0.264"-diameter bullets with high ballistic coefficients (BC). The Hornady 6.5 mm 143-gr. ELD-X, for instance, measures 1.442" in length. This allows more of the case capacity to be used for propellant, not merely storage space for the bullet's lengthy shank. The SAAMI-set maximum average pressure (MAP) is 65,000 p.s.i.

Ballistics And Testing
As emphasized by Emery, for the 6.5 mm PRC to be a sensible project it needed to provide appreciable gains over the perennial favorite 6.5 mm Creedmoor. Thanks to an approximate 14.4 gr./water increase in case capacity over the Creedmoor—Hornady cases averaged 53.3 grs./water—the PRC obviously stands to gain a boost in velocity. How much? According to Hornady's website, the 6.5 mm PRC Match load propels the 147-gr. ELD Match bullet to 2,910 f.p.s., which helps it maintain supersonic speeds to 1,675 yds.—around 200 yds. farther than the Creedmoor when loaded with the same bullet. That's just the beginning.
With a 100-yd. zero, the 147-gr ELD Match from the 6.5 mm Creedmoor drops 307.7" at 1,000 yds., where it's still traveling 1574 f.p.s. In a full-value, 10-m.p.h. breeze wind deflection is 60.7". At that same distance, the 6.5 mm PRC drops 257.6", is pushed 53.7" off course, and is still moving 1737 f.p.s.—a noteworthy improvement.
From the 6.5 mm Creedmoor, the 147-gr. ELD Match bullet is still traveling 1133 f.p.s. at 1,500 yds. Drop and wind deflection are 928.5" and 161.1", respectively. Maintaining a speed of 1267 f.p.s. gives the 6.5 mm PRC an edge; the ELD Match drops 770.2" and is pushed 141" off course by a 10-m.p.h breeze. This makes it obvious why Emery said, "For extreme-long-range (ELR) precision matches, where many of the targets are beyond 800 yards, the 6.5 mm PRC offers a major advantage."
Similarly, the edge goes to the PRC in Hornady's Precision Hunter 143-gr. ELD-X load. Starting at 2960 f.p.s., it offers a 260-f.p.s. increase in velocity over the 6.5 mm Creedmoor. With a 200-yd. zero, the ELD-X from the Creedmoor will drop 44.3" at 500 yds. and drifts 14.9" in a 10-m.p.h. breeze. Energy is 1,315 ft.-lbs. At 500 yds., the 6.5 mm PRC still has 1,622 ft.-lbs. of energy remaining, drops 36" and drifts 12.9". "While we've received an enormous amount of positive feedback from hunters using the 6.5 mm Creedmoor 143-gr. ELD-X Precision Hunter load on elk," reported Emery, "the same bullet in the 6.5 mm PRC gives hunters more peace of mind with larger game."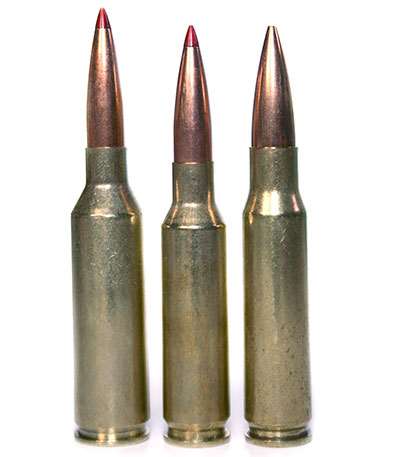 Don't get the impression that the above factory ballistics are inflated; actually, they're relatively tame. Consider this: When shooting across a Competition Electronics ProChrono Digital Chronograph at 15 ft., from the 28" barrel (with brake) of the test rifle, a PROOF Research H6 Terminus, the Match load achieved 2865 f.p.s., while the Precision Hunter load went 2990 f.p.s. for 10 shots. Mind you, these are not the cartridge's maximum velocities.
According to the Hornady Handbook of Cartridge Reloading: 10th Edition, through handloading, the 143-gr. ELD-X can achieve 3150 f.p.s. from the 6.5 mm PRC, whereas the 6.5 mm Creedmoor can only propel it to 2800 f.p.s. Even the .264 Win. Mag. can only hit 3050 f.p.s. With a less-than-maximum load of Reloder 26, I was able to attain 3081 f.p.s. from the test rifle (see below). Likewise, the 6.5 mm PRC can propel the 147-gr. ELD Match to 3050 f.p.s., which is about 150-f.p.s. faster than what the 6.5 mm-284 Norma can achieve. That's no small feat.
The 6.5 mm PRC is more than just another speedster; it's an efficient cartridge capable of fine accuracy, too. Considering the desirable blend of case characteristics that it possesses, it's little wonder. To give the cartridge a fair shake, accuracy testing was conducted with the PROOF Research Terminus topped with a Leupold VX-6 HD 6-24X 52 mm scope—a combination that has proven to be very precise.
Full accuracy results are tabulated on p. 60; however, here's a synopsis of the outcome. With the Hornady Match 147-gr. ELD Match load, the rifle averaged 0.62" for five consecutive, five-shot groups at 100 yds. The single tightest group was 0.42". Switching to the Precision Hunter 143-gr. ELD-X round, the average for 25 shots was 0.79", with only one group being larger than the one-m.o.a. mark. The average for all 50 shots was 0.71". Yes, it's an accurate cartridge—almost boringly accurate. To not achieve sub-m.o.a. performance is simply shooter error, nothing more.
After 100-yd. accuracy testing and chronographing was completed, remnant ammunition was used to produce three, five-shot groups at 300 yds. with each load. At that distance, the smallest group with the Match load measured 1.61", and the average for the three groups was 2.13". The Precision Hunter load actually produced the tightest group, measuring 1.30", though the overall average was 2.22".
During testing, there were no issues with the ammunition. For factory ammunition, consistency was quite good; the standard deviation of the Match load was 12, though the Precision Hunter ran slightly higher at 16. There were no signs of over pressure, either, and cycling was flawless. In the lightweight, muzzle-brake-equipped PROOF rifle, perceived recoil was minimal—perfect for rapid follow-up shots and lengthy shooting sessions.
As you might suspect, performance comes at a price. The suggested retail price for the Precision Hunter 143-gr. ELD-X 6.5 mm Creedmoor load is $43.28, while the 6.5 mm PRC is $50.21. Similarly, the 147-gr. ELD Match load in 6.5 mm Creedmoor and 6.5 mm PRC retail for $38.60 and $48.55, respectively. Real-world pricing is closer, however; for example, as this is written the standard price at MidwayUSA (midwayusa.com) for the Match load in 6.5 Creedmoor is $28.99 per 20, while 6.5 mm PRC is $36.99—an $8 difference. Is it worth the difference in cost? You must decide.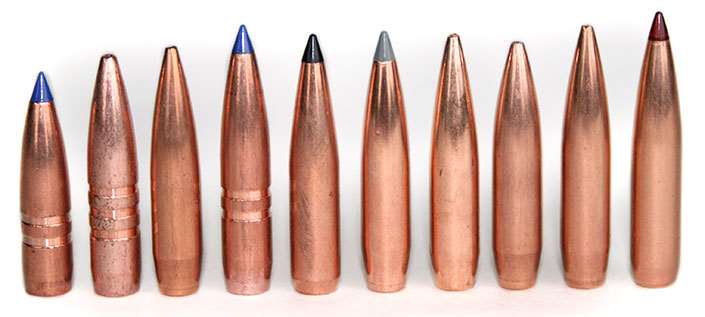 Currently, rifle makers chambering the 6.5 mm PRC include Christensen Arms, Fierce Firearms, G.A. Precision, Gunwerks, Hill Country Rifles, Horizon Firearms, McRee Precision, Montana Rifles, PROOF Research, Savage Arms, Sauer, Stuteville Precision, Seekins Precision and Trident Armory. "We know of a few other big names working on it, but don't want to announce before they are ready," Emery said.
A willingness to listen to consumers' suggestions and break free of long-time constraints has allowed Hornady to introduce a modern, short-action cartridge with distinct advantages over well-established competitors for shooting at extreme range or pursuing large quarry.
In the long-range game, it could be the new name.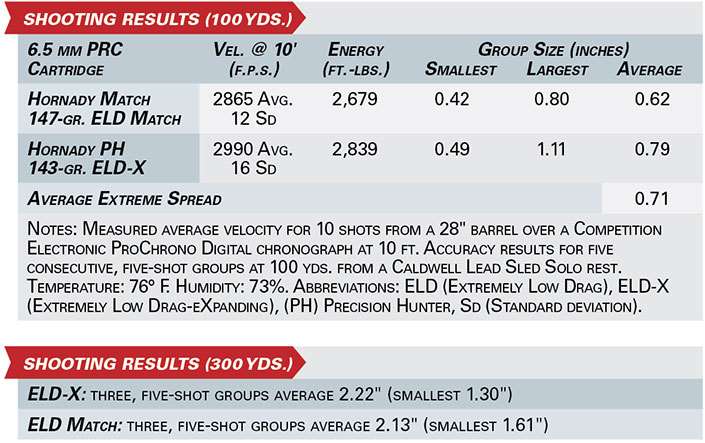 ---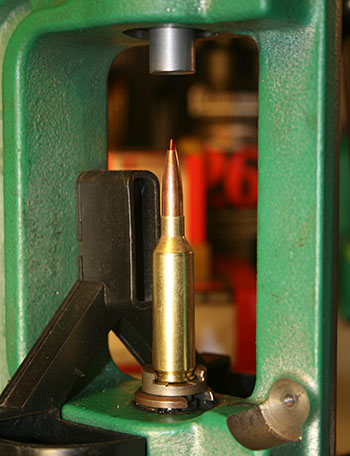 Handloading The 6.5 mm PRC
New cartridges are often a tease to handloaders, as seldom is there reputable data, reloading dies and brass available in a timely manner. Fortunately, Hornady has been proactive in this respect. The company already has a variety of dies out in the marketplace, and so does RCBS. Currently, Hornady is the only manufacturer of 6.5 mm PRC brass, which lists on MidwayUSA's website for $46.99 per 50-count box. As for data, Hornady has sufficient recipes on its website for its bullets weighing from 140 to 147 grs. In fact, I referenced it when assembling handloads for this sidebar. Assuredly, others will have data soon as the cartridge was just accepted by SAAMI.
Increasingly streamlined bullets are arriving to market in short order from all manufacturers, and when combined with traditional offerings, that gives the 6.5 mm PRC tremendous versatility. Similarly, some of the latest slow-burning propellants to the marketplace are what help the 6.5 mm PRC shine. For example, temperature-stable RL 26 affords top velocities across bullet weights from 140 to 147 grs., and it has a de-coppering additive to keep your bore cleaner, too. Hodgdon fans will rejoice in the use of field-proven Retumbo. Other good choices for the cartridge are H1000, RL-25, H4831, Magnum and Norma MRP. Nothing special is needed for handloading the 6.5 mm PRC, either.
Case in point: In handloading for this piece, I found that 56.2 grs. of RL 26 beneath a 143-gr. ELD-X bullet seated to give a cartridge overall length of 2.950" and ignited by a Federal Gold Medal 210M primer provided the best accuracy, averaging 0.80" for five consecutive, five-shot groups at 100 yds.—virtually identical to the factory load. The smallest group measured 0.67". However, at 3081 f.p.s. it bested the actual velocity of the factory load by 91 f.p.s.—a worthwhile tradeoff. The loads were assembled using Hornady Custom Grade dies.
For the long-range enthusiast who's also a handloader, you'll find the 6.5 mm PRC cartridge to be a joy to work with, and one that pays big dividends on the range with minimal effort.