by
Brian C. Sheetz, Editor In Chief
posted on September 20, 2010
Support NRA American Rifleman
DONATE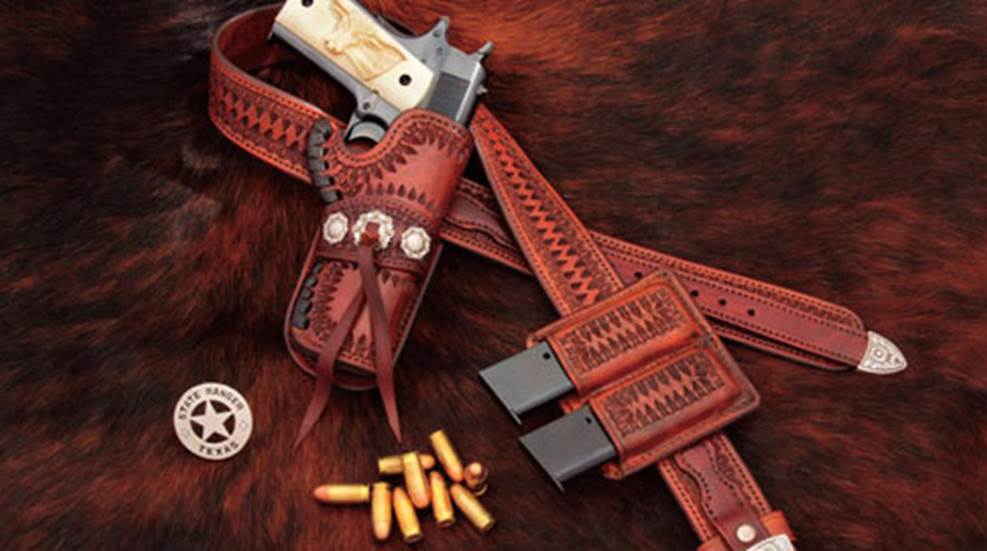 There are few names better known in the gunleather industry than John Bianchi. His remarkable innovations in holster designs and his lifelong fascination with Western history are as legendary as the millions of holsters that bear his name worldwide. For more than half a century his product design breakthroughs have had a powerful influence on three generations of police officers, the military, and sportsmen the world over, not to mention his celebrated re-creations of Western gun rigs made famous in films and on television, including my own holster and belt from 'Gunsmoke.'" So opines legendary actor James Arness of "Gunsmoke" fame in his introduction to Dennis Adler's new book about gunleather's undisputed modern master.
John Bianchi Sr., a New York policeman whose philosophy was "hard work and good luck go hand-in-hand," set the tone for his son's success through a life of thrift, labor and devotion to family and country. When combined with John Jr.'s early love of Western movies, the family's move to southern California in the immediate post-World War II era when the youngster could still catch a glimpse of the occasional real cowboy, and serendipitous circumstances such as young Bianchi's proximity to a leather glove factory's free scraps, the budding entrepreneur was off to an early start, having sewn his first Western-style holster at age 12.
Adler weaves a fascinating narrative comprised of conversations with Bianchi along with his own research about early Western movies and the custom holster business, and concludes with a chapter on the NRA Bianchi Cup Championships, giving the reader both a rich collection of short stories and a historical chronology of Bianchi's life-long contributions to the military, law enforcement and shooting sports. He recounts numerous formative episodes in Bianchi's early life including one particular boyhood adventure in which Bianchi jumped a train with a teenage friend to visit an Old West ghost town. Arriving after midnight, the two boys were stopped and asked by a policeman what they were doing on the street so late. Claiming their parents were aware of their whereabouts, the suspicious officer called Bianchi Sr. in the middle of the night, to which the sleepy father responded: "He's out hiking. It's all right," and hung-up.
The younger Bianchi, using his G.I. Bill educational benefits while serving seven years on the Monrovia, Calif., police force, earned a B.A. in police science and administration, all while running a custom holster operation out of his garage and driving for his dad's grocery business. The business eventually grew from a small catalog-only company to an international wholesale success. Bianchi founded Combat Action Holsters in the late 1950s, which became Safari, Ltd., with friend and partner Neale Perkins when he left the police force. It finally became Bianchi Int'l. His revolutionary thumb-strap holster design was created in 1960 and is only one example of a long list of innovative designs, along side the No. 2 Speed Scabbard, the Break Front holster and Model X15 Shoulder Holster—one of the most copied shoulder holster designs today.
Of particular interest is a chapter titled "The Military Connection," in which Adler details Bianchi's design and production of the first universal military sidearm holster, the M12 or civilian UM84, for the U.S. military as it sought to adopt the Beretta Model 92FS handgun as a replacement for the long-serving, John Browning-designed M1911. The effort necessitated the holster maker's purchase of the Gregory backpack-manufacturing firm to obtain the necessary expertise in working with nylon. The acquisition would take Bianchi into even more new directions with a line of nylon and molded holsters for civilians and law enforcement officers alike. Eventually, the artisan whose name became synonymous with leather holsters that combined high-quality workmanship with mass production, left the business he founded, but not before he had amassed an enormous collection of Western artifacts, including personal clothing and firearms from perhaps the ultimate cowboy icon, Buffalo Bill Cody, and established the Bianchi Frontier Museum.
Well-written and full of photographs, "John Bianchi—An American Legend" is a valuable addition to the bookshelf of anyone interested in the modern fascination with the Old West, and it is a tribute both to a remarkable man and to the entrepreneurial spirit of America. John Bianchi—An American Legend is published by Blue Book Publications, Inc., and available for $39.95 through The NRA Store; (888) 607-6007.