Support NRA American Rifleman
DONATE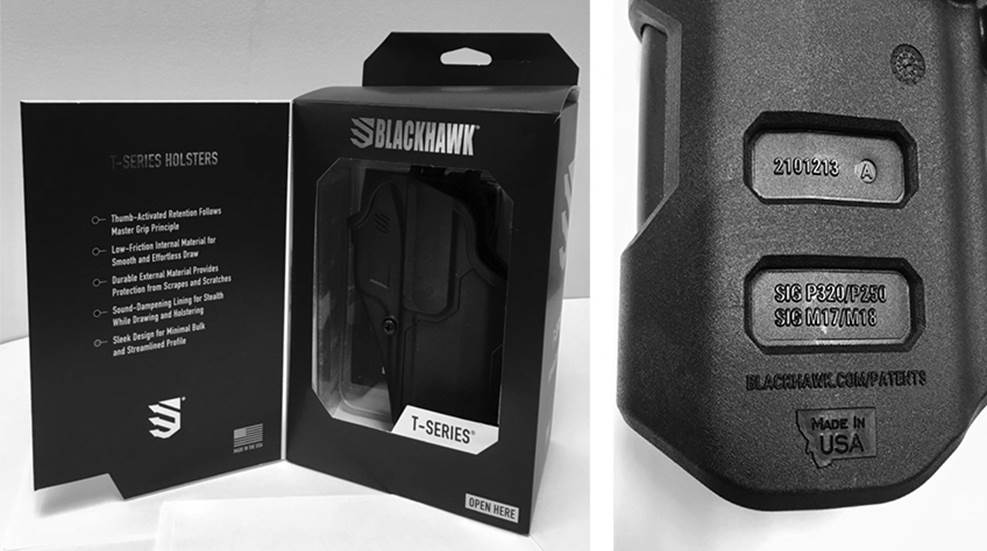 Blackhawk has issued a recall of a limited number of its T-Series L2C Holsters after, "An internal review of the referenced holster with the military firearm (M17/M18) showed that the holster may interfere with the mechanical fire safety switch of the M17/M18." A notice on the company's website explains "There is nothing per se wrong with the holster … " but when used with SIG Sauer's versions of the P320/P250 marketed to consumers as the M17/M18, conditions were such that the firm voluntarily notified the U.S. Consumer Product Safety Commission (CPSC) and issued a fast-track recall [PDF].
Enthusiasts who own one of the roughly 3,100 holsters in circulation should discontinue its use immediately and contact Blackhawk for a full refund. Call toll-free (888) 343-7547 from 8 a.m. to 5 p.m. ET Monday through Friday. More details are also available on this web page.
Only Blackhawk T-Series L2Cs designed for use with SIG Sauer P320/P250s are affected. To determine if your Blackhawk holster is subject to the recall, inspect the exterior of its black, molded-polymer body and locate the model number. If it reads "2101213 A," discontinue use immediately and contact the company.
Although only a limited number of L2Cs are included in this action, it's critical owners take the notification seriously. "The holster design can change the position of the safety switch on the firearm without the user knowing it," explains the recall notice on Blackhawk's website. "When this occurs, if the trigger is pulled the gun could fire unexpectedly, posing an injury hazard to the user and bystander."
Owners of other models in the L2C line can continue their use with the confidence Blackhawk has earned in its decades-long history of producing some of the industry's finest gear. The company's continuing dedication to its customers shows in the CPSC notification that explains, "This recall was conducted voluntarily by the company under CPSC's Fast Track Recall process. Fast Track recalls are initiated by firms who commit to work with the CPSC to quickly announce the recall and remedy to protect consumers."