by
posted on May 27, 2010
Support NRA American Rifleman
DONATE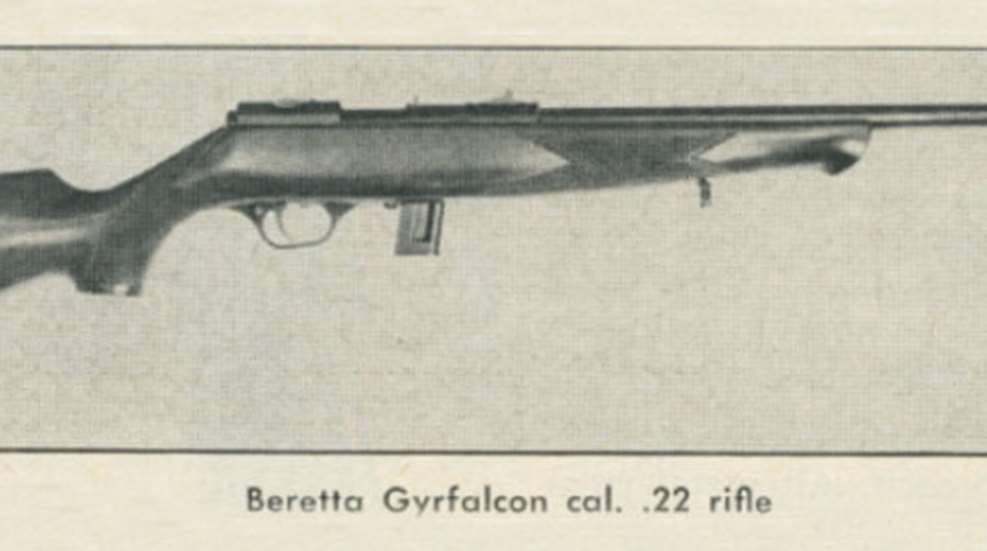 J.L. Galef & Son, Inc., 85-R Chambers St., New York 7, N.Y., Now offers the Beretta Gyrfalcon cal. .22 self-loading rifle with detachable clip magazine. Manufactured in Italy by the firm of Pietro Beretta, it is primarily designed for plinking and small game hunting.
Fires From a Closed Breech
The action isof simple blowback type firing from closed breech. All metal parts are blued. The stock is of varnish-finished Italian walnut with hand-checkered pistol grip and forearm. Butt and pistol grip are capped in black plastic, and 1" sling swivels are standard. The crossbolt safety in rear of trigger guard loop locks the trigger but not the breech. On and off positions of safety are positive with audible click upon movement. A manual bolt lock is provided to retain bolt in open position. Retracting the bolt handle releases the lock so that bolt can move forward into closed position. The magazine release is actuated by a push button forward of the trigger guard loop. The receiver sling is grooved for the Beretta tipoff scope mount made for ¾'' diam. scopes only.
Disassembly of the Gyrfalcon for routine inspection or cleaning is commendably simple. Pressure on a knurled button in rear of the receiver releases the entire breech mechanism, which in turn is readily disassembled without use of tools. With breech mechanism removed, bore can be cleaned from the breech end.

Our sample rifle shows good quality of workmanship throughout. Metal parts are nicely finished with no prominent tool marks visible. Finish of stock and checkering is reasonably good. Accuracy and functioning tests were conducted with several brands of standard and high-velocity ammunition, without a single malfunction occurring during firing of several hundred rounds. Accuracy with match-grade ammunition was excellent.
The factory-adjusted trigger pull proved to be 2 ½ lbs. by scale check, and was free from creep. An attempt was made to change the weight of the trigger pull using the adjustment screw provided, but this screw was so tight that it would not budge, even when pliers were used in an attempt to turn the screwdriver.
This little rifle has excellent balance and handling qualities. The stock is amply proportioned in forearm and pistol grip for adult use. The clip-loading feature is convenient and inherently safer than tubular magazines. A glance at the open breech indicates whether a round is in the chamber or magazine. Also, this rifle can be single loaded quite conveniently with the clip removed.
Ejection is to the right and slightly towards the rear. No noticeable sparks or burning powder grains came back into the shooter's face.
This is a well-made rifle for either adult or "junior" use and is suitably accurate for plinking or small game hunting. Installation of a telescopic sight would greatly enhance performance of this rifle as the factory open sights are somewhat coarse.