by
John Zent, Editor Emeritus
posted on February 20, 2017
Support NRA American Rifleman
DONATE
Frames for the Micro 9s and other Kimber M1911-style pistols are CNC-machined from steel or aluminum forgings.
Though each is unique, American gun factories generally fall into two categories. There are cornerstone manufactories that occupy vast footprints and produce truckloads of arms—some of them virtual historic landmarks, others newer but built to scale. Then there are smaller shops producing limited runs, often focused on assembling finished product from parts sourced elsewhere.
Then there's Kimber, a company known for going—and getting—its own way. Rather than the big-footprint model, Kimber operates a cluster of middling to small facilities as a result of what might be called "organic" growth, meaning that expansion appears to occur on an as-needed and as-available basis. The collective output from Kimber may not compare to that of industry giants, but despite pricing that exceeds its high-volume competitors, the demand for Kimber handguns remains strong, and its pistols and rifles both cast influential shadows.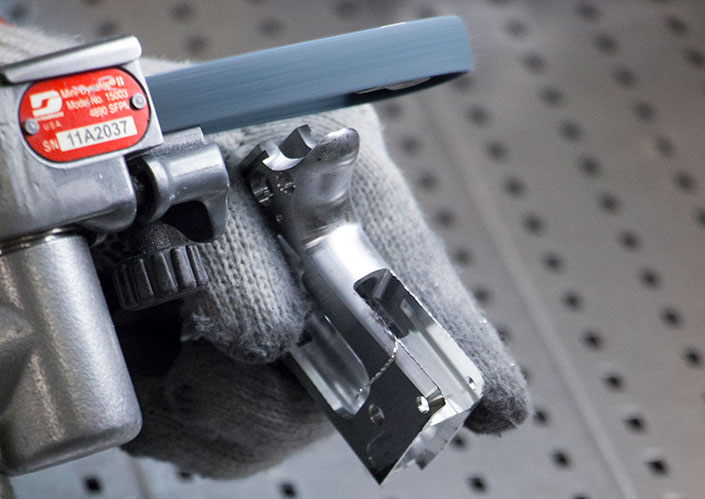 Playing into the independent streak is the geographic location, a place name familiar to a generation of Kimber owners whose handgun slides and rifle barrels are clearly stamped "Yonkers NY." What they may not know is that Yonkers sits on the Hudson River practically in the shadows of New York City's skyscrapers. For multiple reasons—not the least being New York's ignominious anti-gun politics—it's an unlikely location for a gun factory, and yet that location is a key factor in why M1911s and Mauser-type bolt rifles from a company not yet 25 years old enjoy a lock on prestige status.
By its own admission, Kimber rarely opens its doors to visitors, and so our small delegation of NRA Publications editors felt a bit lucky and extremely curious when Manufacturing Director Bill Southward welcomed us to the firm's chief machining and assembly center in Yonkers. From the jam-packed parking lot it wasn't possible to judge the size of the low-slung building, which we learned was formerly a food processing center.
Immediately apparent was the fact that Kimber is quite well-equipped with the latest CNC (computer numeric centers), EDM (electro discharge machines) and robotics that are all increasingly vital to modern gunmaking. The precision and efficiency provided by such machines enable today's manufacturers to bring quality guns to market at affordable pricing, in part by limiting the number of steps required to fabricate major components. Much of the detail work once common to firearm production is now relegated to these machines, and as a result, factory floors occupied by banks of computerized tooling are often manned by relatively few workers. But that was not exactly the case at Kimber.


Circulating through the facility, we encountered teams of gloved technicians extensively hand-fitting and -finishing the frames, slides, receivers and barrels of the pistols and rifles in production that day. Some of them used hand files to "chase" front-sight dovetails in M1911 and Micro slides, others gingerly applied emery wheels to beavertails and frame rails, while a couple more hand-reamed rifle barrel chambers, to point out a few examples of the skilled craftsmanship we witnessed. Given the trend toward "lean manufacturing," we were surprised by the sheer number of employees, and especially by how many of them were using hand tools to finish and polish the cuts performed by high-tech machines. Quality-control (QC) specialists were also busy in force, some monitoring robotic instrumentation, yet others wielding hand devices, ensuring that every production run meets the exacting tolerances that are a Kimber hallmark. The place was humming with purpose.
Southward told us that each handgun frame, for example, "is touched by about 200 different tools" and requires about three weeks to go from a rough blank to a gleaming finished part, intricately fabricated and honed, ready for assembly. "Because of all the hands-on fitting and [incremental] QC and final inspection, probably 30 to 40 persons are involved in building each gun," he said.
Another current trend bucked by Kimber is that it makes more of its own parts than most current gun companies. Marquee brands in general tend to rely on fewer outsourced parts, but some up-and-comers practically acquire the gun in pieces ranging from major components down to the springs and screws. Kimber, however, not only machines frames, slides and receivers, but also 'smiths all of its own barrels, has its own stockmaking operation and even formulates proprietary metal finishes.
Kimber's emphasis on QC was perhaps even more pronounced in the assembly shop where, among other steps, every trigger is "felt" and then measured before it goes to inspection. Inspectors seated at individual work stations run completed guns through a gamut of thorough hand checks before attaching a barcode tag that accompanies those that make the cut to testing, shipping and into the retail pipeline.
As we visited that section I started noticing names on the workers' badges—Mihail, Dmitry, Leonid, Oleg, Palvo, Vodynyn, Alexandr and others I'd identify as Eastern European. That echoed something I was told a few years after Kimber moved its manufacturing base east from its original home in Oregon. At that time—the mid-to-late 1990s—the company was able to tap into a wealth of newly arrived machinists, fabricators and millwrights experienced in armsmaking and other heavy industries, men who had landed in the New York City region after the fall of the Iron Curtain. Looking for opportunity and freedom, these skilled laborers were exactly what the fledgling gun manufacturer needed. The timing was fortuitous, and no doubt their skills have been reflected in the quality of Kimber products.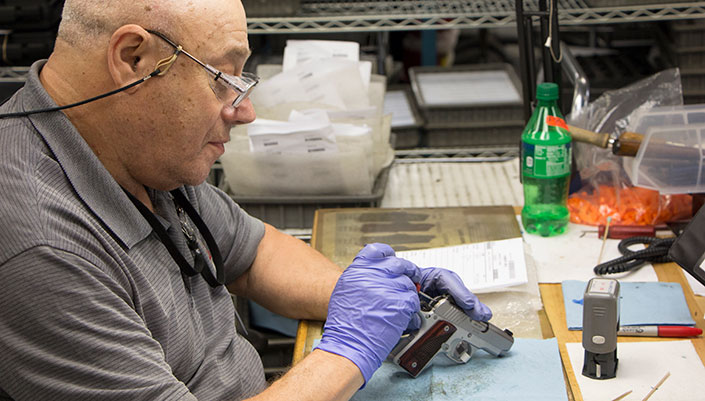 This is not to suggest such immigrants make up a majority of the workforce, which in fact appeared to be as diverse, and perhaps more so, than at any other firearm plant I've visited. Another contingent we encountered were former law-enforcement professionals, some who had served with the New York Police Dept. Greg Thomas, formerly an NYPD weapons officer, now heads up final function-testing, which entails firing one full magazine from each rifle and pistol. Said Thomas, "If it doesn't run clean we re-test, and any that still don't run clean go back to assembly." We also met former law enforcement officers in customer service who showed us a brag board of targets fired with guns that had come in for servicing, yet another task performed in-house. All agreed, that for folks who'd carried and valued guns in their first career, Kimber is a welcome refuge in a gun-unfriendly locale.
How Kimber handles growth and operations may be unorthodox by present standards, but who can argue it's not working? Our takeaway is that the company remains uncompromising in its QC regimen and its self-reliance in making its own components. As Kimber product lines evolve with further M1911 and bolt-rifle variants and diversified compact pistols—including the brand's first revolver—there's no sign it is backing off the entrepreneurial instinct that made it successful.

Additional Reading:
Tested: Kimber's Micro 9 Pistols  
Kimber Expands Micro 9 Lineup
Tested: Kimber's Micro Pistols